Following the launch of "Campus Watch", a new Daniel Pipes project to monitor the views of Middle East Studies lecturers on campuses,

EI

's Nigel Parry interviewed Palestinian academic Rashid Khalidi about how he felt to be one of the professors on which a "dossier" had been opened.

On 29 September 2002, EI noticed that the "dossiers" appear to have been removed from the Campus Watch website, although the basic content and aims of the site remain unchanged.

Nigel Parry: Were you aware of this website prior to this message? If so, how?

Rashid Khalidi: Yes. I have received about a dozen emails from friends informing me of its existence.

Nigel Parry: What are your initial feelings about the project?

Rashid Khalidi: It is a McCarthyite attempt to silence the very few voices that speak out about the Middle East, and to impose by fear a uniformity of view on the campus debate. This monitoring of the classroom is reminiscent of the tactics used by police-state dictatorships. It intends further to delegitimize and marginalize the field of Middle East studies.

Nigel Parry: Have you noticed any monitoring on your campus? Have other faculty reported any such monitoring?

Rashid Khalidi: Such monitoring on our campus on a "volunteer" basis has been going on for a while, and has resulted in some outrageous and false accusations of anti- Semitism and bias against Israel being made against the University and some of its faculty, including myself, over the past few months.

Nigel Parry: Do you feel this will affect academic freedom on campus? How?

Rashid Khalidi: I do not think that it will ultimately succeed, but it may have the intended poisonous effect for a time.

Nigel Parry: Have you experienced pressure as a result of your views on the Middle East or any aspect of it? Has this come from the institution, faculty, students, or a mixture?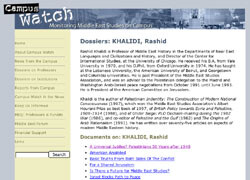 Rashid Khalidi: I rarely detected such pressure since I came here 15 years ago. I did not teach last year. The situation is quite different now, however. The impetus initially seemed to be coming from a small group of aggressively pro-Israel students and one or perhaps more faculty members, but this effort has now been folded into a large, well-funded, national effort managed by academic outcasts from the Middle East field, who seem to be driven both by their extreme pro-Israeli views, and their resentment at the fact that they have never managed to obtain the respect of their peers.

Nigel Parry: What other trends to quash free debate about the Middle East have you noted in your institution, if any?

Rashid Khalidi: There have been few if any before this past year.

Nigel Parry: What do you think is the best antidote to this kind of project by the pro-Israel lobby?

Rashid Khalidi: Getting the facts out, about this campaign and about the situation in the Middle East, especially to Jewish students and faculty. I think this kind of campaign will be seen for the reprehensible infringement on academic freedom that it is, if it is sufficiently exposed.

Most of what these people are saying is either false, cited completely out of context, or distorted. There may be anti-Semitism on some campuses, and there is some rejection of Israel as a state on a few. But what mainly exists is a profound disquiet, shared by Jewish and non-Jewish students and faculty, about the current policies and practices of Israel.

This noxious campaign is intended to silence such perfectly legitimate criticism, by tarring it with the brush of anti-Semitism and anti- Americanism, truly loathsome charges. They reveal the lengths that these people apparently feel impelled to go to in order to silence a true debate on campus.

Related Links:


Campus Watch: Middle East McCarthyism? by Nigel Parry and Ali Abunimah, The Electronic Intifada, 25 September 2002.