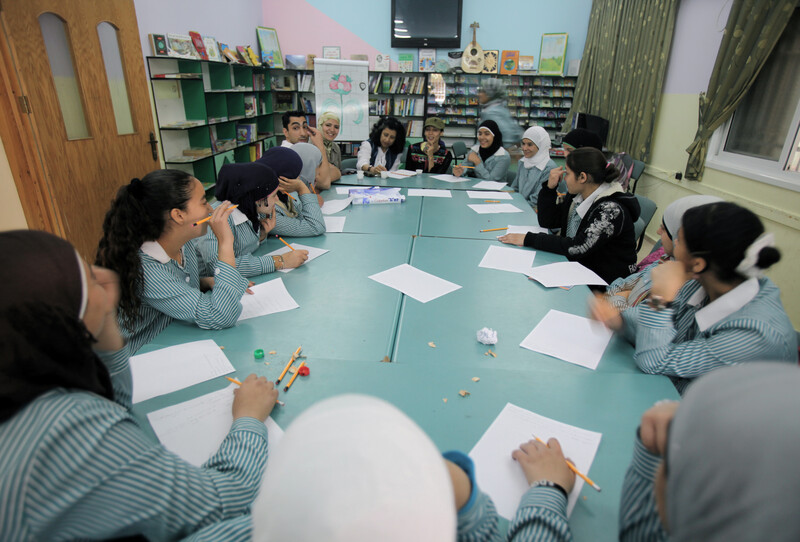 BALATA REFUGEE CAMP, occupied West Bank (IPS) - Bougainvilleas climb the walls of the Yaffa Community Center (YCC). Children play in its kindergarten, while older students attend a class in the center's media department. A group of foreigners is touring the attractively decorated building and getting a brief introduction to its history.
YCC, named after the city of Jaffa in present-day Israel, was established in 1996 by a group of Palestinian intellectuals. It was established to teach the next generation of Palestinians about their culture, history and the Palestinian political struggle.
It was also established to provide young Palestinians with a cultural outlet, a place for social activities, and to equip them with educational and vocational skills. It has a restaurant, a guesthouse and offers psycho-social counseling, drama, language and communication courses and summer camps.
Situated in Balata refugee camp, it might look like any youth center anywhere in the world but this center has a bloody and bitter history.
Balata refugee camp sits nestled among the mountains in the city of Nablus in the northern West Bank. It has a population of approximately 26,000 cramped into one square kilometer, one of the most densely-populated places on earth.
The camp was established to house Palestinian refugees who were driven out of their homes in historic Palestine by Zionist military forces during the Nakba (catastrophe), the wave of ethnic cleansing that led to Israel's establishment in 1948.
During the second Palestinian uprising, or intifada, which erupted in 2000, Balata was considered a "hotbed of militancy" by the Israeli authorities with many leaders of the al-Aqsa Martyrs' Brigades, a militia affiliated to the Fatah political party in the West Bank, operating from the camp.
Nightly raids by the Israeli military, shootings, killings and arrests were the norm. Approximately 365 Palestinians, 75 of them children, were killed by Israeli forces. Several hundred have been left permanently disabled.
A century behind bars
More than 12,000 Balata residents were imprisoned by Israel, with 400 still incarcerated. Many among them have been sentenced to 100 years or more in jail. Nasser Awais, aged 40, a former al-Aqsa leader is serving a sentence of more than 1,000 years for directing suicide bombings against Israeli soldiers and civilians.
Unemployment in the camp is around 43 percent and those lucky enough to find employment earn an average of $400 per month. Sports and educational facilities are almost non-existent.
It was against this background of bloodshed and deprivation that the staff of YCC hoped to create new realities for Palestinian children.
"We have over 400 children attending courses and classes daily. Last week 35 kids completed a leadership course," Shahab Bedawi, one of the YCC's founders, said.
"The improvement in their attitude and their behavior has been phenomenal. The children used to display a lot of violence and aggression," Bedawi added.
"Three years ago we had one 11-year-old boy who wanted to become a suicide bomber as he saw no reason to continue living, even at his tender age. He became involved in some of the classes and his turnaround over the last few years has made him into a child who interacts positively with others and has hope for the future."
"The children have been through a lot of trauma after seeing their fathers shot dead by Israeli soldiers before their eyes or having lost other male relatives to death and imprisonment," Mustafa Farrah, an employee at the center, said.
"Now the children have seen another side to life and another side to Israelis. Many of our visitors are international and Israeli peace activists. Some of them come to volunteer their time teaching courses or just expressing solidarity with the Palestinian struggle," Farrah said.
Conscious of refugee status
But although the children are shown a future offering hope, they are aware of their status as refugees and of their dispossession by Israel.
The YCC's walls have maps depicting Palestinian villages and towns razed and ethnically cleansed in what is now Israel. The children know their origins and, when asked where they come from, give the Arabic names of their family villages and towns which now bear Hebrew names.
"We will return to our former homes one day," said Taiser Nasrallah, one of YCC's directors. Nasrallah is also the director general of the Nablus governor's office and a leading Fatah activist. He was active during the first and second intifadas, and targeted and imprisoned by the Israelis.
"Israel doesn't want peace. Israeli settlers still rampage through Balata village guarded and protected by IDF [Israeli military] soldiers. They attack Palestinians and damage their property. The settlements continue to expand and new ones are being built. All the positive developments since the end of the second intifada, including stability, some economic progress and reaching out to the enemy could be reversed in the future," Nasrallah said.
All rights reserved, IPS - Inter Press Service (2011). Total or partial publication, retransmission or sale forbidden.
Tags