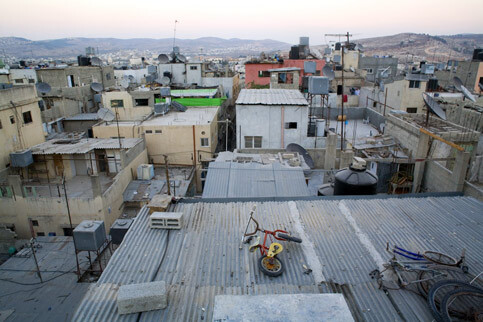 When I was released after serving two years in an Israeli prison, I returned to Balata refugee camp, near Nablus, to find that many of my friends from were gone. Some were killed, many were in prison and others injured. With so many familiar faces no longer there, I began to realize just how much could change in such a short time.

Every day I saw the same young man standing in the same spot on the street. I will never forget the sorrowful expression he always wore. I could tell that like most, he was strong. But there was something different hidden in the depths of his hazel eyes.

Skipper, the son of an electrician, grew up with his three brothers on the outskirts of the camp. Though his given name was Osama, most people in the camp called him "Skipper" and his close friends called him "Disco Skipper." "Skipper" was a nickname given to him in school, and "Disco" came from his love for dancing. Skipper would be the first one dancing at all the wedding parties in the camp.

Like many of his peers, in tenth grade Skipper left school to work for his father. However, he couldn't stand working while the situation around him was worsening and his friends were being killed or arrested. His friend Ramzy says that Skipper would hang out with young men who were "wanted" by the Israeli army. Skipper was considered guilty by association and he too became "wanted."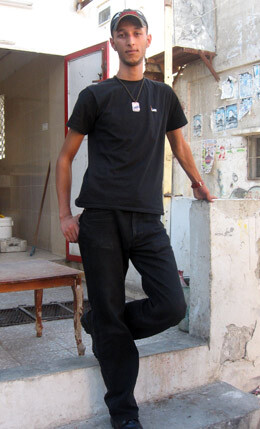 Once, when I was with an American friend who was visiting the camp, we stopped to talk to Skipper as he stood at that same spot in the street. As we joked around Skipper's warm side emerged. We laughed right there on the street. Later on we all went to a friend's apartment. A friend of Skipper's asked if we had any Michael Jackson music, and my American friend searched his laptop and played a song for everyone. Skipper's friend tried to push Skipper to get up and at first he resisted. But then after a few seconds Skipper was up and dancing just like Michael Jackson. We all laughed.

During the night, Balata's streets shut down. Everyone remains inside his or her home except for the fighters. The fighters sit with each other and wait, unsure if they will live to see the sun rise in the morning.

In the late hours of October 8, with dawn on its way, the Israeli army invaded the camp as they do every night. Like every night, they occupied the land, the military vehicles positioned on the school street that is the highest street in the camp. From there they took aim to begin their attack on the fighters.

Skipper was with another fighter when they headed with their weapons to where the army was stationed. Suddenly there was shooting. These shots were not hollow — they were felt by every person in the camp. We all knew someone was dying.

Skipper was shot. As he was walking, he suddenly ran into the soldiers in one of the camp's narrow alleys. Both opened fire on each other in their respective struggle to survive by killing the other. Bitter enemies. Of course, the Israelis are militarily stronger thanks to their superior weapons. But Skipper — like all Palestinians — was fortified with aspirations of freedom in his heart. And it was his heart that was penetrated by the shots heard throughout the camp. His friend was injured.

Skipper, despite his chest wound, began to run away from the soldiers. He fled until he was out of the soldiers' sight. He then fell to the ground. The other fighters saw Skipper and momentarily thought that he was an injured Israeli soldier. But after a moment they realized it was their friend. With deep sorrow, they carried his body to a safe place.

Skipper could only say a few words, "Ambulance … ambulance." He lay in the middle of the camp until an ambulance was allowed to reach him. Skipper's friends put him in the back of the vehicle and watched as it drove away. In the early dawn of that morning Skipper would close his eyes forever.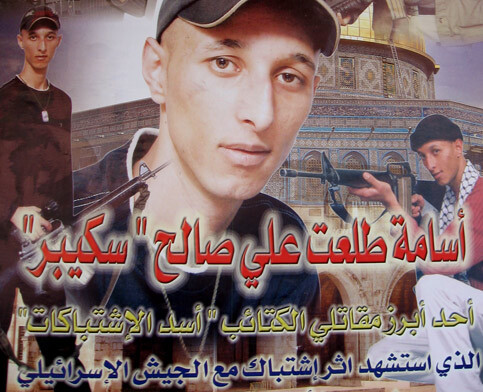 "He was my best friend," says Ramzy, another fighter in the camp. "He was happy and he loved dancing, but sometimes there was pain in his voice. It was a shock for me the night he was shot. I was on the street but in a different place. They told me he was injured and I thought, thank god he's not dead. Later, when I heard he had died, I took my gun and began to shoot at everything around me. I will never forget the way he looked at me that night when I last saw him. I had a few cigarettes and I shared half of them with him so he could smoke during the night."

Before most people become martyrs they will write a will or final letter to their families and loved ones. Skipper wrote a will:

"To the children of Palestine. Don't let anyone get you down, you must overcome your weakness and be strong. Finish your education. Our struggle must be fought through education, it is our path to freedom.

"Mother, do not cry for me because if I die I will be alive with the people. If I die don't cry, just come to my grave and touch the ground and you will be touching my face. And tell the other mothers what it is like to sacrifice, and that Palestine needs our sacrifice. Palestine will use my blood to paint her story."

At the age of 23, Skipper died without a coin in his pocket, only a few pictures of his friends who had been killed by the Israeli army. He had never asked for handouts from anyone, but the night before he was killed he asked his neighbor for a sandwich. The following night the camp lost a good man.

His pale face and deep voice are deeply missed. Skipper left not only a bloodstain on the ground and poster on the wall for people to remember him — like the scores of others killed in Balata, Skipper left a deep void.

I know that Skipper didn't want to die. He had lost many of his friends to the occupation, at least twelve young men who were in his class growing up. Skipper didn't choose to be a fighter. It chose him.

Skipper was a victim of the occupation like every young Palestinian refugee in Balata. The occupation steals each youth's childhood. There are few opportunities in Balata. And the many military checkpoints surrounding Nablus that make it almost impossible to leave the camp remind young people who is control of their future. It is an open-air prison. Everyone I know who has died, including Skipper, used to talk about how they wanted something better for themselves and for we Palestinians generally. No one wants this life we're given — it's not life at all.

Skipper now lies in the graveyard with his friends and the other victims of the occupation. Like every martyr, Skipper has become a memory in the peoples' minds, memorialized by the posters carrying his name and face that have been hung where he stood every day.

Skipper was from a generation of young people whom I hadn't yet really gotten to know before going to prison. When I was released, however, they had all grown up. They had a fresh sense of resistance and concern for the fate of the people of Balata. This, it dawned on me, was the cycle of conflict. One goes and another one rises to his place. We can never know exactly who will go and who will come, but we can be sure that those who will rise up next will come from the youth.

Mohamed Farraj is a resident of Balata refugee camp. During the current Intifada he was seriously wounded by the Israeli army and served almost two years in an Israeli prison. Currently, he is a journalism student at Al-Najah University in Nablus.