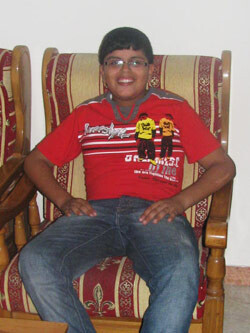 Majid Rabah, age 11, had a broad smile on his face as he relaxed at his family's apartment in the Tel al-Hawa neighborhood of Gaza City on Monday, 4 October. He had just heard the news that the two Israeli soldiers who had used him as a human shield had been convicted of their crime in an Israeli military court.

The incident took place on 14 January 2009, in the midst of Israel's 22-day long invasion and bombardment of the Gaza Strip, which killed 1,400 Palestinians — half of them women and children — and injured thousands of others.

Effaf Rabah, Majid's mother, recalled that on that day, as the Israeli bombardment of Tel al-Hawa intensified, "I took Majid and his two sisters down to our building's basement to find a safe shelter from the Israeli tank shells and missiles." Many other families had taken shelter in the basement and many had bags or suitcases with milk and food for their children, Effaf Rabah recalled.

"Several Israeli soldiers broke into the basement, took the men away and rounded up the women and children." Effaf Rabah remembered the terrifying moment when the two soldiers approached: "they took Majid from among us, put him in front of them and headed toward the bathrooms."

Majid, still smiling, remembers the moment: "They grabbed me and I wet myself." Then the soldiers ordered Majid to inspect a bag that they suspected of being booby-trapped. "They ordered me to open the bag, but I didn't understand them," Majid said. "Then a soldier slapped me in the face and opened fire on the bag."

Prompted by family members and friends, Effaf Rabah pursued Majid's case with the non-governmental organization Defence for Children International - Palestine Section. In November 2009, Effaf was summoned along with Majid to the Israeli side of Erez border crossing where they both met with an Israeli army officer to discuss their case.

Then on 3 May this year, Effaf was summoned again to Erez where she, Majid and their lawyer met with an Israeli prosecutor. The next day the three were taken to Beer al-Sabe in southern Israel where they gave testimony at the first ever trial for a human rights violation during the Israeli attack.

"I didn't expect my son would be so courageous to speak out and so fluently about what happened to him in the basement. Now we are all relieved that justice has prevailed as we have heard the two soldiers were convicted by the court," Effaf said.

The soldier could face up to three years in prison.

While a moment of justice is sweet for the Rabah family, it is exceedingly rare. What happened to the Rabah family and its neighbors on that day was happening all over Gaza, as Israel's war machine terrorized and traumatized the entire population of 1.5 million with round-the-clock bombardments and deafening overflights from warplanes, and ground incursions which devastated entire neighborhoods displacing tens of thousands.

According to investigations by numerous human rights groups and the UN-commissioned Goldstone report, Israeli soldiers carried out cold-blooded killings of unarmed civilians, used civilians as human shields, harassed others and even stole cash and credit cards from a number of Gaza families. Many of the alleged crimes amounted to war crimes and crimes against humanity, the Goldstone report concluded.

A UN Human Rights Council follow-up committee last week found that Israeli authorities had not conducted credible investigations into allegations and evidence documented in the Goldstone report.

The use of human shields by Israel's army has been a repeated occurrence during various Israeli invasions in the West Bank and Gaza Strip. In 2005, the Israeli high court ruled the practice illegal. There have been more than 150 complaints about soldiers' conduct during the most recent attack on Gaza, including 36 for alleged war crimes. According to the Israeli daily Haaretz, only 47 have been investigated and most of those were closed with no action taken ("The IDF can't play the victim on its actions in Gaza," 5 October 2010).

Majid, now almost 12, says he is glad for the court ruling. Asked if he expects that Israeli soldiers might harass him again in the future, Majid expressed hope that they would not. "If there is peace, I, the children of Palestine and the children of Israel will enjoy peace, rather than suffer more wars," he said.

Rami Almeghari is a journalist and university lecturer based in the Gaza Strip.