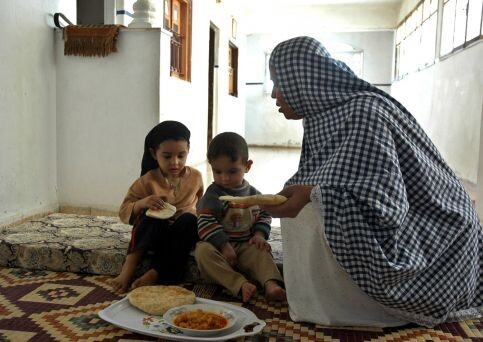 "It was the first war I ever witnessed in my life. All me and my family could do during the Israeli invasion of the Tal al-Hawa neighborhood was stay in the basement and utter the shahada [declaration of faith], which any Muslim should say when facing death."

Ahmad Mansour remembered how he, along with the rest of Gaza's 1.5 million people, experienced Israel's largest ever attack on the coastal enclave in four decades, which began two years ago today. Between 27 December 2008 and 18 January 2009, Israel used its formidable military arsenal — tanks, helicopters, fighter jets, pilotless drones, gunboats and ground troops — to wage all out war against a territory whose destitute population is made up largely of refugees. More than 1,400 people were killed, including almost four hundred children, and thousands more were wounded.

"I remember very well that when the Israeli tanks attacked our neighborhood, they vandalized the Barcelona playground just several meters away from our residential building," Mansour, a father of five told The Electronic Intifada, in an interview at his apartment. "The building's residents stayed for almost 12 hours inside the basement, expecting death at any moment. One of those tanks attacked the front door of the basement itself, and all inside the basement uttered the shahada."

Asked if he expected another Israel attack amidst rising tensions and threats, Mansour said, "I can say that we Palestinians have no choice but to encounter any Israeli attack with our bare chests. We are just helpless and all of their claims that Gaza is a refuge for weapons or rockets are false ones."

Mansour was referring to Israel's claims that its attack on Gaza was meant to halt rocket fire on Israel. In fact, resistance groups had virtually stopped firing any rockets at Israel after a June 2008 ceasefire agreed with Israel. But the ceasefire broke down after Israel attacked Gaza killing six people weeks before it launched its larger assault.

Mansour's 12-year-old daughter Rawan had vivid memories of sitting in the family's kitchen during a lull in the attack. "We lit a candle, and hid it on one of the kitchen shelves so the Israeli army would not realize there were people in the apartment. Rawan said that often when she hears the frequent explosions that shatter Gaza, "we think the Israelis are coming again."

Recently, Israeli army officers and some politicians have offered pretexts for Israel to carry out another large-scale attack on Gaza, claiming that resistance groups have obtained new, more advanced missiles, or that Gaza has become a base for al-Qaida.

At another home in the Tal al-Hawa neighborhood, Dr. Asad Abu Sharekh, professor of English literature at al-Azhar University of Gaza, his wife Umm Abdelaziz, and their son Abdelaziz, now aged 9, recalled how they decided to stay in their apartment during the Israeli attack rather than seek refuge elsewhere.

"The situation was extremely difficult," Umm Abdelaziz said. "Sounds and flashes from the warplanes penetrated the apartment, and the revolting smell of smoke, apparently white phosphorus. We remained in our apartment ready to face death, rather than to raise white flags or flee as others did. My husband told us that his father left al-Majdal [now Ashkelon in Israel] in 1948, and 'now I am not ready to leave my apartment except to my grave or to their jails.'"

In al-Zaytoun, just south of the Gaza city, members of the al-Samouni family have recently managed some reconstruction of their war-torn homes. About 20 of the clan's houses were completely destroyed in the Israeli attack two years ago.

"Besides the displacement I've endured, I went through very bitter moments," recalled Ziyad al-Samouni, 34, as he stood in front of a newly-constructed 95-square-meter home, where he and his eight-member family used to live before the war. "I have a nephew who lost his father during the war, who now calls me 'dad.' Over the past two years, I moved from rental to rental. Once I lived in a small room which was used for breeding birds."

Rania al-Samouni, a mother of five children and now a widow since her husband was killed in the Israeli attack, recently also saw the reconstruction of her home.

"During the past period, my children and I lived in one room at my parents' home," Rania al-Samouni says. "Life without my husband is very difficult. It's difficult too to go from one institution to another asking for assistance. It is true that they rebuilt our house, but I still don't feel any joy because my husband is no longer there." She repeats, "he is no longer there."

In the midst of the attack two years ago, Dr. Asad Abu Sharekh, who is also a political analyst, spoke to The Electronic Intifada. Two years later, EI asked him if he thought Israel had succeeded in imposing its will on the Palestinian people by launching its attack. Abu Sharekh reflected:

"Israel can never succeed in its war against the Palestinian people. This is our land, our history, geography and identity and we are ready to sacrifice ourselves for the sake of our homeland. Recent Israeli threats against Gaza are only a part of Israeli psychological media warfare against the Palestinian people. Israel is suffering from many crises whether domestic or international, especially after the release of the Goldstone report on Israeli crimes against the Palestinians during the last war on Gaza. Also, Israeli failure to freeze settlement construction in the occupied Palestinian territories has brought worldwide criticism to the extent that some countries have recently recognized a Palestinian state within the 1967 borders."

Abu Sharekh also pointed to the growing international campaign of boycott, divestment and sanctions (BDS) against Israel. All of this, he thinks, has constrained Israel somewhat: "The Israeli threats [against Gaza] might be realized in a different way. Israel would possibly carry out pinpoint attacks here and there but not a large-scale war similar to the war two years ago."

"My father has always advised me not to fear the Israelis," said Abu Sharekh's young son Abdelaziz after he returned from playing soccer nearby. "I no longer fear them. And as my father always teaches me, I prefer to die in my home rather than to be killed in the street."

Rami Almeghari is a journalist and university lecturer based in the Gaza Strip.