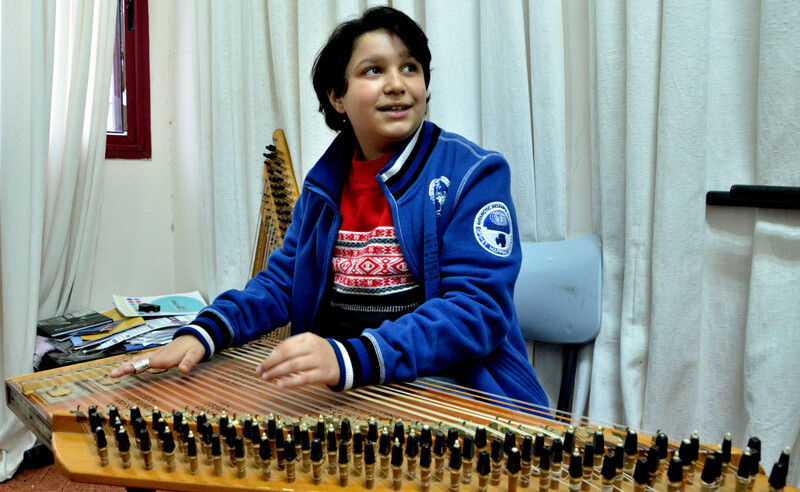 Eleven-year-old Firas al-Shirafi has experienced three major offensives against Gaza during his short life. Last summer, he was confined to his home in the Tal al-Hawa neighborhood of Gaza City as it was too dangerous to venture outside. As Israel bombed and shelled buildings and infrastructure across the Strip, Firas did his best to replace the sounds of destruction with life-affirming tunes.
"The only shelter for me was my music," said Firas, who plays the qanun, a traditional string instrument.
Firas has been studying at the Edward Said National Conservatory of Music since he was five. "We immediately realized that this boy would have a promising musical future," Ibrahim al-Najjar, director of the conservatory's Gaza branch, told The Electronic Intifada. "His father and grandfather were musicians."
The conservatory, which also operates at several locations in the occupied West Bank, took over Gaza's previous music school (which was affilated with the not-for-profit A.M. Qattan Foundation) in April 2012.
The theater used by the foundation to teach students and a large number of its instruments suffered serious damage during Operation Cast Lead, Israel's three-week assault on Gaza in late 2008 and early 2009.
Firas cites the Egyptian qanun player and composer Saber Abdelsattar as a major influence. He also enjoys playing tunes made popular by the Lebanese singer Fairouz and the late Egyptian singer Um Kulthoum.
Listen to Firas perform via the media player below.
Rami Almeghari is a journalist and university lecturer based in the Gaza Strip.
Editor's note: This article has been corrected. An earlier version misidentifed the tune played by Firas.
Tags