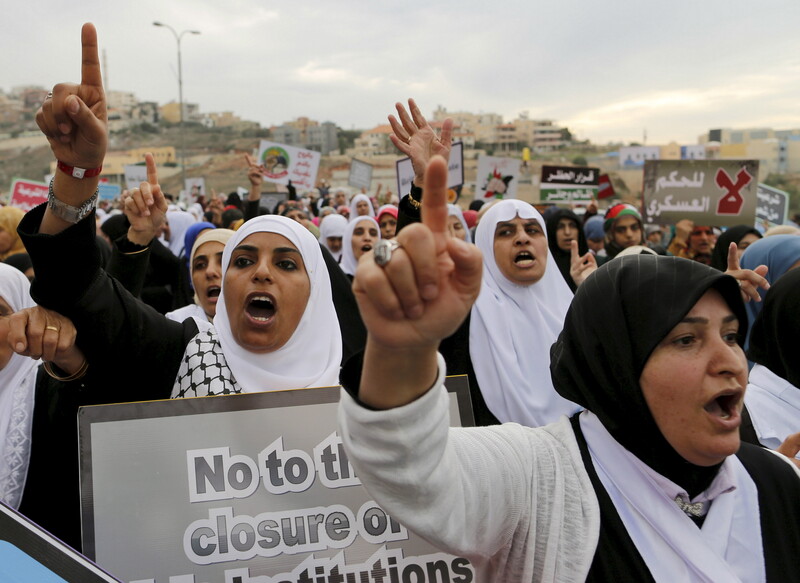 The last thing Sabah Breas needed was a greater financial burden.
The 47-year-old widow and mother of six children, three born deaf, has relied for four years on a monthly stipend to assure the family's survival in the southern Gaza Strip town of Khan Younis.
But that assistance has dried up.
Israel's decision in November to ban the Northern Branch of the Islamic Movement and freeze all its bank accounts and assets has also hit the various charitable associations that relied on the political movement.
This has left tens of thousands of clients in present-day Israel, as well as in Gaza and the West Bank, facing destitution.
Breas is just one of about 23,000 orphans and members of impoverished families with no breadwinner supported by money raised by the Islamic Movement and disbursed through a network of charities.
In Gaza, that task fell to the Palestinian Humanitarian Relief Foundation.
"Our work is basically the sponsorship of orphaned children. We also regularly provide money to widows to help them raise their children," Intisar Abu Musa, a representative of the foundation in Khan Younis, told The Electronic Intifada. "People are distressed by the closure of our foundation as they are no longer receiving their monthly relief."
Money is primarily raised from Palestinian citizens of Israel, Abu Musa explained.
Hospital patients and students have also been able to benefit, she added, and the Islamic Movement has on average underwritten projects to the tune of $13-18 million annually.
In Gaza, where the charity has been active since 2007, it has supplied hospitals with medicine and helped rebuild destroyed homes. It has on several occasions managed to bring in medical supplies — including critical drugs for treating cancer, diabetes and epilepsy — through Gaza frontiers tightly controlled by Israel.
Right now, Abu Musa said, the charity has three trucks of medical supplies waiting to enter Gaza. But for over a month, no permission has been granted.
"What does Israel care if Gazan patients get their medicine in time," Abu Musa said.
No respite
The group has also helped Syrians and Palestinians who fled Syria's civil war and for familial reasons came to Gaza.
"We distributed blankets, mattresses, clothes and food parcels to a few hundred of the Syrian refugees who moved to Gaza in the last few years," Abu Musa said.
As relative outsiders, and refugees several times over, these people are even more vulnerable than many Gazans.
The charity usually provides between $60 to $70 a month for each eligible child or however much is stipulated in individual sponsorship agreements with donors.
Mona Abu Bakra, from Deir al-Balah, in central Gaza, has had to care for eight children ever since her husband died a decade ago.
"I used to manage my life and the lives of my children on the money I receive from this charity. Feeding my children has now become my absolute priority," Abu Bakra said. "What can I say about other expenses, like education?"
The situation is equally desperate for Breas. Her three special needs children demand more care. The money she received could at least cover basic needs.
"I think twice before spending even one shekel," she says now. "Our appalling conditions are only aggravated by these Israeli practices."
Not even holidays provide respite. During Ramadan and the Eid al-Fitr holiday that follows it, families would receive food parcels and meat from the foundation — a special occasion Breas said she could count on to "bring laughter" to her children.
Protests
The decision to outlaw the Northern Branch of the Islamic Movement has met with vociferous protest in Israel, where large demonstrations were held in Umm al Fahm, the northern city where the movement is based.
Protest rallies were also held in Gaza and some West Bank cities including Nablus and Ramallah.
Taking to the streets were children and mothers directly affected. Nima Riadi was there with her three children. "There is no alternative to this charity in Gaza. Their services and their treatment of us are unique," she said.
Riadi said she is very worried about how she will manage. Already she has told her children that they can no longer take pocket money to school.
"My mother told me we have to save the money for emergencies," her 11-year-old son Husan said.
"Mendacious accusations"
Israel outlawed the Northern Branch of the Islamic Movement for alleged links to Hamas, the Egyptian Muslim Brotherhood and as a threat to national security.
But Abu Musa rejects these claims. "We have nothing to do with politics. All we care about are our orphans. We are fed up with these mendacious accusations," she said.
The ban — imposed by the government at the urging of Prime Minister Benjamin Netanyahu — came hard on the heels of the 13 November attacks in Paris.
Haneen Zoabi, a Palestinian citizen of Israel and member of parliament for the Joint List, said that the timing of the move, just days after those attacks, was no coincidence.
Zoabi accused Netanyahu of exploiting the massacre to paint Palestinians struggling for their legitimate rights as no different from the suspected Islamic State gunmen and bombers who killed 130 people.
Raed Salah, the leader of the Northern Branch of the Islamic Movement and a former mayor of Umm al-Fahm, has long been targeted by the Israeli state.
In October, a court rejected Salah's appeal against an 11-month prison sentence he received in March 2014.
The conviction was for supposed "incitement to violence" over a speech he gave in 2007.
Adalah, a group that defends the rights of Palestinian citizens in Israel, called the ban a violation of the right to freedom of association and political expression "which harms the Palestinian-Arab minority in Israel as a whole."
The situation of many families in Gaza served by the group's affiliates shows that the damage goes much further.
Abu Musa sees Israel's move as an attempt to weaken the role of charities in general and undermine their efforts to maintain Palestinian community cohesion.
"What we observe in our work is a growing trend towards a caring society, no matter the barriers, and no matter the Israeli obstacles between our people," Abu Musa said.
Tags