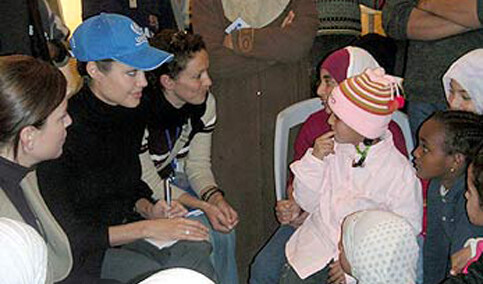 In December 2003, UNHCR Goodwill Ambassador Angelina Jolie visited Ruweished refugee camp in eastern Jordan. Jolie, who has been a UNHCR Goodwill Ambassador since August 2001 wrote a journal which has been released today by the UN refugee agency.
During her one day visit to Ruweished refugee camp, where more than 800 refugees, mostly Palestinians, have settled after fleeing Iraq in April 2003. The actress, who starred in Gone In 60 Seconds, as Lara Croft in Tomb Raider and can soon be seen in Taking Lives and Alexander visited the camp's pre-school. The children at the school told her "their dream is to see their homeland. To live as citizens of a country they belong to."
Jolie noted that most of them aspired to be doctors and teachers. She asked one boy why he wanted to be a lawyer. He replied: "To make justice for people, there needs to be more justice."
Before leaving Ruweished, Jolie attended a community meeting for people to voice their problems and concerns. UNHCR said that it remains concerned about the fate of Palestinian refugees in the border sites. Some have travel documents issued by Egypt and Lebanon, while the majority hold Iraqi resident permits. The Palestinian Authority apparently told UNHCR that it is willing to accept Palestinians seeking to go to the West Bank and Gaza.
UNHCR spokesperson Kris Janowski, who spoke at a press briefing during Jolie's visit to Jordan, said that Jordan has said that it wants to see the Ruweished camps closed. All the refugees are living under tents in wintry conditions out in the desert zone.
The Jordanian government has announced plans to close Ruwaished camp soon and to move refugees to makeshift camps in the no man's land between Jordan and Iraq, where more than 1,000 people – mostly Iranian Kurds – have been stranded since April. UNHCR has advised the Jordanian government against the premature closure, and stepped up efforts to find solutions for the refugees.
Meeting refugee representatives and visiting a school and healthcare centre at the camp, Jolie noted, "The children sang songs of pride and longing for their homeland. It was very moving to hear them speak of the dream to have a place called home one day."
A compilation of Jolie's journlas between February 2001 and June 2002 were published by Simon and Schuster. The book, "Notes from My Travels: Visits with Refugees in Africa, Cambodia, Pakistan and Ecuador", offers insight on refugee life, detailing Jolie's experiences over a year of travels with the UN refugee agency.
To read Angelina Jolie's journal (PDF) click here.
Related Links