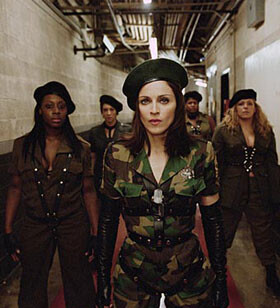 "I'd like to express my extreme point of view, I'm not a Christian and I'm not a Jew, I'm just living out the American dream, and I just realized that nothing is what it seems…"
So go the lyrics to Madonna's hit single "American Life", and we have probably all heard it on the radio or television at some point in time. Last week the Queen of Pop had to abruptly cancel an eagerly awaited series of concerts set for this September in Tel Aviv, Israel's largest city, which would have included a televised concert on September 11. It is reported that Madonna's "Re-Invented Tour" will include video footage of a Palestinian boy and an Israeli boy walking arm in arm. The last time Madonna played in Israel was on 4 October 1993 at Tel Aviv's Hayarkon Park.
According to the Sun (a British tabloid), Madonna had received death threats if she went ahead with her plans to perform in front of thousands of fans in Tel Aviv-Yaffo's Bloomfield stadium. At first, she decided not to give in to the threats, but when she received further threats to the lives of her children — Lourdes, 7, and Rocco, 3 — she "freaked out" and decided it was not worth it. Madonna was compelled to cancel the concert, much to the chagrin of those who had bought tickets.
According to the report in the Sun, which Madonna denies, an unnamed Palestinian group mentioned specific details about her children in a bombardment of poison-pen letters. Apparently, Madonna thought she was being targeted because of her ties to Kabbalah (Jewish mysticism), but it was reported that the group was threatening her because "she represents many things they hate about the West". This seems to refute her own fears regarding her ties to Kabbalah, which many ultra-orthodox Jews find abhorrent. I would not be surprised if most Palestinians have no idea what Kabbalah is.
For the moment, Madonna is sticking to the line that her manager, Caresse Henry, would not let her go to Israel due to the upsurge in violence.
However, if the reports are accurate, the threats must come from someone who has the capability to move around easily, as they had enough information on the movements and whereabouts of Madonna's aides and children — enough, that is, to scare the hell out of Madonna. This would rule out the majority of Palestinians in the occupied territories, who are prisoners in their own homes and whose movement to and from Palestinian cities, towns or villages is severely restricted - not to mention the construction of a wall which has made it very difficult for Palestinians to get into Israel, let alone London or Los Angeles.
Palestinians have not historically targeted American citizens during the conflict. For most Palestinians the problem is Israeli policy in the occupied territories, not Madonna. It is therefore unlikely the threats Madonna received came from Palestinians residing in the current center of violence, Rafah — where hundreds of families were fleeing their homes after it was reported that the Israeli army was planning to demolish them — or anywhere else in the West Bank or Gaza for that matter. Israel's invasion of Rafah was so bad it reminded Israel's Justice Minister Tommy Lapid of his family's experience during World War II, comments which caused a storm in Israel.
In December 2003, I attended a Jane Birkin concert in Bethlehem. Birkin is famous for a hit single in 1969 called "Je T'aime Moi Non Plus". To be honest, I had never heard of her before (she was before my time), although I do own a record by her former husband, Serge Gainsbourg, one of France's most famous musicians and an excellent guitar player. Unlike Madonna, Birkin did not cancel her concert in Israel, and she played in front of thousands of fans in Tel Aviv, as well as to thousands in Gaza, Ramallah and Bethlehem (at a much reduced price) as part of her "Arabesque Tour", which included performances of Gainbourg's songs to the accompaniment of modern Arabic music with Algerian, Andalusian and Oriental influences.
Birkin was welcomed wherever she went, she did not receive death threats, and she got a glimpse into the realities of life on the ground for the majority of Palestinians and Israelis. Admittedly, most Palestinians would not have understood the lyrics as they were in French, but she spoke in English about her life with Gainsbourg who, unlike Madonna, was Jewish. Birkin even talked about Gainsbourg's Jewish origins during the performance, which did not cause any problems. Hopefully this should allay any fears Madonna may have regarding her ties to Kabbalah, fears which are misplaced.
Madonna, or those advising her, seem to forget, or are unaware, that there are also over 4 million Palestinians living in Israel and the occupied territories, not to mention millions of Palestinian refugees elsewhere, who would love to see her perform - only they are ignored, just as they have been ignored by other bands in the past, like the Red Hot Chili Peppers, one of my personal favourites, who canceled a concert a few years back citing "security concerns". Having said this, Palestinian refugees straddled in camps on the borders of Iraq and Jordan did receive a visit from Hollywood superstar Angelina Jolie as part of her role as a goodwill ambassador to the UNHCR. I just wish other celebrities would follow suit.
So Madonna is left in a bit of a rut. She wants to play in Tel Aviv, but obviously wants to protect her children. Every mother would. Naturally she chose the safer option. However, next time, if there ever is a next time, I would suggest she play to Israelis and Palestinians, just like Birkin did. That way, she would be able to deflect any political criticism by appearing to be neutral. Alternatively, if she is too scared to set foot in the place, she could always organize a peace concert somewhere in Europe or the US and raise money for UNRWA, which is having a hard time getting funding from the international community to rebuild the hundreds of homes, the zoo and the greenhouses destroyed by the Israeli army last week in Rafah and elsewhere in the Gaza Strip.
Antonio Banderas visited Bethlehem for Christmas in 1999 after filming ended for his movie "The Body", which was partly filmed in Jerusalem. Despite the political situation, Richard Gere made a personal visit to Ramallah and Bethlehem in December to visit the Peace Centre, and Jemima Khan (formerly Jemima Goldsmith) spent time in Aida refugee camp in October 2003. Khan, a UNICEF UK Special Representative, was drawing attention to the work of the HOPING Foundation (Hope and Optimism for Palestinians In the Next Generation), which provides grants to encourage and improve all aspects of children's lives through art, music, social and sporting activities, and through their education and health needs.
Wouldn't it be great if Madonna gave a concert in Manger Square in Bethlehem to draw attention to a good and needy cause?
I think a performance of her 1989 hit "Like a Prayer" would be particularly apt.
Victor Kattan is a correspondent for Arab Media Watch who covered the oral pleadings which took place before the International Court of Justice in The Hague in February 2004. He is the author of "The Right of Return Revisited", published in the Mediterranean Journal of Human Rights.
Related links