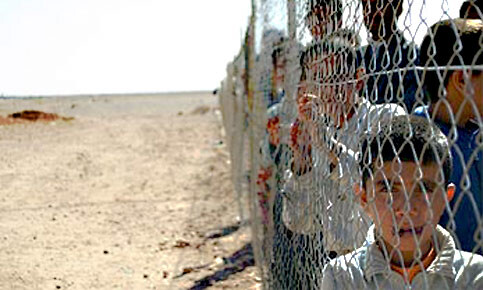 RUWEISHED
, Jordan, — Scores of Palestinians have left a camp in eastern Jordan in recent days, opting to return to the frequent bombings and tension in Baghdad rather than spend another day hoping for a solution to their plight.
In the last week, 46 Palestinians who fled Iraq during last year's US-led war to topple Saddam Hussein have left Jordan's barren Ruweished refugee camp for the Iraqi capital. Twenty more are expected to follow on Wednesday night, while another 30 have indicated a willingness to leave for Baghdad in the coming days.
The Palestinians were among more than 1,500 people who have been living in camps assisted by the UN refugee agency in eastern Jordan's desert. Most of them say their plight has been ignored amidst the attention on neighbouring Iraq.
"We have now waited so long here that we'd rather return to Iraq and die in freedom than remain in a refugee camp where we have no life amidst snakes, scorpions, scorching heat and penetrating sandstorms," said 53-year-old Nasser Hassan Hussein as he packed his belongings into a small van.
Hussein worked as a painter in Baghdad before fleeing Iraq during last year's war.
"Nobody told us to go, but we decided to return with the consensus of the whole family," Hussein said. "Here our life is sand, our food is sand and our water is sand. After a year I know that there is no solution for us here, even hope cannot be found anymore."
UNHCR is not promoting returns to Iraq, and advised the Palestinians about the current insecurity and other challenges facing people in the country. Despite these warnings, the dozens who have so far left said they preferred to try their luck back in the Iraqi capital rather than stay in the dusty camps.
Last year, the UN refugee agency undertook a registration campaign of Palestinians in Baghdad. It counted some 23,000 Palestinian refugees, but the total number is estimated at between 35,000 and 42,000. Many of them had fled their homeland in 1948, while others moved to Iraq from elsewhere in the region, including thousands who settled there following the 1991 Gulf War.
Several thousand Palestinians were evicted from their homes in the Iraqi capital last April. UNHCR, the Red Crescent and the Iraqi Ministry of Displacement and Migration are currently sheltering 35 families at a Baghdad sports centre, while the refugee agency is providing a stipend to others who have found apartments where they feel more secure.
At Ruweished, Hussein said he felt bitter that his family's only alternative to staying in the camp was to risk their lives back in Baghdad.
"It is not fair that finding solutions seems to be so much harder for the Palestinians," he said. "I don't care about politics, I just want to have a normal life, somewhere, anywhere. I don't care where."
After the group informed UNHCR that they wanted to go back, the agency provided financial assistance to cover their travel expenses and several months' rent, along with other relief items.
The Palestinians are among several thousand people who fled Iraq for the safety of Jordan during last year's conflict. More than 1,500 are in UNHCR-assisted camps, including some 1,100 people in a makeshift site in the no man's land on the Iraqi frontier, and nearly 400 in Jordan's Ruweished camp.
Over the past year, UNHCR has worked very closely with the Jordanian government to try to find solutions for the refugees. The country has long been very hospitable to the refugees and found solutions for individual cases.
Last year, Jordan accepted 386 Palestinians with Jordanian spouses who had fled Iraq for the border camps. The remaining more than 350 Palestinians said they wanted to go to their homes in the West Bank and Gaza, and even to Israel, but UNHCR has yet to find any countries to accept them or to provide temporary asylum.
"We believe that the situation inside Iraq is so serious that governments in the region, including Jordan, should maintain an option for hosting refugees on a humanitarian basis," said Sten Bronee, UNHCR's Representative in Jordan.
"It is becoming increasingly difficult for Jordan because there are no other countries within the region willing to host the refugees," he added. "Jordan needs to see support and solidarity by other countries in the region."
Other refugees camped in Jordan's eastern desert feel they are similarly running out of options. Most of the residents of the two sites overseen by the UNHCR are Iranian ethnic Kurds who fled their long-time refugee camp at Al Tash, 150 km west of Baghdad, last April. Others include Iraqis, Sudanese, Somalis and Iranians.
As the first group of Palestinians was preparing to leave for Baghdad last week, one desperate 12-year-old Iranian wandered out of the border camp and was killed by a passing truck while reportedly trying to sell goods along the highway.
Related Links