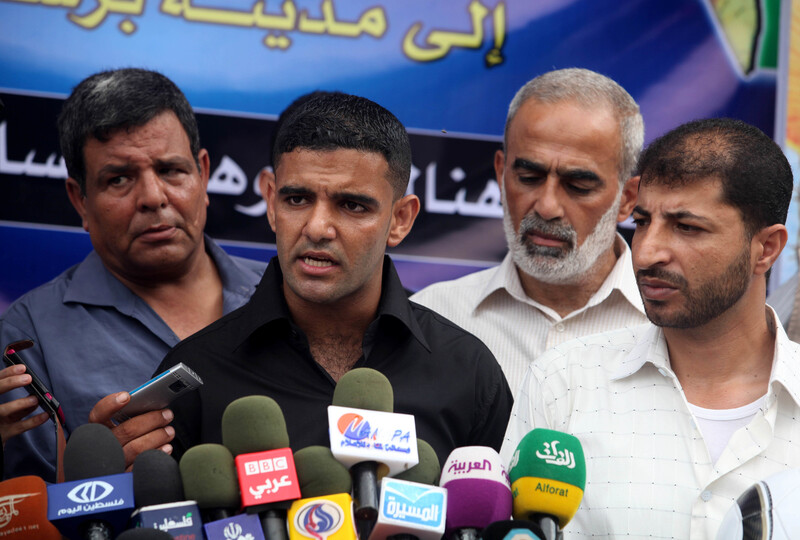 Mahmoud Sarsak is a footballer and former prisoner who was released to Gaza on 10 July 2012 after refusing food for 90 days.
The Electronic Intifada met with 25-year-old Sarsak in Rafah, where he now lives with his family. 
Trying to lead a normal life, Mahmoud now divides his time between home, friends and the sports ground of Rafah Services Club. He began playing his favorite sports there, until he was nominated in 2009 to train with the Palestinian national football team in the West Bank.
That Israeli occupation forces arrested him while he was en route to the West Bank that year.
This month Sarsak participated in a football match between two local teams. "I performed very well. It was such a great experience for me following years of absence from the playgrounds of Gaza," he said.
Remarkable change
Sarsak announced his hunger strike at the Israeli prison in the Naqab desert on 15 March 2012.
This move came after almost three years in jail with no charges under Israel's "unlawful combatant" law; Sarsak's lawyer told The Electronic Intifada last year that Sarsak was believed to be the only Palestinian detained under the law.
Sarsak says the hunger strike has changed his life. "Since I had been arrested by Israel on the Erez checkpoint in northern Gaza, Israeli authorities had no specific charges against me," he said, and his detention orders were repeatedly extended.
"Meanwhile, my determination to attain my freedom grew more and more, especially after I had realized that my dignity as a human being had been hijacked by the Israelis. Quite simply, the question for me was: To be or not to be," Sarsak said.
Maltreatment
Sarsak said that during imprisonment, he experienced maltreatment at the prison. He explained that being a prisoner with no charges is in itself a form of repression and injustice.
"Every dawn, around 4am, the wardens would forcibly wake up everyone for a routine count. Then, only three hours later, they would do the same thing," he said. They also used to crack down on prisoners for trivial reasons.
"This treatment made me determined to regain my hijacked dignity. It was the night of 15 March 2012, when I prayed to God and decided to begin a hunger strike," Sarsak recalled.
Sarsak's hunger strike lasted 90 days, but he was not aware of how much solidarity activity was taking place outside the prison. Reports suggested that Sarsak's health was getting worse, until the Israeli prison authorities finally agreed to free him. His release came about two weeks before the start of the month of Ramadan.
After the release
About eight days after Sarsak's release, he received treatment aboard, as doctors suspected he had a liver problem contracted inside jail.
"From 18 June until 10 July 2012, Israeli prison authorities kept me under medical observation after I stopped my hunger strike, reaching an agreement with my lawyers and the prison authorities to release me that particular day in July. By then, I remember that Israeli doctors injected some blood into me," Sarsak said.
After further illness, doctors in Gaza decided to transfer him to Egypt for treatment. "Jibril Rajoub, head of the Palestinian Authority's football federation, called me to offer treatment at a public Egyptian hospital," he said. Sarsak refused because of safety concerns.
Sarsak soon received an invitation from the Qatari football federation which offered him medical care at Amada hospital in Qatar.
Feeling good
Sarsak has now recovered, and his health is stable after treatment in Qatar. After his return to Gaza, he received another invitation from the African Club, a Tunisian football team. For two and a half months Sarsak had some great times in Tunis.
"I came back from Tunis only two weeks ago," he said. "Over there, I managed to get some good training for a month on a daily basis, thanks to our Tunisian brothers. I also took part in some local Tunisian conferences on the issue of Palestinian prisoners and I spoke to the public," he said.
"Our Arab brothers and sisters are active around our Palestinian concerns, especially the prisoners issue," Sarsak added.
Sarsak also said that he will soon visit Europe.
The prisoners movement
Sarsak now spends most of his participating in local organizing in solidarity with political prisoners. His activity is not related to any political party or prisoners organization in Gaza and is done independently. He has recently taken part in a media campaign that aims to expose the impact of Israel's policies on Palestinian sports.
"As Israel is due to host a major international football championship for junior players in May, myself and many other prisoner solidarity activists as well as the BDS [boycott divestment and sanctions] campaign, of which I am a member, have begun collecting all information and images available about the Israeli army's actions against Palestinian sports," he said.
"I wish that Palestine would have been chosen to host such a championship and this would have constituted a real solidarity with the people of Palestine in general, and Palestinian sportsmen in particular," Sarsak lamented.
Last November, Israeli warplanes bombarded a major sports stadium in Gaza.
The internal Palestinian situation
Asked how he see the state of the prisoners movement in the occupied Gaza Strip, Sarsak expressed disappointment: "Unfortunately, what I see is saddening me a bit, as each political party is only concerned about prisoners who belong to them."
"I cannot find any collective activity dedicated to all prisoners irrespective [of affiliation]," he said. "The current political split between Hamas and Fatah has affected this widely. However, by means of our continued campaigning even on an individual basis, the prisoners issue will remain at the top of our priorities. We will keep up our struggle until all prisoners attain their freedoms."
Sarsak also said that the general sporting situation in Gaza is quite bad due to number of factors.
"I cannot see real sporting activity in the Gaza Strip," he explained. "For one, the Hamas-Fatah political split has divided the sports community. For example, when Hamas took over Gaza, it wrestled control over many sports clubs that belonged to other political parties including Fatah."
"Israel's frequent attacks on the occupied Gaza Strip, including the recent attack on a major sport's club as well as the ongoing Israeli blockade of the territory, have badly impacted sports activities too," he said. "We just hope that both parties, Hamas and Fatah, would reconcile and help rehabilitate sporting life here."
Hopes
Sarsak hopes he will be able to live a normal life among his family and friends. He looks forward to getting a job — several official sports bodies have promised him one since he was released from prison.
"I wish to have a partner in future and start my own family but this depends on a stable economic condition. So far, I have not gotten the job promised by concerned authorities within the PA," he said.
"Before I was released I used to get a $350 stipend in jail, but since I have been freed I no longer receive such an amount," Sarsak added. "I rely on my family's income from the vegetable and fruit trade here in Rafah."
Rami Almeghari is a journalist and university lecturer based in the Gaza Strip.
Tags