Eden Oreus (Gedera Regional High School): Channel 2, you are the garbage of the state, all respect to the Border Police officer and it's a shame he didn't put a bullet in the head of the son of a bitch videographer who documented it.
This posting from a high schooler was one of hundreds by Israeli Facebook users reacting with pride and joy, and incitement to violence and murder, on seeing a video of Israeli occupation soldiers in Hebron kicking a young Palestinian boy as he screams in pain.
The video, shot by a Palestinian videographer and released by B'Tselem, was widely reported in the Israeli media, and shows Israeli occupation soldiers in Hebron, occupied West Bank, violently assaulting a child whom B'Tselem identified as Abd al-Rahman Burqan, aged 9.
B'Tselem described the incident captured on film as follows:
The video shows a Border Police officer ambushing a child from around the corner. As the child walks past, the officer grabs him by the arm and says: "why are you making trouble?" The officer then drags the child, who is screaming, on the ground for a few seconds. A second Border Police officer then appears and kicks the boy. The officer then lets the child go. He runs away, and the two Border Police officers leave the scene as well.
Jessica Montell, the director of B'Tselem, said Israeli occupation authorities had opened an investigation into the incident, however in practice such investigations almost never lead to accountability and punishment of routine violence against Palestinians.
On Facebook: Calls for the child to be shot
On the Facebook Page of Israel's Channel 2, dozens of Israeli Facebook users posted comments congratulating the soldiers and calling for more violence against children.
Avishy Nappe, for example, wrote that he would have put "five bullets through the head" of the boy.
Many Facebook users justified the violence against the child, claiming – without any evidence whatsoever – that he must have thrown rocks and therefore deserved the kicking.
Eliran Zarbiv wrote:
This boy threw stones a few minutes before the two soldiers, and wounded one of them in the head (the soldier who kicked) then the other soldier just managed to catch him, I have a friend in the [army] unit there – all honor to the IDF you are doing a great job Keep at it! If it were me, I would have smashed a [concrete] block on his head! Not just a kick!
Racist comments pervasive
It is important to emphasize that these kinds of racist and violent comments are not exceptional, but are pervasive and common. There are hundreds of them – far too numerous to translate and on Channel 2's Facebook page they appear to far outnumber opposing sentiments.
Of course some Israelis expressed "shame" at the violent and racist comments, and on many occasions were denounced as "lefists" or worse for doing so. On the Facebook page of "100,000 Protestors Against the Occupation," which drew attention to the racist comments on Channel 2's page, for example, there were comments by a handful of Israeli Facebook users strongly condemning and lamenting the racism and calls for violence.
These are a few of the earliest comments posted in response to the Channel 2 item on the video:
Daniel Deri: It's a shame he didn't smash his face, the son of a bitch threw stones before. I wish each and every member of B'Tselem would die, those human scum.

Dan Malka: This should be done to all those children

Tal Avraham: Look at what you are writing … racists. Do you understand that what you are writing here is inhumane… You are disgusting and inhumane, sorry, but that's the truth.

Kfir Levi: This time the little terrorist got off lightly.

Ariel Davidpur: The Border Police are the hero! It's a shame he didn't kill him with the kick.

Shira Oktan: Why all respect? It's a child

Aviran Ezer: Since he'll grow up to be a terrorist, it's a shame he wasn't killed.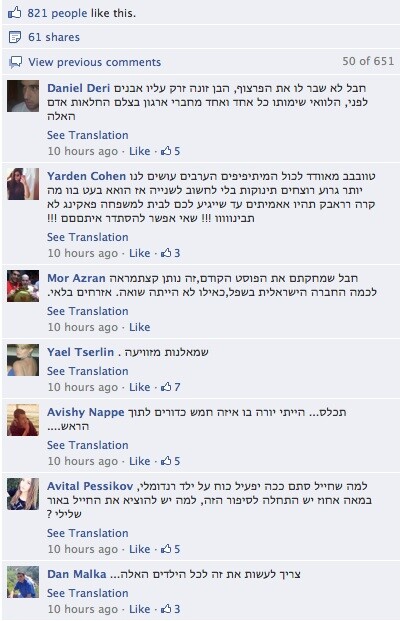 The racism and incitement widely expressed online following this video echoes an incident earlier this year when many Israelis on Facebook expressed joy over the deaths of Palestinian children in a road accident.
Tags