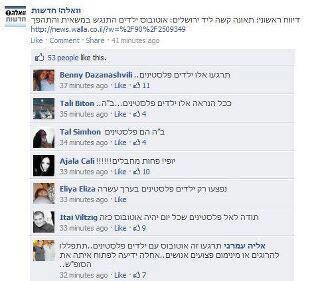 Today there was horrifying news that at least 8 Palestinian children were killed when the bus that was carrying them crashed into a truck.
The popular Israeli news website Walla posted the news on its Facebook page. Within moments, Israelis started posting comments expressing joy at the news.
Hours later, many of the racist comments had been deleted by the Walla editors, and many other Israelis, and Palestinian citizens of Israel expressed their deep revulsion at the racism.
Early screen capture shows vile comments
Abir Kopty posted a screen capture on her blog showing a few of the early comments, which she translated:
Benny: Calm down, they are Palestinian Children.

Tali: Its seems like they are Palestinian children.. Thank God..

Tal: Thank God they are Palestinians

Ajala: Great less terrorists!!!!

Eliya: Only Palestinian children were injured about ten.

Itai: Thank God its Palestinians, let it be such bus every day.

Aleyah: calm down, Its a bus with Palestinian children, lets pray there will be deaths, or at least severe injuries, this is great news to start the day with.
Kopty commented, "Please note the likes on each one of the racist and hateful comments. And no one tells me this is exception and not the Israeli mainstream."
Even more racism, and strong reactions to it
By the time I went to the Walla Facebook page and took a screen capture, there were over 150 comments and many, but not all, of the most racist ones had already been deleted. There were also many Israeli Jews and Palestinian citizens of Israel expressing deep revulsion at the extent of the racism that was expressed.
Although the racist comments were being deleted quickly, the evidence of them can be seen in the reactions that were not. After more than 200 comments had been posted, the editors of the Walla page posted this warning:
Friends, Stop writing racist and irrelevant responses. Users who write racist responses to the post will be blocked from the page.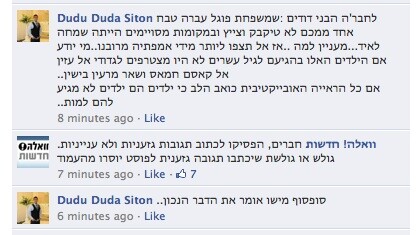 Here is a sample of comments taken from the screen capture below, which I translated from Hebrew. They represent both racist comments and typical reactions. The comments are not necessarily all in immediate sequence, they are just ones that struck me as worth translating.
Liza Aliza Ben Sheetrit: God have mercy.

Anna Kagna-kitty: No difference if they are Arabs or Jews, they are children.

Tamara Melita Samson: It really makes no difference what their religion is, they are children. Do not unto your neighbor what is hateful unto you… May God have mercy.

Gilad Kapl: We're already starting to see the cholera of the racists. I hope the children come out safely.

Karina Pritiko: You can't believe how much racism there is in this country. This just stinks.

Shero Zinaty: Shame on those who were delighted with this news!

Shalom Dror: Racism? What are you taking about! You are in a war!

Mohamad Khalailh: My heart is broken twice, once for the children, and once for the responses.

Daniel Tsionov: Fuck all Arabs!

Meir Mutzmajer: Future terrorists! [referring to the dead children]

Keren Azrad Hamisha: All the wise people who are happy that Palestinians were injured, shame on you. You make me sick. I'm also relieved that they're not Jews, just as I am relieved when there is a disaster in the world and its reported no Israelis were injured. But here there was just joy that they [Palestinians] were hurt??? Can you hear yourselves? How are you any better than the terrorists who talk this way about us???

Hod Gabriel [apparently addressing the page editors]: Wow, any chance you deleted comments? There were lots of racist comments here that do not appear anymore.
Israeli hasbara official springs into action
Before I wrote this post, I tweeted the screen capture Abir Kopty had posted. Jewish Agency hasbara official Avi Mayer sprung into action, attacking me for doing so. Instead of expressing horror at the racism, he saw it as an opportunity for an ad hominem attack on me and my "cronies."

Here were my earlier tweets to which he was presumably reacting, so you can judge for yourself:
Israel military seizes propaganda opportunity
Missing no opportunity to present themselves as saviors of Palestinian children, Israel's military propaganda officials also tried to capitalize on the crash. Israeli military spokesperson Avital Leibovich notorious for her denials and justifications of atrocities committed against civilians in Gaza during "Operation Cast Lead" was chief among them:
Palestinian officials contest Israeli claims of help
Meanwhile, Palestinian officials painted a different picture, suggesting that Israel had impeded rescue. Abir Kopty attended a press conference in Ramallah:
Screen capture of Facebook comments
Tags