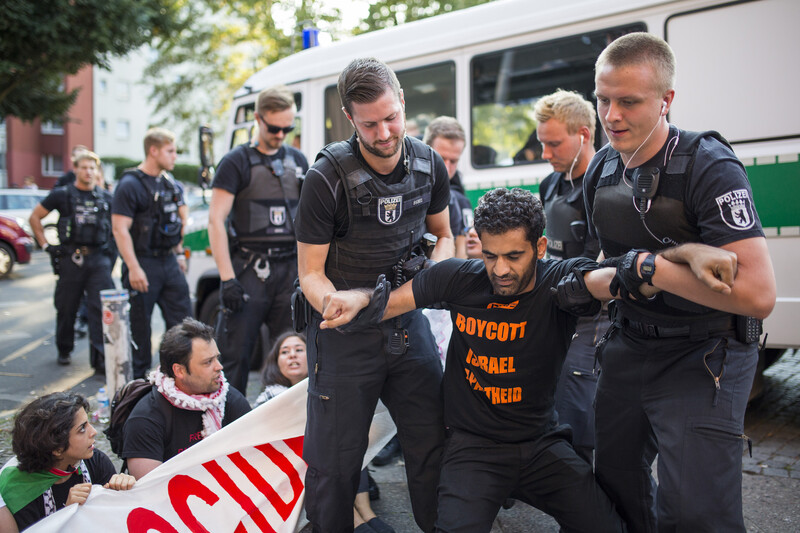 A few years ago German police dragged me across the bare gravel, my face pushed into the cold ground.
It was fall 2015. Benjamin Netanyahu, Israel's prime minister, had declared that Haj Amin al-Husseini, a Palestinian political and religious leader, talked Adolf Hitler into exterminating the Jews.
A group of us protested against this disgraceful and dishonest claim outside the Chancellery in Berlin. We held placards reading "Netanyahu is a Holocaust denier."
That evening I was hospitalized due to my violent arrest.
A Palestinian from Gaza and I had been asked by the police for our identity documents immediately after the demonstration ended. Although we fully cooperated, the police resorted to brutality.
I screamed as police officers dragged me along the ground. One officer placed her feet on me. Another officer twisted my arms; it felt like he was trying to break my fingers.
Next, I was thrown into a van. A police officer mocked me in front of his colleagues. He told me – using a sexist tone – that I was a great actress and should star in movies.
An investigation soon ensued. I was accused of defaming a foreign head of government and disobeying a police officer.
Each of these charges was punishable by three years in prison.
With a sword of Damocles above my head, I had to withdraw from political activity in case it would put my doctoral studies at risk.
The charges were dropped after a few months. Yet I remained silent for most of the next two years.
Climate of intolerance
After completing my studies, I decided to resume activism. I did so against the backdrop of German politics becoming more extreme.
The most notable manifestation of this trend is how the far-right Alternative for Germany – known by its acronym AfD – has become the third largest party in the federal assembly, the Bundestag.
Amid this climate of intolerance, dissenters – and particularly those who criticize Israel – are subjected to smears and even criminalized. I learned this for myself during June 2017, when I took part in a protest at Berlin's Humboldt University.
The protest involved disrupting a talk given by Aliza Lavie, a member of Israel's parliament, the Knesset. Lavie used the occasion to engage in "pinkwashing" – presenting Israel as a haven for LGBT rights in an attempt to divert attention from its oppression of the Palestinians.
Ronnie Barkan, Majed Abusalama and I are facing a criminal trial over that protest.
The three of us have been charged with trespassing. I have also been accused of assault – though the charges do not specify who was assaulted. The trial is scheduled to open in March next year.
Our actions have attracted negative media attention accusing us of anti-Semitism. The fictitious allegation was even repeated – without providing evidence – in a report published by the Berlin Senate.
The assassination of our characters belongs to a wider pattern whereby consent is manufactured on shielding Israel from criticism. Yet the smearing of dissidents is nothing but a distraction from truths that can no longer be concealed: the crime of apartheid that Israel has practiced in a barbaric and systematic way for decades and how Germany has been complicit in that crime.
Suppressing political speech is an infringement of basic liberties. No country can genuinely claim to defend human rights if it denies freedom of thought and expression.
Curbing dissent can also have horrific ramifications as it weakens the power of campaigners and campaigning organizations to hold governments and institutions accountable.
Germany's own experience illustrates the danger of crushing dissent.
Historians have long documented the social, economic and political factors behind why the Nazis came to power in the 1930s. Their analysis has often overlooked one important point. Fascism flourished in Germany because there wasn't a vast resistance movement against it.
With the rise of AfD and the growing support for its racism, anti-Semitism and pro-Israel extremism, such resistance is needed once again in Germany.
Stavit Sinai is an Israeli activist. Her book Sociological Knowledge and Collective Identity will be published by Routledge in 2019.
Tags