A leading pro-Israel activist within Labour is facing calls for her expulsion from the UK's main opposition party.
In a formal complaint, Labour members in the Enfield area of North London have called for their local lawmaker Joan Ryan to be disciplined for her "disloyal" general election campaign.
As a candidate, Ryan had sought to distance herself from Labour, omitting the party's logo from her election literature. She was also dismissive of Jeremy Corbyn, the Labour leader.
The complaint was made in June to the executive committee of the Labour branch in the Enfield North electoral district. It is part of a push for party democracy since the June election. Members have been increasingly calling for a greater say in the selection of Labour candidates for Parliament.
Last month, the executive committee of Labour in Enfield North appointed a delegate to represent that branch during the party's annual national conference. The appointment was made without rank-and-file Labour members in the area voting.
Ryan chairs Labour Friends of Israel, a pressure group within the party. She has long been a vocal opponent of Corbyn, a veteran supporter of the Palestine solidarity movement.
In the general election, she distanced herself entirely from the Labour leader, claiming in a letter to voters that "many" local people "tell me they have more confidence in Theresa May as prime minister than they would have in Jeremy Corbyn."
"Entirely disloyal"
Despite "your misgivings about the Labour leadership," Ryan wrote, "I hope that you will consider voting for me as your local MP [member of Parliament]." She boasted of her "independent-minded" record, saying she would "continue to work" for a changed Labour Party – implying that she would keep on trying to remove Corbyn.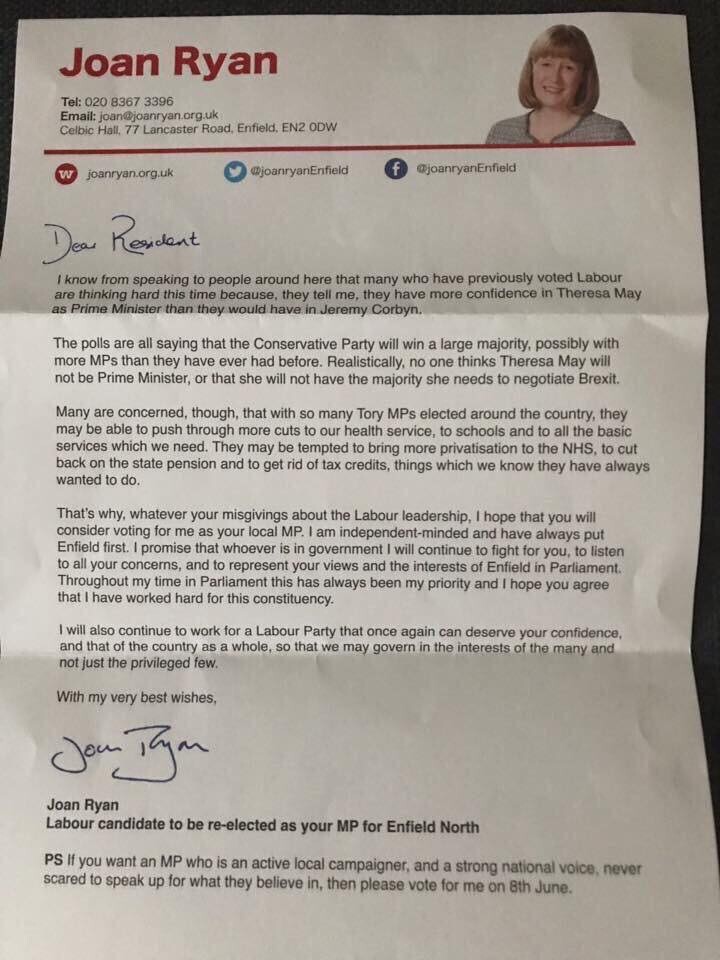 This letter formed the basis of the complaint by local Corbyn-supporting activists. Their complaint does not mention Ryan's history of support for Israel.
Despite undermining her own party, the support of grassroots activists and a nationwide surge in support for Corbyn meant that Ryan actually increased her majority in the election.
Some of these grassroots activists were local, while others came from surrounding areas, having been advised by an online campaign tool that Ryan's seat was in danger of being lost to the ruling Conservative Party, due to her small majority. The tool was provided by Momentum, a group set up after Corbyn became party leader in 2015, to capitalize on the popular movement supporting him.
While some Labour politicians previously hostile to Corbyn have backed him since he performed far better than expected in the election, Ryan has continued to oppose his leadership.
Breach of rules
She has increased pressure on Corbyn, demanding he cut ties with the UK's biggest Palestine solidarity organization to prove Labour is a "credible party of government."
The 24 local Labour members signing the complaint write that Ryan's appeal to local voters was an "entirely disloyal letter." Others are expected to sign onto the complaint.
The local members contend that Ryan breached Labour Party rules, which stipulate that to "remain eligible for membership, each individual member must … accept and conform to the constitution, program, principles and policy of the party."
Ryan's election letter disavowed the party, "choosing to omit the Labour Party logo" and dissociated herself "from the party leadership," the complaint says.
Dated the day before the 8 June general election, the complaint concedes that any "suspension of a candidate … will now take place after" polling day.
The complaint criticizes Ryan for apparently placing her letter "into the public domain" from which it "rapidly migrated to the national media where it was widely exploited" in an attempt to damage Corbyn.
Fake anti-Semitism charges
The complaint includes a full image of Ryan's letter, as well as some of the headlines it generated.
Local party members declined to comment on the record, hoping that the complaint would be taken seriously by party management.
A documentary by Al Jazeera broadcast in January proved Ryan had fabricated an accusation of anti-Semitism against a Palestine solidarity campaigner who had challenged her on Israel's settlement activities in the occupied West Bank. All of Israel's settlements are illegal under international law.
Ryan accused the campaigner of invoking "classic anti-Semitic tropes" about Jews in banking – but the video evidence proves that the activist did no such thing.
Soon after the incident – which took place during a Labour conference in September last year – Ryan alleged that her Labour Friends of Israel stall had been the victim of anti-Semitic attacks.
She also went to the press with this claim.
Tags