Since the beginning of January, there has been a spike in anti-Semitic incidents in the US: bomb threats have been called in against dozens of synagogues and Jewish community centers while swastika vandalism has been reported in several major cities.

Meanwhile, the Trump administration has moved to take white supremacist organizations off the FBI watchlist to focus instead only on "radical Islamic extremism."

This prompted a neo-Nazi leader to celebrate that Trump was "setting us free."

This comes after the Obama administration had already severely curtailed monitoring of potentially violent right-wing extremist groups.

But instead of taking the US government to task for indulging and even affiliating with Nazi sympathizers, prominent cheerleaders for Israel are escalating their attempts to repress the Palestinian-led boycott, divestment and sanctions (BDS) movement through smears and legislation.
Defamation
Last Sunday, CNN host Fareed Zakaria interviewed French pundit and ardent Israel apologist Bernard-Henri Lévy about the rise in anti-Semitism.
Zakaria allowed Lévy to casually link Nazism to the Palestinian BDS movement without a challenge.
"I want to say to the sincere followers [of] this BDS campaign … I'm not sure they know it, [but] this is an anti-Semitic campaign," Lévy claimed. The interview can be seen in the video posted above.
"This campaign takes its root [from] a long time ago, 60 years ago, in the fringes of the dying Nazism," he added without offering a shred of evidence.
Lévy went on to assert that the first time that boycott "was recommended against Israel" was by "Nazis escaping Germany, taking shelter in Iraq or in Syria, and building this campaign of BDS."
These assertions against today's global BDS movement are complete fantasy.
The BDS campaign was founded by Palestinian civil society which, in 2005, launched an international call, rooted in the Universal Declaration of Human Rights, to hold Israel accountable for its violations of Palestinian rights.
It is inspired by the global campaign that helped end apartheid in South Africa, and boycott is a time-honored tactic that has been deemed constitutionally protected speech by the US Supreme Court in a landmark case stemming from the civil rights movement.
The origins of – and reasons for – the BDS campaign are no secret, nor do they have a connection to any vestiges of a European Nazi-era anti-Semitic conspiracy.
Linking Palestinians to Nazis is a gross and defamatory distortion of history. It is a tactic that Israeli Prime Minister Benjamin Netanyahu used in 2015 when he exonerated Hitler of conceiving of the extermination of the Jews in order to try to pin the blame on Palestinians.
It feeds a racist stereotype of Palestinians, asserting they are inherently violent and anti-Jewish, and that is the reason they resist Israel's rule; not that Israel's rule is one of apartheid, oppression, colonization, occupation, supremacy, property theft and everyday violence.
Lévy is not only making up a story using "alternative facts," he is conveniently leaving out a key moment in Jewish resistance history.
Jews in the US, Palestine and Europe were the vanguard of a boycott movement against Nazi-linked enterprises in the early 1930s – a movement which was opposed by European Jewish Zionists and broken by the Zionist movement in its notorious Haavara agreement with Nazi Germany.
The Nazis began enforcing boycotts and violent reprisals against Jewish-owned businesses in an effort to deter the Jewish-led boycott of Nazi Germany.
Platform
Lévy, who recently labeled anti-Zionism a "cosmetic" for anti-Semitism, used his platform on CNN to disparage the growing BDS movement in France and on "the west coast of America."
When Zakaria asked how Lévy would respond to someone who wants to challenge Israel's policies against Palestinians, Lévy clumsily asserted that Israel is a thriving "democracy" but lashed out against anyone who would "demonize, delegitimize or stigmatize" Israel as "a Jewish state."
It is no surprise that Israel advocates like Lévy would find an open pulpit for his anti-BDS views on CNN.
Like Zakaria himself, the cable network has been unwilling to challenge anti-BDS claims or to offer a platform to anyone who could.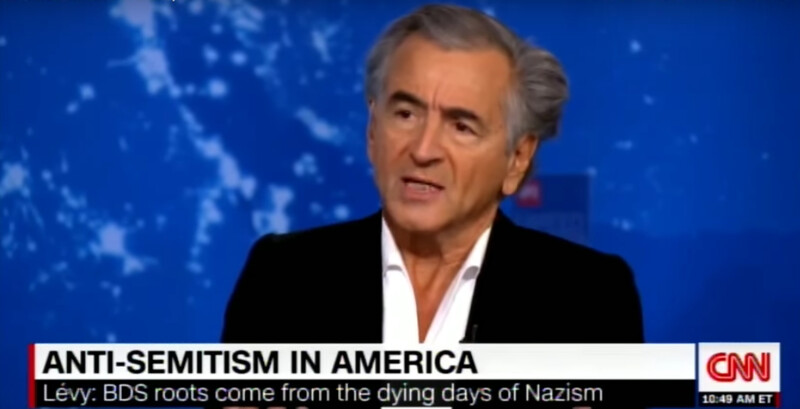 Lévy has hurled similar smears at BDS movement co-founder Omar Barghouti and against The Electronic Intifada's Ali Abunimah.

Barghouti has sharply refuted them in writing, but neither he nor Abunimah, nor any other prominent supporter has been invited on to a CNN panel to talk about BDS.

A search of the Lexis-Nexis news database returned no examples of a proponent of the boycott movement appearing on a live CNN interview, while those opposed to it, including Israel-aligned US politicians and Israeli officials, have been featured at least seven times since February 2014 to condemn BDS and its activists without a debate.

Following the Lévy segment, Twitter users demanded better from CNN.

One might suppose Bernard-Henri Lévy is taking his cue from the Trump administration, presenting his version of reality as historical fact in order to push an agenda that is rooted in racism, supremacy and exceptionalism.

With mainstream journalists ill-equipped to fact-check or just unwilling to counter complete fabrications, Lévy's appearance on CNN represents a depressing norm: Israel's cheerleaders are allowed to denigrate, smear and attack Palestinians who are seldom given an opportunity to correct the record.
Tags