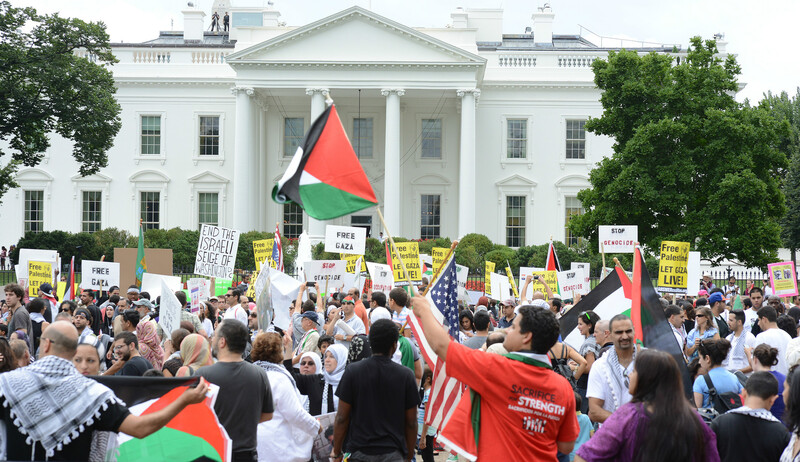 New legislation seeking to chill speech critical of Israel has been introduced in the US Senate.
And Wyoming joins an expanding list of states where politicians are introducing measures intending to repress the Palestinian-led boycott, divestment and sanctions (BDS) campaign which aims to pressure Israel to end its violations of Palestinian rights.
Florida Republican and former presidential hopeful Senator Marco Rubio and Democratic Senator Joe Manchin of West Virginia have introduced a bill to combat "economic warfare" against Israel and protect "shared national security interests" by impugning the BDS movement.
The bill, S. 170 – dubbed "The Combatting BDS Act of 2017" – would increase "protections for state and local governments in the United States that decide to divest from, prohibit investment in, and restrict contracting with companies knowingly engaged in commerce-related or investment-related BDS activity targeting Israel," Rubio's office states.
Rubio likens the bill to legislation passed in several states requiring state bodies, including pension funds, to divest from companies that do business with Iran and Sudan – countries that the US has deemed its enemies.
Rubio says the bill is also meant to counterbalance the passage of UN Security Council Resolution 2334, which reaffirmed that Israel's settlements in the occupied West Bank, including Jerusalem, are illegal.
Rubio calls the UN resolution a "deplorable one-sided measure that harms Israel and effectively encourages the BDS movement's campaigns to commercially and financially target and discriminate against the Jewish state."
His legislation aims to protect state and local governments that enact such blacklists from having their measures invalidated by any conflicting federal law.
However, "the Rubio bill doesn't solve the fundamental problem with these anti-BDS laws, which is that they violate the First Amendment," Rahul Saksena, a staff attorney with Palestine Legal, told The Electronic Intifada.
The federal government cannot permit state and local governments to trample free speech rights, he said.
The bill is similar to the "boycotting the boycotters" blacklist New York governor Andrew Cuomo created by executive order last year.
Legal groups called Cuomo's blacklist unconstitutional and a revival of "a dark tactic of the McCarthy era."
Wyoming resolution slams BDS
In Wyoming's state legislature, a non-binding resolution was introduced by a Democratic lawmaker on behalf of a rabbi who claims that the BDS movement is "a thinly veiled form of discrimination against Jews," according to the Casper Star-Tribune.
The resolution calls on state agencies to "note" a company's participation in BDS campaigns when considering it for bids on contracts.
Rep. James Byrd claims that his resolution demonstrates "opposition to discrimination against Jews and other minorities" in the state, according to the Star-Tribune. Byrd insists that it "wasn't meant to take a stance on the Israeli-Palestinian conflict," the newspaper reports.
Tags