Mounis Hammouda will be 30 on Monday. Until a few days ago, it looked like he would spend his birthday in an Arizona detention center. By raising $9,000, local activists managed to have him released on bail — after 480 days of captivity.

Mounis, who grew up in Gaza, told me he is optimistic. He plans to take English classes while he waits for his work permit to be approved. He would like to attend university in the US.

"I want a good life," he said. "I want a good future."

Detention has had a marked effect on him. Visiting him before his release,  I was struck by how he looked very different to the photographs on his Facebook page. While there is a glow and color about him in those images, he took on a pale complexion during the year I got to know him.

Because he was deprived of Internet access while in custody, he was not been able to log onto Facebook since November 2014. That was in Mexico, not far from the northern border with the US.

The next day he was placed in custody by the US immigration authorities, along with his travel companion Hisham Shaban Ghalia. Hisham is still being held in what the Department of Homeland Security calls a service processing center in Florence, Arizona.

While still in detention, Mounis asked me to check his Facebook account. He wanted me to find a picture of him taken about three years ago amid the crunchy cold splendor of the Troodos Mountains in Cyprus.

I am an immigration sponsor for Mounis and Hisham. This means that I am a point of contact in the community for government officials and non-governmental organizations handling their cases.
Credible fear
Mounis left Gaza in 2011. His family's house had been bombed by Israel during Operation Cast Lead, its three week bombardment of Gaza in late 2008 and early 2009.
After leaving Gaza, Mounis moved to Cyprus, where he lived in a refugee camp for three years. It was in Cyprus that he met Hisham; the two men had not known each other in Gaza.
From Cyprus, the two men took a plane to Venezuela. They then flew to Nicaragua and traveled onwards to Mexico by bus, eventually arriving at the Arizona border.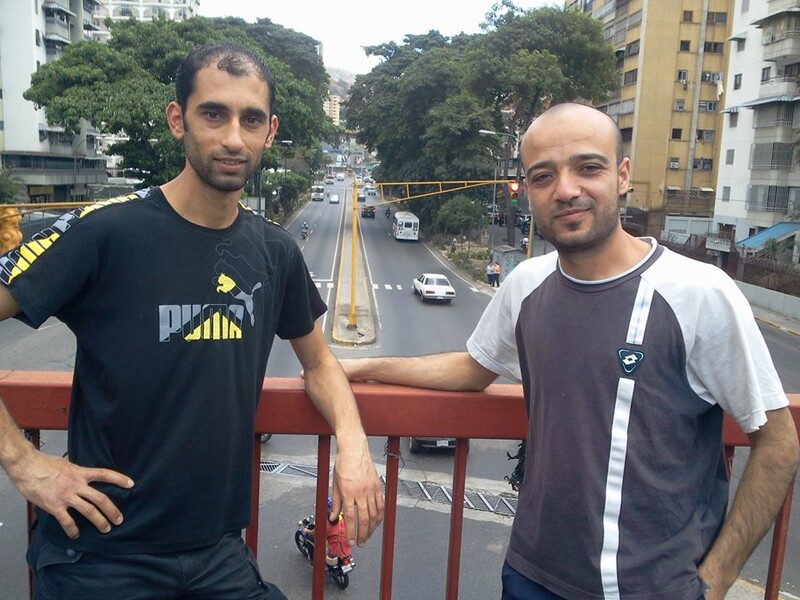 Both Mounis and Hisham have been declared as no danger to the US by an immigration judge. The authorities have accepted that they both have a "credible fear" that they would be persecuted if they returned home.
Last year, they were both told that they could be released from custody if bonds worth $9,000 each were posted. Neither had that sum at his disposal. So the University of Arizona chapter of Students for Justice in Palestine launched a fundraising appeal to cover the bond for Mounis.
A few days ago, we managed to post bond. We had to wait six and a half hours at the detention center before Mounis was released. We are still trying to raise additional funds to help Mounis and Hisham after their release. 
A lawsuit is being undertaken, meanwhile, in a bid to have Hisham freed.
Hisham's asylum application was rejected by the immigration authorities in August last.  His deportation officer asked me at the time to sign a "power of attorney" document in order to enable Hisham's deportation. I refused to sign it.
The officer told me that no immigration judge would be willing to sign an order to deport someone to the occupied West Bank or Gaza.
The lawsuit seeking Hisham's release is being undertaken by the Council on American-Islamic Relations. CAIR argues that it the continuing detention of Hisham is unconstitutional, given that he does not pose any threat to the US.
Both Mounis and Hisham have displayed remarkable resourcefulness. Between them, they speak five languages (Turkish, Greek, Spanish, English and their native Arabic). With pro bono legal assistance in Arizona, they have presented their own cases in court.
Mounis and Hisham have received support from migrants, indigenous peoples and, of course, from the Palestine solidarity movement. Naturally, we are delighted that Mounis has been released in time for his birthday. The campaign to free Hisham rolls on.
Tags