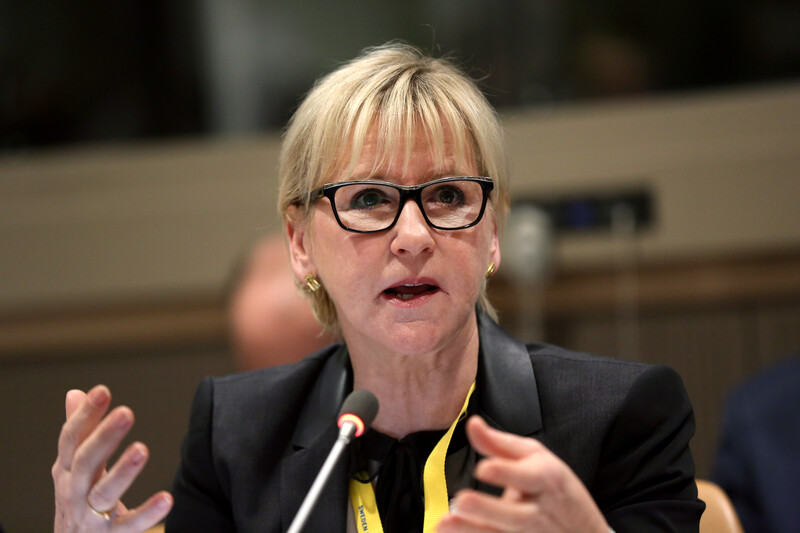 Swedish security officials are investigating Israeli death threats directed at their foreign minister Margot Wallström.
Last week, Zvi Zameret, a former official of Israel's education ministry, published an article in Hebrew implying that Wallström deserved the same fate as Count Folke Bernadotte, a Swedish UN diplomat murdered by a Zionist militia in 1948.
"There are security people looking at this issue and we have no more comment than that," Wallström's spokesperson Kristian Brangenfeldt told the Swedish publication Etc.
"But I know which article you mean," Brangenfeldt added in reference to Zameret's op-ed, "and it felt very strange."
The Swedish foreign ministry did not respond to a request for additional comment from The Electronic Intifada.
Persona non grata
Wallström has raised the ire of Israeli Prime Minister Benjamin Netanyahu for suggesting that there should be an investigation into Israel's frequent killings of Palestinian youths that human rights groups term extrajudicial executions.
The Israeli leader recently denounced Wallström's comments as "outrageous and stupid."
Wallström also angered the Israelis by connecting the kind of radicalization behind the November attacks in Paris that killed 130 people to the situation in the Middle East, "where not least, the Palestinians see that there is not a future."
Sweden was already in Israel's bad books for announcing in 2014 that it would recognize the "State of Palestine" (I strongly criticized this action, but for other reasons).
Earlier this month, Wallström cancelled a visit to Israel after officials said they would refuse to meet her.
"Inspiration"
The article by Zvi Zameret, headlined "Margot Wallström's source of inspiration," was published in Makor Rishon, a paper owned by US billionaire Sheldon Adelson, a major financier of the Republican Party and anti-Palestinian organizations.
Folke Bernadotte was a Swedish aristocrat and diplomat who helped rescue thousands of Jews and others from Nazi death camps during the Second World War.
Later, he became the UN mediator for Palestine. He was assassinated in Jerusalem on 17 September 1948 by the Stern Gang, the Zionist armed group among whose leaders was Yitzhak Shamir, a future prime minister of Israel.
In the article, translated for Mondoweiss by Jonathan Ofir, Zameret lists Bernadotte's supposed transgressions in the eyes of the Zionist movement and then turns his fire on Wallström: "The Swedish Foreign Minister Margot Wallström, with her characteristic covert anti-Semitism, with her arrogance, ignorance, and her interest-bound speculation regarding her future Muslim voters – she too seeks to fight the foundations of the State of Israel. I am convinced and certain that her intentions will smoulder, just as all of the undignified count's [Bernadotte] intentions did."
Zameret has denied that his article was an implicit endorsement of violence against Wallström, but Swedish officials will be concerned because of high profile assassinations of the country's political leaders in recent decades.
In 2003, Wallström's predecessor Anna Lindh was murdered while out shopping in Stockholm. Her killer, Swedish citizen Mijailo Mijailović, is serving a life sentence.
In February 1986, the country's Prime Minister Olof Palme was shot dead while walking home with his wife from a cinema in the Swedish capital.
His murder has never been solved, but among the many theories pursued by investigators over the years is that it was linked to South Africa's apartheid regime, of which Palme was an outspoken international critic at the time.
Incitement
Zameret's article came as Israeli Prime Minister Benjamin Netanyahu had turned his anger on Wallström.

It also comes amid an atmosphere of incitement against domestic and international critics of Israel's violent repression against Palestinians.

Last month, the Israeli right-wing group Im Tirzu released a report calling on the Israeli government to shut down human rights organizations that receive foreign funding and criticize Israeli policies.

Im Tirzu also released a video that labels the heads of four major Israeli human rights groups as traitors who aid terrorists at the behest of their foreign bankrollers.

It should be recalled that rising incitement preceded the 1995 assassination of Israeli Prime Minister Yitzhak Rabin by the Jewish militant Yigal Amir. This included Rabin frequently being called a traitor for signing the 1993 Oslo accords with the Palestine Liberation Organization.

Many in Israel still feel Netanyahu himself played a direct role in this incitement.

Now, a 2012 video has come to light titled "PM Netanyahu's message to 'Im Tirtzu' supporters." It features the Israeli prime minister praising the group and urging donations to support it.

Chemi Shalev, the US editor of the Tel Aviv newspaper Haaretz, tweeted the video on Friday with this comment: "Making the rounds (and turning stomachs) 2012 Netanyahu appeal in English to support proto-fascist Im Tirzu."

It is one more indicator that incitement and extremism in Israel are not marginal phenomena but are nurtured at the very top.
Tags