As its forces killed several more Palestinians in the occupied West Bank this week – including a child and a disabled man – Israel released the bodies of more than a dozen people slain weeks earlier in what it said were attacks on civilians and soldiers.
But investigations find that Israeli forces are using lethal force when alleged Palestinian attackers do not pose an immediate threat, as part of what human rights groups have previously called a "shoot to kill policy."
In some cases, Palestinians were slain when there was no attack attempt, despite police and army claims.
Mahdia Hammad, a 40-year-old mother of four, appears to be one such victim.
Israeli Border Police riddled her body with more than a dozen bullets in the town of Silwad, near the West Bank city of Ramallah, on the afternoon of 25 December.
The Border Police claimed that she had tried to run them over.
But Hammad's husband said that his wife was rushing home from visiting her sister in order to feed their baby when she encountered the Israeli forces soon after the town's regular Friday protests.
The Tel Aviv newspaper Haaretz, along with fieldworkers with the International Committee of the Red Cross and the human rights group B'Tselem, collected testimonies from witnesses of the incident which cast doubt on Israel's claims.
"Border Policemen signaled her to stop, but she continued to drive, slowly. Then they sprayed her car with bullets," according to Haaretz.
"When the car came to a halt, another policeman emerged from the perpendicular street, thrust his rifle into the bullet-riddled car and fired another volley into [Hammad's] head, even though she was certainly dead by then," Haaretz adds.
The Palestinian Centre for Human Rights' findings also indicate that Hammad was executed and that she had attempted no attack on the Israeli forces when they opened fire on her.
The group says that the Border Police prevented an ambulance from reaching Hammad and she was left to bleed without receiving first aid.
Her body was taken to an unknown destination before being transferred later that evening and her family was able to bury her.
Dozens of Palestinian families have not yet had that opportunity.
Bodies returned "in poor condition"
Israel has withheld the bodies of at least 80 Palestinians, including several children, slain since the beginning of October.
The policy to withhold bodies is part of a series of repressive measures approved by the Israeli government in mid-October after two weeks of increased violence and protest.
The head of a Palestinian forensic institute said on Thursday that Israel is preventing autopsies from being carried out on the bodies of Palestinians killed by its forces.
Israel has stipulated that returned bodies be buried at night immediately after the transfer of the remains.
Several families of slain Palestinians issued a joint letter on Wednesday rejecting the conditions, saying Israel is preventing them from burying their relatives according to tradition and is prohibiting them from requesting an official autopsy.
Israel's treatment of the bodies effectively makes it impossible for Palestinians to properly examine them.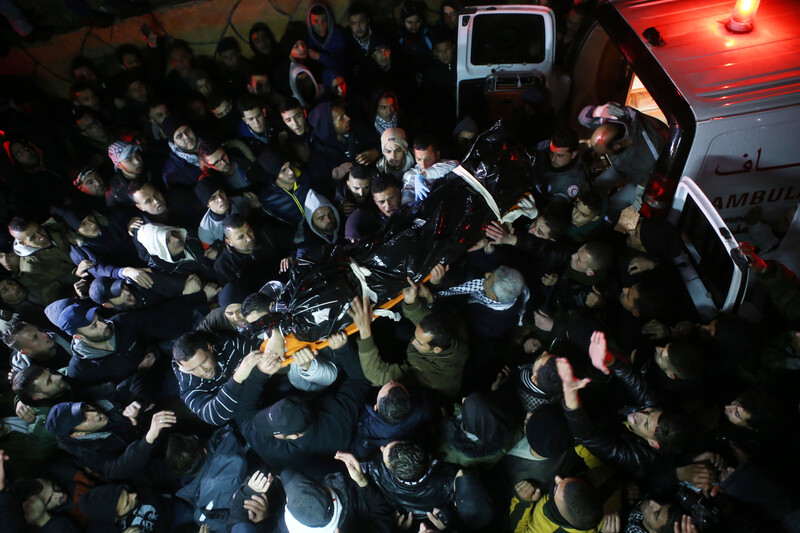 Sabir al-Aloul of the Al-Quds University Institute for Forensic Medicine told the Ma'an News Agency that "Israel freezes the bodies of the Palestinian martyrs in mortuaries held at -35 degrees which prevents autopsy for 24 to 48 hours."
"The freezing prevents autopsy results that document the crime, which means a loss of important information for bringing Israel in front of the International Criminal Court," al-Aloul said.
Israel is rumored to have removed organs from bodies of Palestinians withheld from their families, and al-Aloul said that the conditions in which Israel is transferring the remains prevents investigation of those accusations.
"The coroner also reported that a number of the bodies he has received from Israeli custody appeared to be returned in poor condition," Ma'an stated.
Al-Aloul said that many of the bodies he had examined were "shot in the head and the chest many times from a very close distance."
"Some bodies also showed the use of expanding bullets – also known as 'dum dum' bullets – the use of which is illegal under international law," Ma'an added.
Meanwhile, the Palestinian Authority's prisoners affairs chief said that the body of Mamoun Khatib, a 16-year-old shot dead on 1 December, was returned bearing marks of torture.
Killings
At least 135 Palestinians have been killed by Israeli settlers and soldiers in the past three months. Around 20 Israelis have been killed by Palestinians or by unintentional police fire during attacks in that same period.
Genady Kofman, a 41-year-old Israeli settler, died on Wednesday from wounds he sustained during a stabbing in the West Bank city of Hebron on 7 December. The alleged Palestinian attacker, Ihab Miswadeh, was shot and left to bleed to death in the street.
A Palestinian who was shot by Israeli forces earlier in the month died of his wounds on Thursday.
Shadi al-Ghabeesh, 38, was hit in the pelvis by an expanding bullet during a protest in Jalazone refugee camp near the West Bank city of Ramallah on 4 December.
After nearly two weeks in hospital, al-Ghabeesh was released. But his health took a turn for the worse on Thursday. The Palestinian health ministry in Ramallah said that medical examinations showed that his death was caused by complications from his injuries.
The Palestinian online news publication Quds identified al-Ghabeesh as the same man who had been savagely beaten by Israeli soldiers in a separate incident last June, after he told them to stop firing tear gas that was causing suffering to his family, including his children, in Jalazone refugee camp.
A video of that incident shows half a dozen Israeli soldiers screaming obscenities at al-Ghabeesh, kicking and beating him, even as he lay on the ground with his head bleeding. One soldier can be seen smashing him on the head with a rifle.
Huwwara slayings
Three Palestinians were shot and killed in the area near Huwwara checkpoint outside the West Bank city of Nablus in the past week.
On Thursday, 22-year-old Hassan Bazur was shot dead by the Israeli army, which claimed that he had driven his car into a group of soldiers stationed on Highway 60 near the checkpoint.
An Israeli soldier was reported to have been moderately injured in the incident.
As noted by the Ma'an News Agency, "Highway 60 is a major thoroughfare for Palestinians as well as Israelis living in illegal settlements, and the Huwwara area that lies on the route has been site to frequent confrontation between local Palestinians and Israeli military and settlers in recent months."
On Saturday, Maher Hussein al-Jabi, 45, was driving his car at a slow speed in a queue at the checkpoint as soldiers searched other vehicles.
According to the Palestinian Centre for Human Rights, when al-Jabi's turn came, he approached the checkpoint and two Israeli soldiers walked towards his car. When one of the soldiers slipped and fell on his back, another soldier 10 meters away rushed towards the fallen soldier and fired at the car.
Al-Madi was hit in the face and lost control of his vehicle, which then hit a cement block, witnesses told the rights group. He died of his injuries soon after in a Nablus hospital. A medical examination found that al-Madi was hit with an explosive bullet in the face and another bullet in the hand.
A day later, Israeli forces opened fire on two Palestinians who allegedly attacked a military jeep in the village of Huwwara.
An Israeli army spokesperson told the Ma'an News Agency that the pair had stabbed a soldier in the face. Another soldier was wounded by Israeli fire directed at the Palestinians, who were identified as Muhammad Sabaaneh, 17, and Nour al-Din Sabaaneh, 23, both from Qabatiya village near the West Bank city of Jenin.
The Palestinian Centre for Human Rights stated that soldiers prevented a Palestinian ambulance from reaching the youths and that their bodies were taken to an unknown destination.
Disabled man shot dead
Another Palestinian, 26-year-old Musab al-Ghazali from Silwan village, was shot by Israeli police near the Old City of Jerusalem on Saturday after he allegedly pulled a knife on an officer who had asked him for identification.
An Israeli police spokesperson told the Ma'an News Agency that al-Ghazali fell to the ground after the officers opened fire, "and was shot dead after getting up a second time."
Both the Ma'an News Agency and the Palestinian Centre for Human Rights received eyewitness testimony that al-Ghazali was sitting on a bench when he was approached by mounted police.
They asked him to stand and raise his hands in the air and when he did, the officers fired on the youth, according to the testimony.
The slain man's family told Ma'an that al-Ghazali had a developmental disability and that he was executed in cold blood.
Al-Ghazali's parents and brothers told Israeli interrogators that the young man was a student at a school for people with special needs.
His brother told Ma'an that al-Ghazali had left home to collect scrap metal the day he was killed.
Gaza protesters and swimmer killed
Also on Saturday, a young Palestinian man in Gaza died from injuries he sustained on Friday during confrontations with Israeli soldiers.
"Hani Rafiq Wahdan, 22, was shot in the head near the al-Shujaiya neighborhood east of Gaza City," Ma'an reported.
Nineteen others were hit by live fire across the Gaza Strip that day, the Gaza health ministry told Ma'an.
On Monday, 48-year-old Yousif Abu Sbeikha al-Buheiri from al-Maghazi refugee camp died from wounds he sustained during the Friday protests.
At least 22 Palestinians in Gaza have been killed since the beginning of October, most of them shot during protests near the boundary with Israel.
On 25 December, Egyptian forces shot dead a young Palestinian from Gaza who was swimming into its territorial waters.
Al Jazeera released footage showing 28-year-old Ishaq Khalil Hassan, fully nude, being shot dead without warning.
His cousin, Ahmad Hassan, told the network that "the Egyptians are equal, if not even worse, than the Israelis when it comes to their treatment of Palestinians."
Ishaq Hassan's body was transferred by Egypt to Gaza on Thursday.
Tags