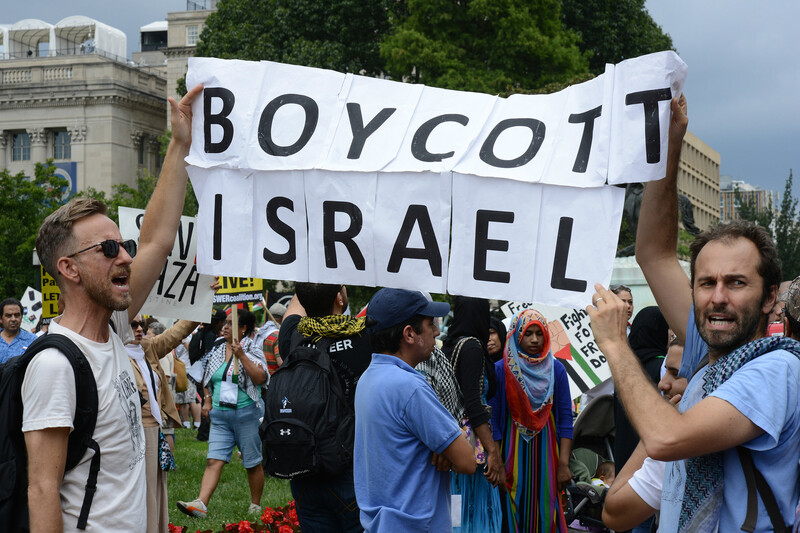 On Thursday, Illinois Governor Bruce Rauner signed into law a measure that will seek to punish international companies that boycott Israel.
The law, SB 1761, was approved by the state legislature earlier this year.
In a press release, attorneys with Palestine Legal say that the new law "will set up a blacklist of companies that boycott Israel and require the state's pension funds to divest from those companies. The law specifies that its intent is to only punish companies that are not based in the United States."
The law defines a "boycott" of "Israel" as "engaging in actions that are politically motivated and are intended to penalize, inflict economic harm on, or otherwise limit commercial relations with the State of Israel or companies based in the State of Israel or in territories controlled by the State of Israel."
This means that the law will punish international companies that boycott goods from Israeli settlements in occupied territories, including the West Bank and Syria's Golan Heights, that are considered illegal under international law and even by longstanding US policy.
Last month, US President Barack Obama signed into law an anti-BDS provision to much fanfare from anti-Palestinian organizations. As Josh Ruebner, policy director of the US Campaign to End the Israeli Occupation, noted, the Obama administration signaled that it would not try to enforce a provision in the federal trade legislation that would make it a US objective to fight boycotts even of settlement businesses.
Boycott is a constitutional right
Though it says the Illinois law is "troubling," Palestine Legal points out that it does not make Israel boycott activism, advocacy or engagement illegal.
Rahul Saksena, staff attorney with Palestine Legal, told The Electronic Intifada today that "boycotting Israel is a constitutionally protected right that cannot be taken away by state law."
"While we should oppose any government action against BDS [the Palestinian-led boycott, divestment and sanctions movement], we want to emphasize that the new Illinois law does not prohibit anyone, including students, from boycotting Israel or advocating for BDS," Saksena said.
The US Campaign's Ruebner had also noted regarding the federal law that "nothing in any congressional anti-BDS initiative does or could restrict our First Amendment-protected right to engage in BDS speech and advocacy."
Organizing effort
Palestine Legal says that while they are concerned with the law, "it could have been much worse. An earlier iteration of SB 1761 was far more dangerous."
The group says that the earlier version of the law "was watered down after a successful advocacy campaign by Palestine solidarity activists in Illinois, along with civil rights and civil liberties organizations. Without that organizing effort, we would have a far more troubling law."
Republican Illinois congressman Peter Roskam, who has claimed that BDS is "blatant discrimination against the Jewish state," heralded the law as a "great day for the State of Illinois and the ongoing battle against the insidious BDS campaign," the The Times of Israel reported.
The Times of Israel added that "supporters [of the law] say that it now serves as a model for similar measures in some 20 other states."
But as the US Campaign's Ruebner has noted, Roskam's own efforts to push more aggressive federal anti-BDS legislation have met with obstacles in Congress.
Palestine Legal is, meanwhile, "exploring possible legal challenges" to the newly-signed Illinois law.
"We continue to be concerned with the government's use of financial levers to punish or dissuade certain speech, particularly speech in support of human rights, simply because the government disagrees with that speech," the group says.
"Our local, state, and federal governments should be protecting and advancing human rights, not sanctioning companies taking a principled stance on a social justice issue."
Tags