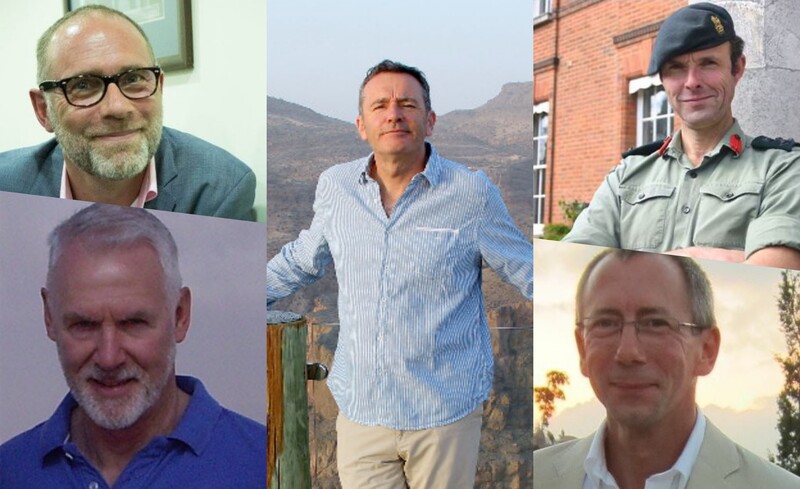 A cache of leaked documents obtained by The Electronic Intifada reveals the extent of British intelligence penetration of Palestinian Authority forces, including "daily direction" from a UK military officer.
The documents detail how shadowy British contractor Adam Smith International (ASI) has influenced the Palestinian Authority for almost 15 years.
They expose several military intelligence trainers, naming names for the first time.
Two of the British agents, including a likely MI6 officer, worked closely with Israeli spies.
Some ASI personnel who worked with the Palestinian Authority are named in the files as also working with the contractor's controversial "Free Syrian Police" project.
The program used British government funds to support al-Qaida-linked groups fighting the Syrian government – inadvertently, ASI claims.
ASI training to the Palestinian Authority is done in Ramallah, Jericho and Jordan, under the ultimate command of a US general, and in coordination with Israel.
The Electronic Intifada used the same document cache to reveal in February that the contractor had carried out a secret British government project to spy on Palestinian refugee camps, with the aim of monitoring "criticism of Western and Israeli foreign policy."
No comment
You can read extracts from the files on this page and some of the full documents at the end of this article. The cache has been publicly available from a file sharing site since October last year. The Electronic Intifada has chosen to publish only files it has reviewed and determined to be in the public interest.

ASI declined to comment, directing us to the Foreign Office for queries "regarding any particular project." A spokesperson for the UK's foreign ministry declined to comment.

The Electronic Intifada understands that ASI has been ordering those named in the leaked documents not to speak to this publication.

"It is important that you do not respond to these requests for information, and that you let us know if you are contacted," ASI director Daniel Pimlott wrote in one internal email seen by The Electronic Intifada

"The Electronic Intifada is not a credible media organization and has a pro-Russian slant," he claimed.

"Remember the confidentiality clauses you signed up to and your obligations to the UK government," he added in an implicit warning to anyone who might consider speaking out.

The Palestinian Authority has always been a brutal collaborationist proxy force for Israel's occupation. Its leader Mahmoud Abbas once described security collaboration with Israel as "sacred."

In 2021 there were weeks of protests after Abbas' goons beat to death Nizar Banat, one of his most prominent critics, whose influential Facebook videos often denounced collaboration.

One of the main US goals in the region is to preserve the Palestinian Authority.

To further that goal, they established the United States Security Coordinator for Israel and the Palestinian Authority.

The position was founded in 2005 and the first person to take the role was Keith Dayton, a US army general.

In 2007, Dayton was instrumental in a CIA-backed coup against the elected Palestinian Authority leadership. Hamas' political wing had won the 2006 legislative elections, much to the anger of Israel and the US.

The coup failed in the Gaza Strip, but was successful in the West Bank, resulting in a bitter and sometimes violent split between Hamas and Abbas' faction Fatah.
British trainers
The leaked files are ASI bids for British government contracts, mostly in countries other than Palestine.
In the bids ASI often cites its training of Palestinian Authority armed forces as evidence of its suitability for other lucrative contracts, in the process revealing previously unknown names and details.
ASI's training of the Palestinian Authority falls under the auspices of the "British Support Team," which is funded by the Ministry of Defence and run by ASI under the auspices of the US Security Coordinator.
One of the leaked documents, part of a 2019 bid on a project in Tunisia, describes ASI's work as "assisting the UK Government in building the capacity of the Palestinian Authority Security Forces" for "over 10 years."
An obscure post published on LinkedIn by one of ASI's military contractors confirms these details.
It was written by Anthony Malkin, a former British army colonel and military intelligence officer.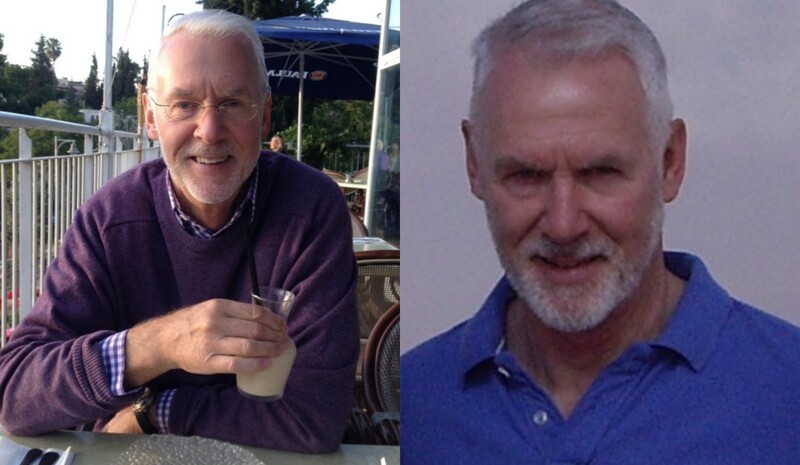 Claiming Arabic fluency, Malkin describes how, from 2013, he established a Palestinian Authority training academy and designed courses for its officers.
While Malkin's post does not name ASI – alluding only to "an international development company" – his LinkedIn profile does list the firm as one of his employers.
The LinkedIn post aligns well with the descriptions in the ASI files – although the files do not name Malkin.
But one file dating to 2015 does seem to refer to him, describing "a specialist military technical advisor" who is "a former head of leadership training at the Royal Military Academy at Sandhurst" and who was then "the only international consultant embedded at this high level within" the Palestinian Authority armed forces.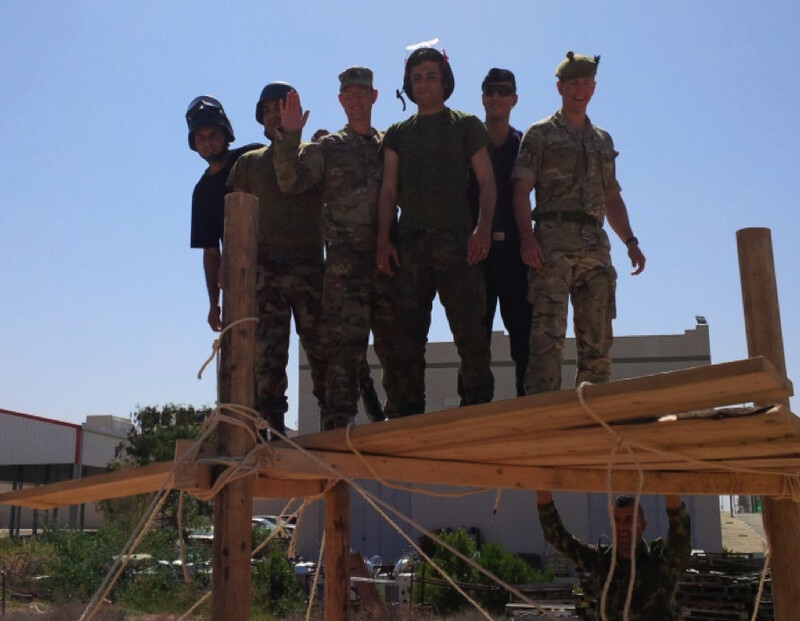 The adviser "developed a nine-month practical leadership curriculum with over 1,700 lesson plans in English and Arabic," according to the file.
Malkin's LinkedIn post seems to tally with that, describing how he set up an "officers' leadership course … for nine months" with a "live-firing four week culminating exercise in Jordan based on Sandhurst."
What are the priorities of this course?
According to Malkin's LinkedIn post, he made sure Palestinian Authority forces were trained in conducting "raids into Palestinian refugee camps," which he claims are "lawless sanctuaries for criminals and armed political activists."
Palestine is described in another ASI document as one of several "priority countries" for the "Conflict, Security and Stability Fund," a $1.6-billion-dollar British government pool for global interference projects, which often finances ASI projects.
It has been described by one parliamentary committee as a potential "slush fund" that doesn't meet the needs of UK national security.
One ASI document written as part of a 2019 bid on a "police reform" contract in Jordan says that almost $7 million in British government funds have been spent on the British Support Team since 2012.

According to the document, the funds came from the Ministry of Defence.
However, according to Malkin's blog post, the project was – at least initially – also funded by the US military.
Another ASI document from 2019 shows the extent of British government penetration of the Palestinian Authority under the auspices of US imperialism.
It says that the ASI runs Palestinian-Authority-embedded "advisers … reporting frequently" to British government officials, "in the case of the [occupied Palestinian territories], taking daily direction from a serving UK senior officer."
Although the leaked documents seem to refer to Malkin only obliquely, other British overseers are explicitly named.
A 2016 bid for ASI's "Free Syrian Police" project names former British army intelligence officer David Robson as a senior director of the UK's "support to security sector reform in the occupied Palestinian territories."
The document boasts tantalizingly of Robson's "distinguished military career" during which he "operated at the highest political and strategic levels."
But Robson is more forthcoming on his LinkedIn page.
There it says he was a colonel of "info superiority" as an intelligence adviser to the head of the British army between 2007 and 2010. He was subsequently the commander of the 1st Signal Brigade, a UK-NATO army unit.
He went on to become senior British officer for the United States Security Coordinator in Ramallah, working with Palestinian Authority forces between 2012 and 2015.
Robson was later hired by ASI to lead its Syria program, "tracking and managing the risks affecting AJACS" – the so-called "Access to Justice and Community Security" program which directed the Free Syrian Police.
British funding to the project was halted after a 2017 BBC documentary exposed evidence that ASI was aiding al-Qaida.
Despite the scandal, Robson went on to work with Palestinian Authority armed forces again, and even as military expert for UNRWA, the UN's agency for Palestine refugees in Jerusalem, his LinkedIn page states.
Others are named in the ASI files as also working with Israeli intelligence.
Michael Frayne, a former close protection officer in London's Metropolitan Police and Northern Ireland's Royal Ulster Constabulary, is named as a prospective security manager in a 2016 ASI bid on a Foreign Office-funded project in South Sudan.
Listing his experience, the document names him as a collaborator with Shin Bet, Israel's secret police, "against Islamic-based terrorist organizations."
A more senior figure named John Deverell is exposed in an ASI bid on security "reform" in Tunisia.
A former British army brigadier, the Arabic-speaking Sandhurst graduate once "reported personally to Foreign Secretary David Miliband," a Labour Party politician in office between 2007 and 2010.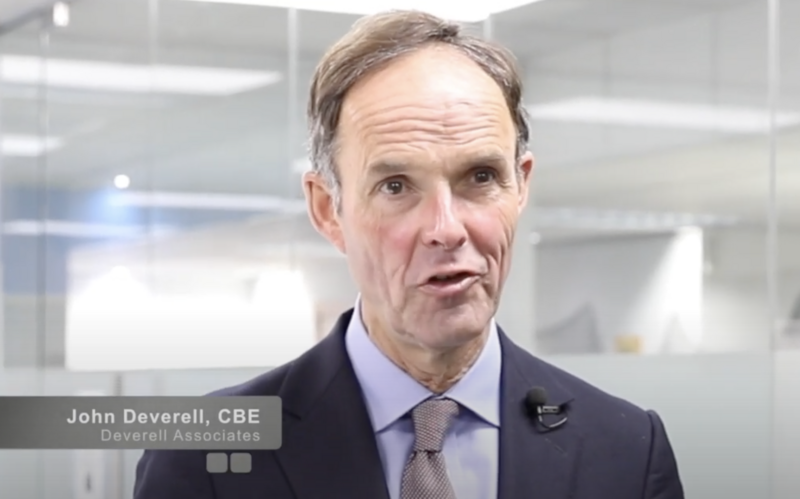 Deverell's ASI resumé states that in 2007 he began overseeing the Palestinian Authority in Ramallah, as another United States Security Coordinator adviser.
Deverall had previously worked for US general Dayton as his deputy in Iraq, soon after the illegal US-UK invasion.
The resumé also describes Deverell as having been "deputy commander" of "operational intelligence" in Iraq.
Asked to comment, Deverell told The Electronic Intifada he had never been a military intelligence officer and that "at no stage during my time in the West Bank did I report to, or prepare any reports for, British military intelligence."
Deverell's ASI resumé boasts a glowing recommendation from Dayton himself: "the finest senior strategic mind I have ever encountered."
For two years, the files claim, Deverell "was the first British government servant living and working full time in the Palestinian Territories [sic] since the end of the British Mandate" in 1948.
In office, Deverell's priority was to support Salam Fayyad, then the unelected, US-imposed "prime minister" of the Palestinian Authority in the West Bank.
According to the ASI files, Deverell worked on "the improvement of border security operations on the crossing points between Israel and Gaza."
ASI claims Deverell "helped improve life for the Palestinians," but only "within the strategic objectives of encouraging their moderates [read: Fatah against Hamas] and giving confidence to the Israelis."
In his response to The Electronic Intifada, Deverell confirmed briefing David Miliband "at times" but denied involvement in the US-backed coup: "I started to work and live in the West Bank in 2007, after Hamas took over in Gaza, not during the lead up to that point."
He also denied involvement "in any aspect of border security operations between Israel and Gaza, nor did I ever advise on them." Asked in a followup email to explain the resumé stating otherwise, he wrote: "I stand by what I said. It is not for me to comment on what ASI said about me."
ASI declined to comment on whether it had misled the government. The Foreign Office also declined to comment.
While Deverell's resumé gives the impression of being involved in military intelligence, another figure named in ASI's Tunisia bid looks like an outright MI6 officer – a spy for Britain's overseas intelligence agency.
The very nature of such a post makes it almost impossible to prove for certain. But if the ASI files are to be believed, David Haines must at minimum be an asset for MI6 within the British diplomatic service.
Haines is described in the Tunisia bid as "a former senior diplomat" who has decades of experience in "counter-terrorism." Countries including the US and UK have a long history of disguising their spies under diplomatic cover.

According to the ASI bid, Haines led the British government's "capacity building program for the Omani intelligence services," and is a fluent Arabic speaker. On Haines' LinkedIn page, this is described in slightly more euphemistic terms as "managing elements of the UK's relations with Oman in the security and international relations spheres."
It seems highly likely that a diplomat charged with such a sensitive intelligence task would at the very least have very close ties to British intelligence, if not be a member of such an agency himself.
The most telling line in Haines's ASI resumé specifies that he is "security cleared to DV level."
"Developed Vetting" is the highest of the five main levels of the British government's national security checks. Those who pass it – including all MI6 officers – can be given "frequent and uncontrolled" access to top secret security files and codewords, as well as to foreign intelligence.
Haines is put forward in ASI's Tunisia bid as an intelligence adviser.
According to the bid, he led teams managing cooperation on "counter-terror" investigations "between security services in Oman, Egypt, Iraq, Nigeria and Israel/OPT and their [British government] counterparts."
In other words he managed cooperation between British and Israeli spies.
His LinkedIn profile says he was based in the British consulate in Jerusalem in the mid-1990s, helping the Palestinian Authority establish itself "with particular focus on capacity building" – similar language to his later work building up Omani intelligence.
The money
Some of the ASI bids contain detailed budgets, giving an indication of the kind of fees commanded by the organization's consultants.
The files show that David Robson was allocated $285,000 for leading ASI's "AJACS" program in Syria between 2015 and 2016.
The Tunisia bid is missing a detailed budget breakdown, meaning we do not know how much John Deverell and David Haines were paid. But the project as a whole was allocated almost $500,000 of UK government funds.
It is unclear if the Tunisia bid was successful.
David Haines was allocated almost $43,000 for 52 days work on another ASI intelligence role in Jordan in 2018, which was funded by the Foreign Office.
Michael Frayne was allocated $23,000 for 40 days work in South Sudan in 2017 and 2018.
Junior imperialist partners
Anthony Malkin, Michael Frayne and David Robson did not respond to requests for comment.
David Haines did not respond to a request for comment sent via the Foreign Office news desk.
The ASI files give important new insights into the role that the UK plays as a junior partner in the US empire.
The documents make clear the subservient role that British military and intelligence forces play in the West Bank, under overall US control.
And ultimately, all three entities – the US, the UK and the PA – are in bed with Israel and its occupation of Palestine.
Asa Winstanley is an investigative journalist and associate editor with The Electronic Intifada. Kit Klarenberg is an investigative journalist exploring the role of intelligence services in shaping politics and perceptions.
Tags