In apparent response to the recent vote in support of divestment by the University of California at Davis student government, TV personality Roseanne Barr issued this call for sectarian violence: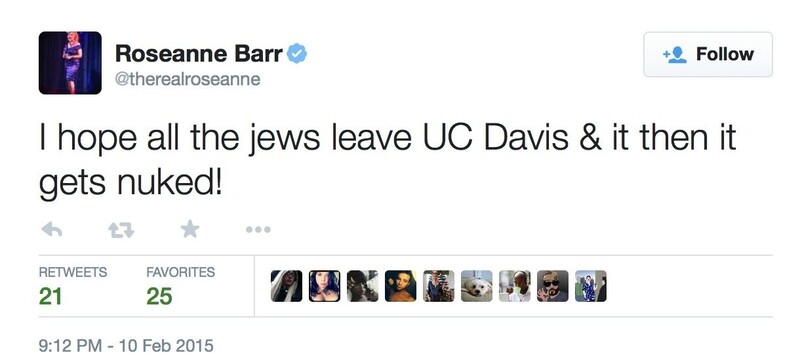 It elicited a number of approving responses from Barr's almost three hundred thousand followers on Twitter.
Barr's tweet came the same evening a gunman murdered three Muslim students in Chapel Hill, North Carolina, raising fears among Muslim communities nationwide.
But UC Davis itself seems unconcerned. Asked by The Electronic Intifada if the university had a response to Barr's call for violence or heightened concerns for students safety on campus, Andy Fell, co-associate director of media relations wrote, "I'm not going to comment on that tweet. I think it speaks for itself."
Fell referred The Electronic Intifada to a 6 February public letter signed by UC Davis Chancellor Linda Katehi and several campus chaplains stating that "recent campus events have surfaced the worst forms of intolerance and bigotry toward both our Jewish and Muslim communities."
Despite the fact that it is a political conflict – divestment from Israel's occupation – that has animated tensions on campus, the letter calls for interfaith outreach between Jewish and Muslim organizations.
Katehi is no neutral party; she has condemned the stance of students supporting divestment.
In the days before the letter was issued, Katehi was criticized, as The Electronic Intifada reported, for ignoring a barrage of hateful, Islamophobic and racist attacks launched against Arab and Muslim students – including a student senator.
Barr's tweet, which was up for more than ten hours, has now apparently been deleted. Here are some other tweets that are still visible on her account featuring a range of Islamophobic and conspiratorial views:
Tags