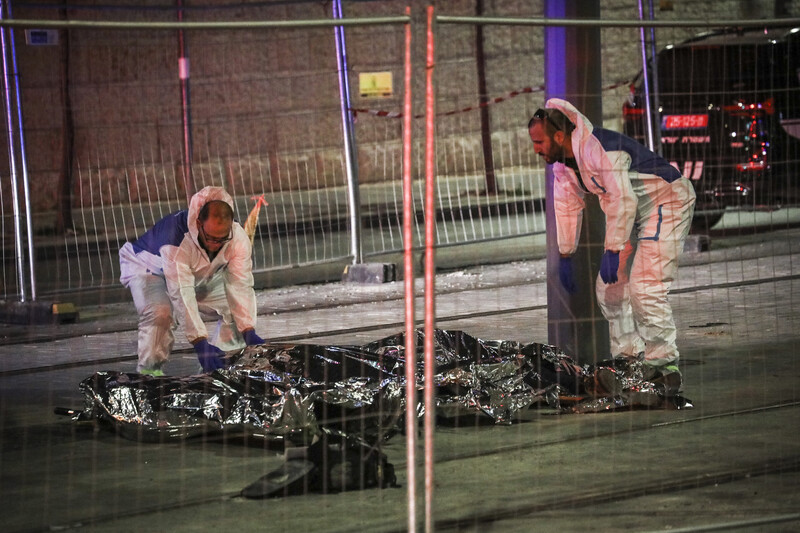 A Palestinian gunman from occupied East Jerusalem killed seven people near a synagogue in a settlement on Friday night, according to Israeli media.

Israeli media identified the alleged attacker, who was shot dead by police, as Khayri Alqam, 21, from the al-Tur neighborhood of East Jerusalem.

Itamar Ben-Gvir, Israel's internal security minister, visited the scene of the shooting, where he was heckled by protesters. "It's on your watch," one person reportedly shouted. "Let's see what you do now."

In a video of Ben-Gvir at the scene, protesters can be heard chanting "death to the Arabs" and "death to the terrorists."

Ben-Gvir responds approvingly, "death to the terrorists, that's right."

While Hamas didn't claim responsibility for the shooting in Neve Yaakov, a settlement in East Jerusalem, a spokesperson for the resistance group praised the operation and described it as "the beginning of a response" to the Israeli raid on the West Bank city of Jenin on Thursday that left nine Palestinians dead.

The Jenin raid was "the deadliest single Israeli operation in the West Bank since at least 2005," a United Nations official said.

Two children and a woman were among those killed in the Jenin raid. Twenty Palestinians were injured, four of them critically, according to the health ministry.

Al-Haq, a Palestinian human rights group, said that the raid began with a siege on a home in Jenin refugee camp. Three occupants of the building were killed by Israeli shelling.

The military also bulldozed part of a community organization in the camp and targeted electricity generators, cutting off power and internet in the area, including to the main hospital in Jenin, according to the rights group.

Palestinians in Gaza fired rockets towards Israel following the deadly Jenin raid and Israel hit sites in Gaza that it claimed were used to manufacture rockets.
Deadly escalation
The shooting attack in Jerusalem on Friday marked the first Israeli fatalities in the context of the occupation so far this year.

Israeli soldiers, police and settlers have killed more than 30 Palestinians since the beginning of 2023. Additional Palestinians have died as a result of injuries sustained during previous years. Last year, according to The Electronic Intifada's monitoring, 207 Palestinians were killed by the Israeli military, police and settlers in the West Bank, Gaza and inside Israel during the year, or died from injuries sustained in previously.

The year 2022 saw the highest number of Palestinians killed by Israeli forces and settlers in the West Bank, including East Jerusalem, since the second intifada two decades ago. More than 50 of those fatalities occurred in the Jenin area, according to Al-Haq.

A major escalation of even worse violence in 2023 seems all but guaranteed as Israel's current government is its most right-wing and openly fascist yet.

Following Thursday's bloodbath in Jenin, three independent UN human rights experts jointly stated that "none of this violence would occur if Israel were to end its illegal, half-century old occupation immediately and unconditionally as required by international law."

The experts noted that there was no accountability for Israel's massacre in Jenin refugee camp in 2002, during which more than 50 Palestinians were killed and more than 400 homes were destroyed.

Al-Haq said that "while the new government is explicit in how it wants to expand the settler-colonial project, Israel's excessive use of force policy is nothing new."

This policy "is an exemplification of the broader settler-colonial and apartheid regime," the rights group added.

Jerusalem is an epicenter of Israel's efforts to displace Palestinians so that they may be replaced by foreign settlers.

Palestinians in Jerusalem are subjected to daily violence by settlers, police and a bureaucracy that aims to push them out of the city. Tens of thousands of Palestinian Jerusalem-area residents were under siege for several days last October.

Scores of Palestinians have been executed in the streets of Jerusalem and alleyways of its Old City in attacks and alleged attacks since late 2015.

In November last year, two Israelis were killed in twin bombings in the city.

Following those bombings, Itamar Ben-Gvir – a far-right leader in Israel's new government and a disciple of Rabbi Meir Kahane, whose genocidal teachings inspired the 1994 Ibrahimi mosque massacre – called for the extrajudicial executions of Palestinian resistance leaders.

He said that "we must return to the targeted killings, we must impose a curfew on the village from which the terrorists came."
Palestinians squeezed in Jerusalem
Neve Yaakov, the settlement where Friday's shooting attack took place, was built on land confiscated from the nearby Palestinian communities of Beit Hanina, Hizma and al-Ram.
A 2000 master plan for Jerusalem shows Israel's intention to dominate the city by securing "a demographic ratio of 70 percent Israeli Jews to 30 percent Palestinians in the city," according to Al-Haq.
Human Rights Watch observes that part of Israel's efforts to maintain its domination is through " 'Judaization' of areas with significant Palestinian populations," including Jerusalem.
"This policy, which aims to maximize Jewish Israeli control over land, concentrates the majority of Palestinians who live outside Israel's major, predominantly Jewish cities into dense, under-served enclaves," Human Rights Watch adds.
The policy meanwhile restricts Palestinians' "access to land and housing, while nurturing the growth of nearby Jewish communities."
Since occupying the eastern sector of Jerusalem in 1967, Israel has revoked the residency status of more than 14,500 Palestinians from the city.
Unlike Israel's massacre in Jenin a day earlier, the deadly shooting in Jerusalem was swiftly and strongly condemned by the United States and the European Union.
Israel attempted to justify Thursday's deadly raid on Jenin by claiming it thwarted an imminent attack by Palestinian resistance fighters – though Israel did not say where or when this alleged attack was to take place.
What Friday's bloodshed in Jerusalem demonstrates yet again is that there is no amount of killing, arresting, torturing, punitive demolitions, collective punishments and other forms of persecution that Israel can mete out to Palestinians that can achieve what Israel calls security.
As long as Israel's brutal, racial regime continues to rule the lives of millions of Palestinians, the only certainty is more lives lost.
Ali Abunimah contributed reporting.
Tags