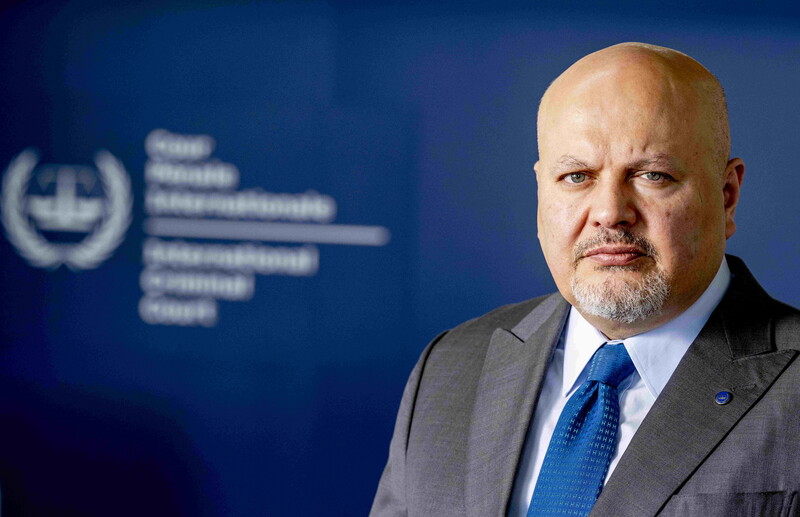 Ten human rights groups based in Israel are urging the International Criminal Court's chief prosecutor to visit Palestine and move forward with the investigation opened by his predecessor last year after a years-long preliminary examination.
Karim Khan, the court's chief prosecutor, said earlier this month that he aimed to visit Palestine in 2023.
His remark during the court's assembly of state parties came amid criticism that his office has stalled the Palestine investigation despite the rapidly deteriorating human rights situation in the West Bank and Gaza Strip.
In a letter to Khan, the groups based in Israel state that crimes within the tribunal's jurisdiction "have been and are being committed."
The organizations – which include Adalah, a group that advocates for the rights of Palestinians in Israel, and B'Tselem, which has extensive documentation of Israeli violations – pledged to assist the investigation.
The groups noted that Israel has "a record of preventing international access" to the territories under its control. It has denied entry to UN investigators and staff members as well as "international scholars and human rights advocates" or forced them to leave, the groups state in their letter to Khan.
"This context makes your visit – and the granting of access to your office – ever more important," the groups state.
State of play at ICC
Palestinian human rights groups have expressed frustration that Khan hasn't made any progress on the Palestine investigation.
Khan has made no public statement denouncing Israel's "terror" group designations and raids targeting the offices of Palestinian human rights groups that have submitted evidence files to the court on behalf of victims.
During his visit to Jerusalem in July, US President Joe Biden affirmed that Washington would work with Tel Aviv to "combat all efforts to boycott or de-legitimize Israel, to deny its right to self-defense, or to unfairly single it out in any forum, including at the United Nations or the International Criminal Court."
The UK, which nominated Khan for the chief prosecutor post, similarly opposes the ICC investigation in Palestine.
Despite the state's opposition to the investigation, Israel's new coalition government is taking aim at its best defense against ICC scrutiny.
Itamar Ben-Gvir, a far-right lawmaker in Benjamin Netanyahu's new government, is advancing legislation that would provide legal immunity to soldiers and police for their actions during "security" operations.
According to the Tel Aviv daily Haaretz, "defense officials are concerned that such a move would make Israeli soldiers susceptible to prosecution by the International Criminal Court in The Hague."
Netanyahu pledges war crimes
The ICC defers to a country's internal investigations, where they exist, under the principle of complementarity which holds that "states have the first responsibility and right to prosecute international crimes."

Khan's predecessor, Fatou Bensouda, stated in late 2019 that her office's assessment "of the scope and genuineness" of Israel's domestic proceedings "remains ongoing at this stage."

By doing away with its self-investigation mechanism – albeit one dismissed by B'Tselem as a "fig leaf for the occupation" – Israel will be greasing the gears in what otherwise would likely be a major sticking point for the investigation.

Meanwhile, Israel's leaders appear to be daring the ICC to intervene by pledging to advance annexation of land in the West Bank.

A similar promise made by Netanyahu during his electoral campaign in 2019 was noted with concern by Bensouda in her request to a pre-trial chamber to confirm the court's territorial jurisdiction in the West Bank and Gaza.

That same year, Netanyahu was warned by Israel's attorney general that formally annexing West Bank land would be indefensible at the ICC and would leave army officials, settlement leaders and other Israeli personnel vulnerable to investigation by The Hague.

This week, Netanyahyu's government published its guiding principles, which begin with "the Jewish people have an exclusive and unquestionable right over all areas of the land of Israel."

There is little ambiguity regarding the incoming government's intention to deepen Israel's colonization of Palestinian and Syrian land and consolidate its apartheid rule in all the territory under its control.

Palestinians and international human rights groups including Amnesty International have called on Khan to investigate Israeli apartheid.

If Khan heeds those calls, Netanyahu could potentially be the first individual ever prosecuted in an international court for the crime of apartheid.
Tags