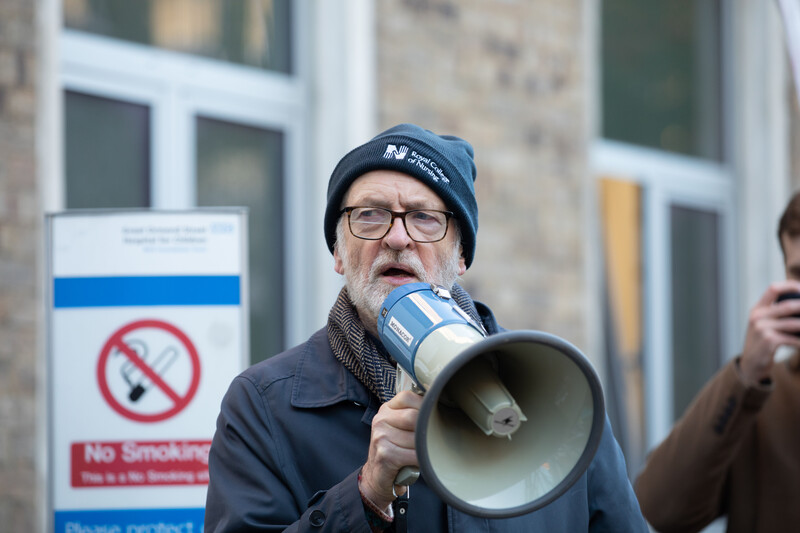 Earlier this year, Al Jazeera's four-part series The Labour Files exposed plotting by right-wing staff in Britain's Labour Party to undermine Jeremy Corbyn's leadership and smash the party's left. The exposé relied on private correspondence unearthed in what is said to be the largest data leak in British political history.
After the series was broadcast, a conspiracy of silence gripped the media. Both liberal and right-wing newspapers which had shrieked on their front pages daily for four years about "anti-Semitism" in Labour pretended that the new evidence disproving this narrative did not exist.
The sum total of British mainstream press coverage about the program and its revelations appears to be one article in the far-right Daily Express and one opinion piece in The Independent by an activist in the party's youth wing. A single Guardian column on Labour Party Islamophobia briefly mentioned the series in its penultimate paragraph.
Matt Frei, host of a phone-in show on the radio station LBC, even cut off a caller who referred to the series.
Al Jazeera's revelations were met with a predictable outcry on social media from Corbyn loyalists. They cited the leaks as yet more evidence that they had been stitched up by hostile right-wing forces.
Yet the real story lies elsewhere.
The new evidence makes it all the more apparent that Corbyn's office played a major role in ramping up "anti-Semitism" smears which targeted pro-Palestine Labour activists – his own supporters.
"Don't serve the right-wing press"
Iain McNicol, who served as Labour's general secretary for most of Corbyn's leadership, is firmly on the party's right and appeared to go out of his way to undermine Corbyn during his tenure.
But McNicol has also been maligned by influential advisers around Corbyn who sought to hide behind their supposed socialist credentials in order to advance the "anti-Semitism" witch hunt against pro-Palestine Labour members. All this while deflecting blame exclusively to right-wingers inside the Labour bureaucracy.
Jon Lansman – probably the most influential of all of Corbyn's advisers – was not shy about expressing sympathy with the settler-colonial state of Israel and its genocidal ideology Zionism.
Lansman argued that McNicol and his staff purposely delayed action on "anti-Semitism" complaints in order to make Corbyn look ineffective at dealing with the issue.
In The Labour Files, this viewpoint is implicitly supported by Alex Nunns, an author and Corbyn's former speechwriter, who claims that "factionalism within the Labour Party was so endemic and so pronounced that it was actually disrupting the Labour Party's ability to deal with, for example, anti-Semitism cases."
The series presents a letter, dated 21 February 2018, from Corbyn to McNicol. Corbyn expressed his "concerns regarding the party's processes for dealing with complaints of anti-Semitism" and his irritation that "the current processes are far too slow to meet the volume of disciplinary cases the party has to deal with."
Corbyn was also alarmed that more staff were not being hired to deal with "anti-Semitism" complaints.
In a draft response, McNicol rebuffed Corbyn, informing him that "over half of the [anti-Semitism] complaints relate to non-members and therefore are not a matter for the complaints team." McNicol also asked Corbyn to be mindful that feeding into the narrative about the party's complaints processes would "serve only those in the right-wing press."
One way to interpret this, à la Lansman, is that McNicol plotted to damage the left by leaving "anti-Semitism" cases unresolved. However, what this really shows is that the party's right-wing bureaucracy was more invested in undermining the left by other means.
One such example was McNicol's expulsion machine during the 2016 leadership election, which was triggered by a vote of no-confidence in Corbyn by right-wing Labour MPs.
The purge may have affected more than 11,000 party members – the number The Labour Files said were identified as "needing to be investigated." These disciplinary proceedings, which saw many left-wing members suspended for years, were principally based on remarks about anti-Corbyn Labour MPs, not "anti-Semitism."
Other efforts to assault the party's left came in the form of shutting down local constituency parties.
The Labour Party's local group in Wallasey – near Liverpool – was suspended for over a year after false allegations about "homophobic abuse" that was supposedly directed towards the area's member of Parliament (MP) Angela Eagle.
Moreover, the Labour group in Brighton and Hove was suspended for several months over fabricated claims of "abuse" and "spitting" at a local meeting.
Although right-wing, pro-Israel zealots were chiefly responsible for pushing the "anti-Semitism" smear campaign during Corbyn's leadership, it seems McNicol and his staff were more inclined to focus on alternative methods of attacking the left.
Corbyn's self-sabotage
Embryonic "anti-Semitism" smears had plagued Corbyn after he made it onto the ballot paper in the 2015 leadership election. But the calumnies initially struggled to gain traction.
However, in February 2016, a manufactured scandal at the Oxford University Labour Club (OULC) emerged following its endorsement of Israeli Apartheid Week – a series of Palestine solidarity events held annually by students in many countries.
The "scandal" led to the resignation of one of the club's co-chairs, Alex Chalmers.
Chalmers had previously worked as an intern with the Britain Israel Communications and Research Centre (BICOM), a lobby group.
Instead of examining the veracity of these bogus "anti-Semitism" allegations, Corbyn flinched.
Janet Royall, a Labour member in the unelected House of Lords, was asked to conduct an inquiry into the matter. Given the febrile atmosphere that was being fomented, Royall was a curious choice, not least because she had visited Israel and the occupied West Bank in 2007 as part of a delegation from the pressure group Labour Friends of Israel.
The OULC debacle evidently gave impetus to pro-Israel militants across Britain, who soon began trawling social media posts of those close to Corbyn to find ways to attack the Labour leader by proxy.
The first high profile target was Labour MP Naz Shah, over a couple of innocuous Facebook posts about Israel that were in no way hostile to Jews. Nevertheless, Corbyn wilted under pressure, and allowed Shah to be suspended.
Shah later made a groveling apology in the House of Commons.
Former London mayor and long-time Corbyn ally Ken Livingstone was also in the Israel lobby's crosshairs after publicly defending Shah. The pretext for the assault on him came when he made an historically accurate comment about the 1933 Haavara Agreement – an accord between the Zionist movement and Nazi Germany.
Livingstone was then subjected to an aggressive ambush in front of TV cameras by the then Labour MP John Mann, who has a long history of vociferous pro-Israel activism.
On that same day, Livingstone was suspended. It was reportedly Corbyn himself who initially demanded Livingstone's suspension, even recommending disciplinary action against his former ally over "subsequent comments."
Marc Wadsworth – a veteran anti-racist campaigner, author and journalist – was another Corbyn supporter and friend to be attacked. The pretext for targeting him was his intervention at the 2016 press conference launching Shami Chakrabarti's report into "anti-Semitism and other forms of racism" in Labour.
Wadsworth had said that the anti-Corbyn and pro-Israel MP Ruth Smeeth had been "working hand in hand" with a Daily Telegraph journalist. This led to accusations that he was engaging in "anti-Semitic slurs" about Jews controlling the media.
Wadsworth was unaware that Smeeth was Jewish. But even though the accusations were plainly preposterous, he was suspended and later expelled.
"Jeremy Corbyn didn't look after me," Wadsworth states bleakly in Al Jazeera's Labour Files. "He threw me under a bus."
Corbyn's team, Wadsworth claims, "were desperate to get into No. 10," a reference to the prime minister's residence on London's Downing Street.
What can be seen from these examples is that while Corbyn and his staff acted impulsively and aggressively to discipline their own allies, Iain McNicol was more reluctant to lean into the "anti-Semitism crisis."
In April 2018, when Corbyn ally Jennie Formby replaced McNicol, she ratcheted up the campaign against party members, bringing in more staff to deal with "anti-Semitism" cases. It was considered an "improvement" in Labour's processes that more members were being investigated, suspended and expelled.
Under McNicol, only 44 "anti-Semitism" cases were brought to the party's National Executive Committee (NEC). By contrast, Formby brought 379 cases before the NEC, even though her tenure was considerably shorter.
She oversaw a huge expansion of the disciplinary process, even though 23 percent of all "anti-Semitism" allegations during the whole Corbyn era originated from a single complainant, and 12 per cent were from the Zionist group Labour Against Antisemitism.
It seems that Formby was building structures to better accommodate the "spray and pray" Zionist mudslinging operation. Whatever her motivation, she certainly lit a fire under the smear campaign.
Normalizing Zionism
Alongside the increased attacks against pro-Palestine activists, Corbyn's staff were prepared to legitimize Zionism and pro-Israel discourse.
The most formative battle occurred in the summer of 2018, over whether to adopt the "illustrative" examples that accompany the International Holocaust Remembrance Alliance (IHRA) working definition of anti-Semitism. The move was being pushed by pro-Israel MPs, including Luciana Berger and Margaret Hodge, as well as a litany of British Zionist groups.
Alarm bells were raised about the problematic nature of the examples, which conflate anti-Zionist beliefs and opposition to the Israeli regime with hatred of Jews. For example, it was argued that the IHRA definition would curtail discussion on the Nakba, the catastrophe of 1948 in which up to 800,000 Palestinians were expelled from their homeland by Zionist terror gangs.
In spite of protests and warnings from Palestinians, pro-Palestine activists, and anti-Zionist Jews, Labour's NEC still adopted the IHRA examples. The move was backed by many of Corbyn's staff and a large number of his allies.
In the Al Jazeera series, James Schneider, Corbyn's strategic communications director, said it was "politically impossible" to avoid adopting the IHRA examples. In his recent memoir, former Corbyn adviser Andrew Murray has similarly claimed it was "inexpedient to make a fight" over the issue.
In short, giving into the Israel lobby was seen as a price worth paying, given that those who bore the brunt of the witch hunt were Palestinian and Muslim members. They were apparently viewed as expendable by Corbyn's coterie of white advisers.
Furthermore, in Owen Jones's account of the Corbyn years, Corbyn's policy director Andrew Fisher and his political secretary Amy Jackson were also in favor of adopting the IHRA examples, as were Jon Lansman and Rhea Wolfson, who sat on Labour's NEC.
The capitulation over the IHRA examples, which effectively banned anti-Zionist speech in the Labour Party, laid the groundwork for Britain's Israel lobby to ride roughshod over supporters of Palestine inside and outside the party.
Worst possible advice
It does not appear that Corbyn was in the driving seat during much of the "anti-Semitism" blunders under his leadership. Corbyn, it seems, allowed his advisers to pressure him into considering ever-more absurd proposals.
For example, according to Owen Jones, key Corbyn aide Karie Murphy sought support from, and met regularly with Michael Levy – a staunch Israel supporter in the House of Lords and a founding member of the self-appointed Jewish Leadership Council.
One outcome of these meetings with Levy was a suggestion that Corbyn should visit Israel, something proposed by Simon Morris, who worked for an organization of which Levy is the president.
Corbyn rejected this suggestion and refused to engage with Levy.
Meanwhile, Amy Jackson sought assistance from Michael Segalov, someone who defied calls from Palestinian civil society to boycott the 2019 Eurovision Song Contest hosted by Israel, even joining the live audience in Tel Aviv. Segalov had also condemned pro-Palestine activists over alleged "anti-Semitism."
Ultimately, Jackson's proposal to bring Segalov in to advise Corbyn was blocked.
Nevertheless, Zionist influence in Corbyn's office ran deep and Corbyn was given the worst possible advice. James Schneider, for example, was responsible for penning a pamphlet entitled "No Place for Antisemitism," which was published on the Labour Party's website and emailed to all party members in July 2019.
The pamphlet was ideologically perverse and littered with pro-Israel apologia. It gave credence to the notion that Zionism "represents national liberation" and proclaimed that "Labour is a political home for Zionists and anti-Zionists."
It even stated that "neither Zionism nor anti-Zionism is in itself racism," despite the fact that the fathers of Zionism – from Theodor Herzl to Ze'ev Jabotinsky – explicitly called their ideology colonial.
Another Corbyn adviser Laura Murray attended regular meetings with representatives of the explicitly pro-Israel Jewish Labour Movement.
Additionally, Owen Jones has claimed that Jon Lansman "became the leadership's go-to voice" on "anti-Semitism."
Lansman had previously claimed that the pro-Corbyn Jewish Voice for Labour could not be considered to "be part of the Jewish community."
Corbyn's office was deeply implicated in the pro-Israel assault against supporters of Palestine in the Labour Party. To simply blame external hostile actors for sabotaging the Corbyn project, without acknowledging that Corbyn's own team collaborated with them in targeting pro-Palestine activists, is deeply misguided.
If anti-imperialists in Britain want to emerge from the rubble of the Corbyn project, they have to be prepared to engage in a rigorous post-mortem. While The Labour Files contains much useful information, it is unfortunately editorialized in such a way that it misses the point of some of the evidence it adduces.
The damage done by the ideological confusions of the Corbyn era, and its legitimization of Zionism, is immense. We must get away from trying to "prove" how effective Corbyn's office was at "fighting anti-Semitism."
Instead, we need to come to terms with the fact that it was only truly effective at indulging a ruinous smear campaign and in crushing its own allies. Only then will we be able to learn the right lessons from recent history.
Chris Williamson is a former member of the British Parliament. He is the author of Ten Years Hard Labour (Lola Books).
Tags