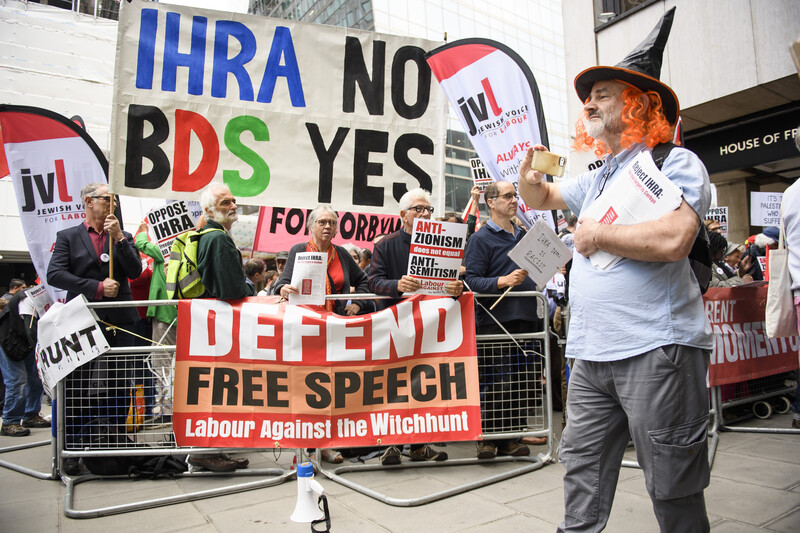 The fierce campaign to cajole, bully and shame the UK Labour Party into adopting a controversial definition of anti-Semitism produced by the International Holocaust Remembrance Alliance (IHRA) – along with its 11 working examples – has been waged all summer long by pro-Israel lobby groups inside and outside the party.
It has finally come to a head with Labour's official acceptance of the document at a meeting of its ruling National Executive Committee (NEC) on 4 September.
One of the most insidious tactics employed by Labour Friends of Israel (LFI) and the Jewish Labour Movement (JLM) – the two organized vocal Zionist campaign groups inside the Labour Party – has been to claim it is an innocuous and uncontroversial document.
It is, in the words of John Mann, a Labour parliamentarian and arch critic of Labour leader Jeremy Corbyn, a "very humdrum, mundane definition of anti-Semitism that left parties across the world have been happy to accept along with everyone else."
It would have no impact on the right to campaign for Palestinians, Mann has maintained as, after all, the IHRA "has got absolutely nothing to do with the rights of Palestinians … It's got to do with abuse, attacks and racism against Jewish people."
This lie has been repeated time and again. Labour Friends of Israel lawmaker Jess Phillips – who once infamously laughed about "stabbing" Corbyn "in the front" – also flippantly waved away any free speech concerns before the crucial NEC vote:
"I want the IHRA adopted in full. I think the current Israeli government are racist [sic] who are currently doing all they can at home and with their allies in the US to isolate and cripple Palestinian lives to the point of both hopelessness and retaliation. Look how easy that was."
Influential pro-Israel commentators in the mainstream media have been happy to peddle this dishonesty.
The Guardian's Jonathan Freedland said the charge that "the IHRA conflates legitimate criticism of Israel with anti-Semitism … makes plenty of Jews want to slam their heads on their desks in frustration." You can, he argued, "if you want, say everything the state of Israel has done since its birth has been racist."
Against free speech
Suddenly, things have changed. The decision of the NEC to adopt the IHRA definition and examples in full on 4 September while at the same time issuing a statement claiming that those examples will not stop criticism of Israel has brought howls of outrage from the Jewish Labour Movement, Labour Friends of Israel and their supporters.
First out of the block, cautiously, was Margaret Hodge, the Labour member of Parliament and former minister who reserves for herself the free speech right to call her elected leader a "fucking racist and anti-Semite" without providing any evidence.
The free speech clarification was, she said, "an unnecessary qualification" that would only "dilute" the adoption of the IHRA examples. It was "two steps forward and one step back."
More stridently, Simon Johnson, the Jewish Leadership Council's chief executive, said the free speech caveat "drives a coach and horses" through the IHRA definition.
Labour Friends of Israel director Jennifer Gerber also waded in, calling the NEC's free speech clarification an "appalling" measure which "totally undermines the other examples the party has supposedly just adopted."
They Jewish Leadership Council and Labour Friends of Israel are of course right for once. The IHRA and free speech are – contrary to the pre-vote dishonesty of the Corbyn haters – completely incompatible.
This much has long been established by independent legal experts and affirmed by parliament's cross-party home affairs committee which looked at the issue in 2016.
This stunning about-turn on the compatibility of free speech and the IHRA definition would be amusing if it was not so offensive to the intellect. The IHRA definition clearly attempts to police the discursive boundaries of the Israeli-Palestinian conflict in a way that places core, foundational issues off-limits.
For sure, under it one can still criticize elements of Israeli government policy and actions. What one cannot do is identify Israel as a racist, settler-colonial project, the original sin of which was to ethnically cleanse the indigenous population of Palestine.
Soft Zionist commentators such as Jonathan Freedland can, under the IHRA framework, continue to offer up liberal criticisms of Israeli Prime Minister Benjamin Netanyahu and warm-sounding platitudes on the need for a two-state solution.
Questioning Israel's claims of a moral and legal right to exist as a Jewish ethnocracy, which denies the right of Palestinian refugees to return, is a different matter altogether.
Rays of hope
So where does the NEC's capitulation over the IHRA definition leave the cause of Palestine in the party? After the despair of the vote it is just possible to discern rays of hope.
Firstly, it would be foolish in the extreme if the Jewish Labour Movement and Labour Friends of Israel thought full adoption of the IHRA definition provided any automatic mechanism for a war on pro-Palestine activists.
Outside the ranks of Labour Zionists, the frantic demands over IHRA and the anti-Semitism story have been propelled more by hostility to Corbyn's leadership and his wider progressive agenda than sentimental attachment to Israel or a principled commitment to fighting anti-Jewish racism.
Another key variable is the balance of forces in the party beyond parliament and elite political circles, which are strongly in the left's favor. There has always been far more skepticism of the anti-Semitism hysteria in Labour's membership – which has resoundingly elected Corbyn twice – than has been reported.
Research in March by respected private pollsters YouGov found that 77 percent of responding party members believed the anti-Semitism crisis has been manufactured or exaggerated.
In addition, for all but the most hardcore anti-Corbynites – now openly threatening to split the party – there is a desire to move on.
Transparent attempts to use Labour's revised code of conduct against Palestine solidarity activists risks antagonizing layers of the party hitherto receptive to the claims made by the Jewish Labour Movement and Labour Friends of Israel.
It could backfire spectacularly.
Moreover, the most dramatic evidence of a fightback against Labour's Israel lobby and the war on Corbyn came within days of the NEC meeting; the no-confidence vote by Enfield North Labour Party against Labour Friends of Israel chair and member of Parliament Joan Ryan for "smearing" the Labour leader and "inflaming" his "trial by media."
The timing of the vote is hugely significant. It comes as the left's campaign to ensure all sitting Labour MPs face compulsory reselection from local parties – driven by the relentless attacks on Corbyn – gains strength. This would mean that a member of Parliament has to win nomination in a potentially contested primary among party members, rather than automatically being chosen as Labour's candidate before every general election.
There are also grounds for pessimism. The move against Ryan does not negate the most likely immediate impact of the IHRA definition's full adoption: self-censorship. Having a disciplinary rule book that now conflates anti-Semitism and anti-Zionism can only have a chilling effect on all but the most bold and committed.
Unfortunately, Corbyn has done little to alleviate anxiety over the code. At the time of its adoption he made a commendable effort to secure a more robust free speech guarantee than actually agreed.
Yet, he has uncritically accepted the lobby's narrative that there is a major "anti-Semitism crisis" in the Labour Party.
No time for defensiveness
Worse, given the space that has opened up in the mainstream media to talk about Israel, Palestine and Zionism since being elected in 2015, Corbyn has squandered countless opportunities to reframe the debate.
As an example, when recently attacked for saying that a certain group of Zionists present had lacked a sense of irony at a 2013 meeting, Corbyn offered the most minimal, unhelpful defense that he used the term "in the accurate political sense and not as a euphemism for Jewish people."
Where was the attempt to talk about Zionism? Where was the story of historic and continuing Palestinian dispossession? These maddening silences do nothing to arrest the lobby's offensive or further the cause of Palestine beyond those already convinced.
Continued apologetics after the adoption of the IHRA definition will leave members dangerously exposed and cement self-censorship.
Thwarting the cause of Palestine in the party is for the Jewish Labour Movement and Labour Friends of Israel a war without end. It can only be repelled by a muscular, vigorous counternarrative, one based on unqualified support for the Palestinian cause and emphatic denunciation of Israel's past and present crimes.
This much was evident before the NEC vote.
Margaret Hodge said Labour's adoption of all IHRA examples on Israel would no longer satisfy her, only Corbyn's removal.
Similarly, Stephen Kinnock, another Labour parliamentary enemy, demanded a show of "remorse" from Corbyn at the upcoming Labour Party conference.
This echoes former Chief Rabbi Jonathan Sacks' arrogant demand that Corbyn "repents and recants" for past Palestine campaigning associations.
Defensiveness will no longer do. Minutes after the NEC meeting Carwyn Jones, the first minister of Wales, told Channel 4 News he expects all Labour members who describe Israel as a "racist endeavor" to be subject to automatic disciplinary proceedings – regardless of any caveats the party has contrived.
When pressed if this was so, Tom Watson, NEC member and deputy party leader, cryptically said, "the caveat is what it says – you can make your own mind up about that."
Watson's response betrays the fundamental unsustainability of the NEC's linguistic contortion.
As members of Labour's Israel lobby now admit, inside the party either free speech or the IHRA's "working definition" of anti-Semitism will have to give way.
We must make sure it's the latter.
Steven Garside is a member of the UK Labour Party and the Palestine Solidarity Campaign. This article is written in a personal capacity.
Tags