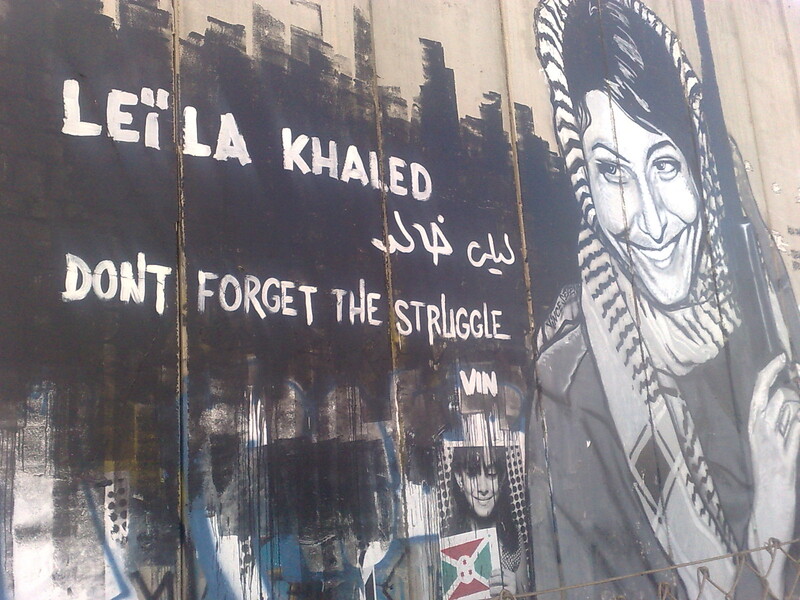 Palestinian resistance icon Leila Khaled will visit South Africa next month, hosted by campaigners urging boycott, divestment and sanctions (BDS) against Israel.
Between 6 February and 14 February, Khaled will tour South Africa, deliver several lectures and be the guest of honor at a BDS South Africa dinner scheduled for 12 February, according to a Facebook event page.
"This visit by comrade Leila Khaled would further contribute to serve the purpose to bolster solidarity with the Palestine people's struggle for their birthright," Kebby Maphatsoe, chairperson of the Umkhonto we Sizwe Military Veterans Association, consisting of former fighters in the African National Council's armed wing, said in a statement.
A member of the leftwing political group the Popular Front for the Liberation of Palestine (PFLP), Khaled is best known for her role in a series of plane hijackings in 1969 and 1970. Khaled, who lives in Amman, Jordan, today, is often credited as the first woman to hijack a plane.
"A significant number of South African anti-apartheid activists, church leaders, government officials, trade unions, political parties, as well as civil society organizations, have expressed their support for the Palestine freedom fighter and icon Leila Khaled's forthcoming visit to South Africa," BDS South Africa says in a press release.  
"Leila Khaled has been to South Africa on multiple visits in the past, this visit is hosted by the South African Palestine solidarity and human rights organization BDS South Africa," the statement adds.
Yet, the widespread support for Khaled's visit didn't stop a number of pro-Israel organizations from seizing the opportunity to launch an attack on BDS campaigners and Khaled alike.
No interest in peace?
Khaled, born in Haifa, a city in historic Palestine, in 1944, had to undergo several plastic surgeries due to the fear of Israel assassinating her.
In 2006, a wide range of Palestinian civil society organizations signed a call for BDS tactics to be used against Israel until it complies with international law and respects Palestinian human rights.
Yet citing Khaled's history in armed resistance against Israel's ongoing occupation of Palestinian land, Israel advocacy groups and media outlets claim her invitation is evidence of BDS's supposed opposition to peace.
"By inviting Leila Khaled to this country, BDS-SA has conclusively demonstrated yet again that it has no interest in promoting peace, dialogue, reconciliation or understanding," Wendy Kahn, national director of the South African Board of Jewish Deputies, said in a statement.
Writing on the rightwing Times of Israel website, Josh Benjamin claimed "Leila Khaled should not be allowed to come to South Africa" and that "universities should ban her from their campuses."
Khaled, who remains a vocal member of the PFLP, has not been involved in any armed resistance activities in decades.
Speaking to the Israeli daily Haaretz, Jeremy Gordon, publisher of South Africa's Daily Sun, claimed BDS South Africa invited her "to provoke the local Jewish community — in fact, I think they're going to make a big stink."
Gordon also attacked Khaled's physical appearance. "On the other hand, seeing the poster of Khaled as she was then [in the early 1970s] versus what she actually looks like now, is not without its humor," he added.
The PFLP issued a response to what it called the "Zionist campaign" against Khaled and BDS.
Silencing revolutionary voices
"It is an extension of earlier Zionist attempts to block her participation in demonstrations, lectures and meetings in various cities around the world and an ongoing Zionist campaign to silence Palestinian revolutionary voices," the statement reads.
The statement adds that "the South African movement has played a major role in revealing the criminal and racist face of Israel to the world."
Drawing parallels between South Africa's decades-long apartheid system that systematically marginalized and discriminated against the indigenous Black majority, the PFLP notes: "No one has forgotten that the Zionist state supported the racist system of apartheid in South Africa at the same time that the Palestinian people supported the struggles of their brothers and sisters in the African National Congress until their victory over the apartheid regime."
The statement concludes by criticizing the South African embassy of the Palestinian Authority for its "silence" on the attacks on Khaled and the BDS movement: "Leila Khaled is a member of the Palestinian National Council and it is the responsibility of the embassy to condemn these kinds of attacks on a member of the PNC."
"Hostile noise"
BDS South Africa has defended Khaled's visit.
The ruling African National Congress party and the late Nelson Mandela "both remained on the USA terrorism watch list until as recently as 2008," the group's statement observes.
In a recent press release, the Umkhonto we Sizwe Military Veterans Association (MKMVA) notes that although the Israeli military regularly kills Palestinians, "no Israeli or a single passenger was killed in the two airplanes that were hijacked by Leila Khaled and her comrades."
Dismissing the attacks on BDS South Africa and Khaled as "hostile noise from a small racist Zionist minority regime," the MKMVA says that the same kind of international solidarity that helped end the decades-long apartheid regime in South Africa ought to be offered Palestinians "to guarantee the freedom of Palestine."
The Congress of South African Students (COSAS) also expressed support for Khaled's visit. "The hosting of Comrade Leila Khaled in South Africa is a privilege for us South Africans," COSAS has stated. "The Palestinians stood with us during [South African] apartheid and we now stand with them against Israeli apartheid."
Raising awareness
Despite the attacks from Israel's supporters, advocates of boycotting Israel have succeeded in raising awareness through highly publicized campaigns. 
Back in August, a coalition of South African solidarity groups launched a campaign against the retail giant Woolsworths and called on it to stop selling goods imported from Israel. The Boycott Woolworths Campaign includes the National Coalition for Palestine, BDS South Africa, South Africa's largest trade union federation COSATU, the ANC Youth League and the Muslim Judicial Council, among others.
As reported by The Electronic Intifada's Adri Nieuwhof in November, "Woolworths has refused invitations to meet the coalition to discuss the imports of mainly agricultural products from Israel" and is instead taking the coalition to court.
The coalition called Woolworths' action "legal bullying and intimidation by a retail giant" and accused it of mimicking "tactics used by Israel to intimidate peaceful protest against the Israeli regime."
In that statement, the Boycott Woolworths Campaign says it has "had the profound impact of educating people about Israel's apartheid policies, making people aware of Woolworths' trade links with apartheid Israel and its arrogant refusal to give up those trade links in the face of growing consumer calls."
In August, amid Israel's 51-day military assault on Gaza, Stone Sizani, chief whip of the ruling African National Congress, urged the government to recall its ambassador in Tel Aviv and expel Israel's ambassador to South Africa from the country. 
Tags