In a letter written from an Israeli jail cell, Palestinian political prisoner Ameer Makhoul sends his salutations to African Americans protesting the police killing of unarmed Black men, women and youths.
"Even within Israeli jail, very much far away from you, we are mourning your beloved," writes Makhoul in his 9 December letter.
Makhoul's letter, which can be read in full at the bottom of this page, emphasizes the universality of the protests in the United States.
"Such racist official violence exasperates the conscience of all, and of course all 7,000 [Palestinian political prisoners] in Israel jail who seek freedom, liberty and justice for themselves as well as for their people of Palestine," Makhoul states.
"Your cause is touching hearts everywhere," he adds. "Your protest is on behalf of all humanity. Your voice is our voice … the voice of all free people."
Makhoul underlines that like in Palestine, white settler-colonial racism is at the root of state violence in the US.
"The real sniper is the rooted racism which targets African-Americans because they are African-American," Makhoul writes.
"Be sure that you are not alone, neither in the USA nor worldwide," he adds. "Palestine backs your struggle."
"I wish you a Merry Christmas and happy New Year, [in which] liberation from colonial racism and occupation become closer," Makhoul concludes.
Ferguson and Palestine
Connections to repression in Palestine were expressed in the protests following the killing of unarmed Black teenager Michael Brown by a white police officer in Ferguson, Missouri, last August.
Gaza in particular became a metaphor for state violence in Ferguson. Israel's mass slaughter was still wiping out entire Palestinian families there when the protests erupted after Brown's slaying.
"Will we as a people rise up like the people of Gaza? Will our community be bombed like last night with tear gas?" one Ferguson protester is quoted saying in an article titled "Michael Brown's Hometown is Under Occupation," published by The Daily Beast.
The "military-style crackdown by a squadron of local police departments dressed like combat soldiers … prompted residents to liken the conditions on the ground in Ferguson to the Israeli military occupation of Palestine," The Electronic Intifada's Rania Khalek wrote at the time.
Meanwhile, Palestinians and Palestine solidarity groups put out their own message of support and solidarity following the slaying of Michael Brown.
But the connection is more than symbolic, as Khalek has reported.
"Under the cover of counterterrorism training nearly every major US law enforcement agency has traveled to Israel for lessons in occupation enforcement, including the St. Louis County and St. Louis Metropolitan police departments," writes Khalek.
"Since Michael Brown's death, both agencies have on several occasions rampaged through the streets of St. Louis in military-style combat gear with the intention of crushing the Ferguson demonstrations, to no avail."
As solidarity has grown between Palestinians and African Americans since the Ferguson uprising, so have efforts to repress this, as Khalek has analyzed.
"As the spirit of Ferguson's resistance spreads to other American cities, so too has awareness about Israel's influence on American policing," Khalek writes in a recent in-depth report on this growing mutual solidarity.
Common torture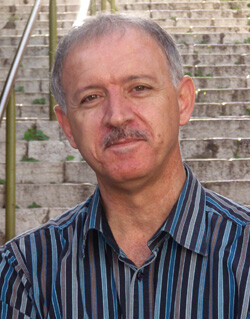 Ameer Makhoul, the author of the letter from Israeli prison, is no stranger to other common aspects of US and Israeli state violence.
Makhoul was director of Ittijah, a coalition representing Palestinian civil society groups in Israel, before he was arrested during a night raid on his home in Haifa, a city in present-day Israel.
For twelve days after his arrest, "Makhoul was held in incommunicado detention and was prevented from meeting a lawyer," Shourideh C. Molavi recounts in her new book Stateless Citizenship: The Palestinian-Arab Citizens of Israel.
The discriminatory conditions "imposed on him as a security detainee," depriving him of due process, led Makhoul's defense team to threaten to boycott the court proceeding, a move unprecedented in Israel.
Makhoul was detained for three weeks before he was charged with espionage and "assistance to the enemy in a time of war," which Makhoul vehemently denied when he finally appeared in an open court.
Israeli state prosecutors claimed they had "secret evidence" against Makhoul, the content of which was kept from his legal team. "Moreover, the prosecutors announced evidence in the form of a videotaped admission to the said charges," Molavi writes.
But Makhoul's legal team asserted that this admission was made under duress during extended interrogation in the first days of his detention.
The legal advocacy group Adalah described this distress as:
protracted sleep deprivation and continuous interrogation, while being shackled tightly to an under-sized chair that was bolted to the floor to prevent it from moving. His hands were cuffed to the back of the chair in a way that stretched his arms and shoulders sharply backward. His legs were folded backwards flanking the chair, with his knees turned toward the floor. When, after hours of being bound in this stress position while under intense interrogation, Makhoul complained of being in excruciating pain, the [Israeli] interrogators proceeded to cuff his legs to the chair. They also threatened that he would be permanently crippled from the interrogation.
Makhoul was sentenced by an Israeli court to nine years of imprisonment in May 2010. Because he is a Palestinian citizen of Israel, he is excluded from Israeli-Palestinian prisoner release agreements — "a product of the Oslo accords," as Molavi points out.
The ill-treatment endured by Makhoul is characteristic of torture techniques long practiced by Israel which "are thought to inflict maximum suffering while minimizing the risk that they will leave tell-tale signs of torture on the victim's body," writes Rania Khalek.
Though Israel has banned the use of torture since 1999, a gaping "ticking time bomb" legal loophole allows Israeli interrogators to use torture to extract information from a detainee.
Hundreds of complaints of torture made by Palestinian prisoners since 2001 have led to zero criminal investigations, even in cases corroborated by the state, according to the Public Committee Against Torture in Israel.
Israel's "ticking time bomb" loophole was cited by the CIA, the US foreign spy agency, to justify its torture regime, a US Senate inquiry recently revealed.
As Khalek notes, the Senate torture report disclosure "comes just months after revelations that the Obama administration relied on an Israeli high court ruling to justify targeted killings of American citizens without trial."
CIA methods exposed in the Senate report "bear striking similarity to long-standing Israeli torture techniques documented by human rights organizations, among them sleep deprivation, exposure to extreme cold, confinement in very small spaces and painful 'stress positions,'" Khalek adds.
Tags