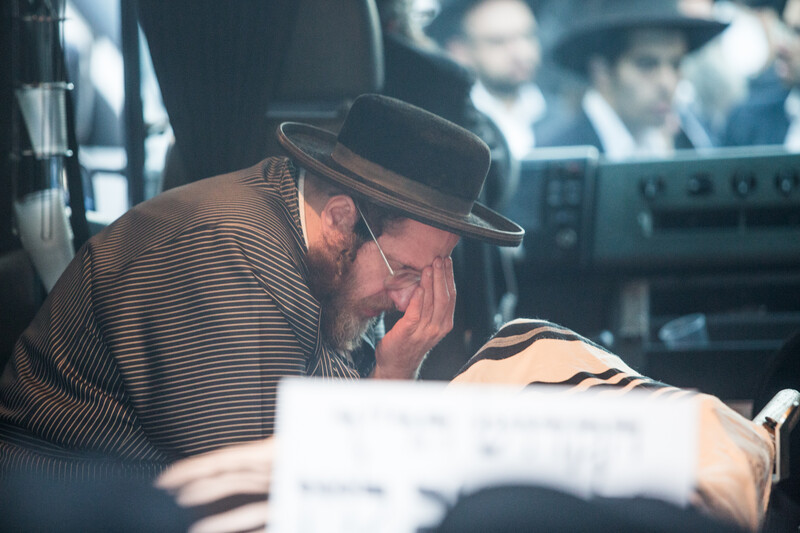 Israeli occupation forces have launched a widespread crackdown on Palestinians in occupied East Jerusalem following an attack on a synagogue in the western area of the city early Tuesday morning.
Armed Palestinians allegedly affiliated with the Popular Front for the Liberation of Palestine – a leftwing political party – killed five in the attack. The victims include three US-born Israelis, as well as an Israeli national originally from the United Kingdom, and a police officer from the Druze religious minority in present-day Israel.
The two suspected perpetrators – Ghassan Abu Jamal and his cousin Udayy Abu Jamal – were fatally shot by Israeli occupation forces at the scene.
The attack came after months of increased Israeli repression targeting Palestinians in the broader West Bank, including East Jerusalem, as well as those in present-day Israel.
In addition to the ongoing crackdown, there were several incidents of Israeli settlers attacking Palestinians on Tuesday.
Israeli occupation forces have already arrested at least ten members of the Abu Jamal family from the East Jerusalem neighborhood of Jabal al-Mukaber, according to Addameer, a Ramallah-based group that monitors Israel's arrests and imprisonment of Palestinians.
Rashad Shtayyeh, a 26-year-old resident of the East Jerusalem neighborhood of Wadi al-Joz, said that the "atmosphere in Jerusalem is precisely as it is every time there is another martyr here."
"The police presence is very noticeable," Shtayyeh told The Electronic Intifada by telephone. "There are [police] cars everywhere."
"Not policing the settlers"
In addition to the increasing presence of Israeli occupation forces, Shtayyeh added that "settlers are starting to amass in the [Palestinian] neighborhoods of the city."
In Kufr Aqab, a Jerusalem-area town, a group of Israeli settlers stabbed 22-year-old Fadi Jalal Radwan on Tuesday evening. As reported by the Bethlehem-based Ma'an News Agency, Radwan was "attacked and stabbed by four Israelis while walking in the town of Kufr Aqab, his father said. He was stabbed three times in the legs, and once in the back."
Elsewhere, Ibrahim Mahmoud, sixteen years old, was put in the intensive care unit after an Israeli settler shot him with live ammunition "on the outskirts of the Beitin village east of Ramallah," according to Ma'an.
In another incident, Israeli settlers attacked a Palestinian school in the village of Urif, eight miles south of Nablus. According to Ma'an: "Ghassan Daghlas, an official who monitors settler activity in the northern West Bank, told Ma'an that six Palestinians were injured by rubber-coated steel bullets after Israeli forces intervened in clashes with settlers."
Calls for "revenge"
The Israeli daily Haaretz also reported that in Jerusalem on Tuesday, "several right-wing protesters gathered near the scene of the attack, calling 'Death to Arabs' and 'Revenge.'"
Mirna Ansari, a 23-year-old executive assistant at a local development agency, lives in Jerusalem's historic Old City, a hotspot for Israeli settler violence against Palestinians.
"We are hearing about settlers [trying to attack] in the neighborhood," Ansari told The Electronic Intifada. "There are police outside right now, holding their guns and bullets and tear gas bombs. Helicopters have been flying over the city all day."
Explaining that Israeli occupation authorities are stopping and questioning people en masse, Ansari added that "it is impossible to go down to the market or buy a pack of cigarettes right now. In every corner of the Old City, there are Israeli officers carrying weapons. They are provoking Palestinians, but they're not policing the settlers at all."
Ansari further added that there has been a sharp uptick in Israeli police violence against Palestinian women in Jerusalem. "Every day another woman is beaten at or near al-Aqsa mosque," she said. "And children are being arrested in the dozens."
Over the last month, Israel has imposed increased restrictions on access to al-Aqsa mosque, a holy site for Muslims and a historical and cultural landmark for all Palestinians. On several occasions, Israeli forces have banned Palestinian worshippers from entering the mosque and attacked others in the compound where it is located.
Bus driver hanged
Tuesday's deadly attack came a day after Yusef al-Ramouni, a 32-year-old Palestinian bus driver, was found hanged in his bus in Jerusalem. Israeli police claimed to have conducted an autopsy within hours of al-Ramouni's death, concluding that he had committed suicide.
His family, however, rejects that claim and believes that Israeli settlers are behind his death. "We reject the suicide theory. We all know it was settlers who killed him," Osama al-Ramouni, the victim's brother, told AFP. "He had no problems that would make him [commit suicide]."
"My brother had children and was a happy man," Osama also told AFP. "It is impossible that he killed himself."
Muatasem Fakeh, one of al-Ramouni's colleagues, said the bus driver's body "was hanged over the steps at the back of the bus in a place where it would be impossible to hang yourself alone."
"We saw signs of violence on his body," he added.
Speaking on the condition of anonymity, a medical expert also dismissed Israel's claims that al-Ramouni committed suicide. The expert informed Ma'an that "al-Ramouni's death did not appear to be a suicide."
"The expert said he assumed al-Ramouni was killed in a planned attack, and that conclusive evidence disproving or confirming his suspicions required lab work, which would take over three months," Ma'an added.
Israeli incitement
The latest spike in violence follows months of increased Israeli oppression and colonization activities in the city.  
Just hours before al-Ramouni was found hanging dead from the steel bars inside his bus, settler leader Bentzi Gopstein changed his Facebook profile picture to an image of him brandishing a noose at a conference.
A resident of Kiryat Arba, an Israeli settlement colony in the occupied West Bank, Gopstein is the leader of Lehava, an extreme rightwing organization that campaigns against romantic relationships between Jewish women and Arab men.
Journalist David Sheen first pointed out Gopstein's "profile picture" on Twitter, noting that the photograph was posted just hours before al-Ramouni was found dead:
Last week, Chaim Levinsion, a journalist at Haaretz, posted a photograph of Gopstein at what appears to be the same event as the above image. According to Levinson, that event marked the twenty-fourth anniversary of the assassination of Meir Kahane, an American-born extremist and Israeli settler leader assassinated in 1990.
Levinson also photographed Gopstein, explaining that the settler leader was "demand[ing] from the [Israeli] government to hang fugitive parliament member Azmi Bashara [sic]," referring to a Palestinian citizen of Israel and political leader who was pushed into exile in 2007:
Gopstein's calls for blood are part of a broader campaign of anti-Palestinian incitement that is pervasive among Israeli politicians and civilians alike.
Benny Levy, an Israeli train conductor at Israel Railways, recently took to Facebook, calling on each Israeli to "run over only one Arab" in order to safeguard "the Jewish nation," as reported by The Electronic Intifada earlier this week.
Meanwhile, government-funded rabbi Elyakim Levanon recently urged the Israeli government to ban Palestinian citizens of Israel from driving cars outside of their towns, The Electronic Initfada reported. "Arab cars may not leave Arab cities," Levanon said.
Tags