A group of photographers, artists and designers organized in the wake of Israel's 51-day assault this summer to put together the Art for Gaza exhibition on display at the House of Art Gallery in Amman through 4 October.
The work featured in the show responds to the war in Gaza and all proceeds generated from the exhibition will go to Gaza via the Palestine Children's Relief Fund.
Some of the works featured in Art for Gaza are shown below, followed by a statement from the respective artist.
With thanks to Amer Sweidan and the artists for furnishing images and statements.
"A State of Devolution" reflects elements of external destruction internally, highlighting its catastrophic nature. As means of survival to their current circumstances, humans readjust to their broken state. With Agence France Presse photographer Mohammed Abed's documentation of the recent war on Gaza, Amer Sweidan merges the human element with scenes of destruction to convey a sense of de-evolution.

While the war is reportedly over, it took around two weeks to receive the photos from Abed, as electricity outages remain a daily occurrence in Gaza.
A series of positive/negative patterns derived from Palestinian embroidery. A key visual element in the Palestinian brand and visual identity. In this series, the basic elements of embroidery were deconstructed, mirroring the current situation and then reconstructed in a different form creating a new pattern in existence.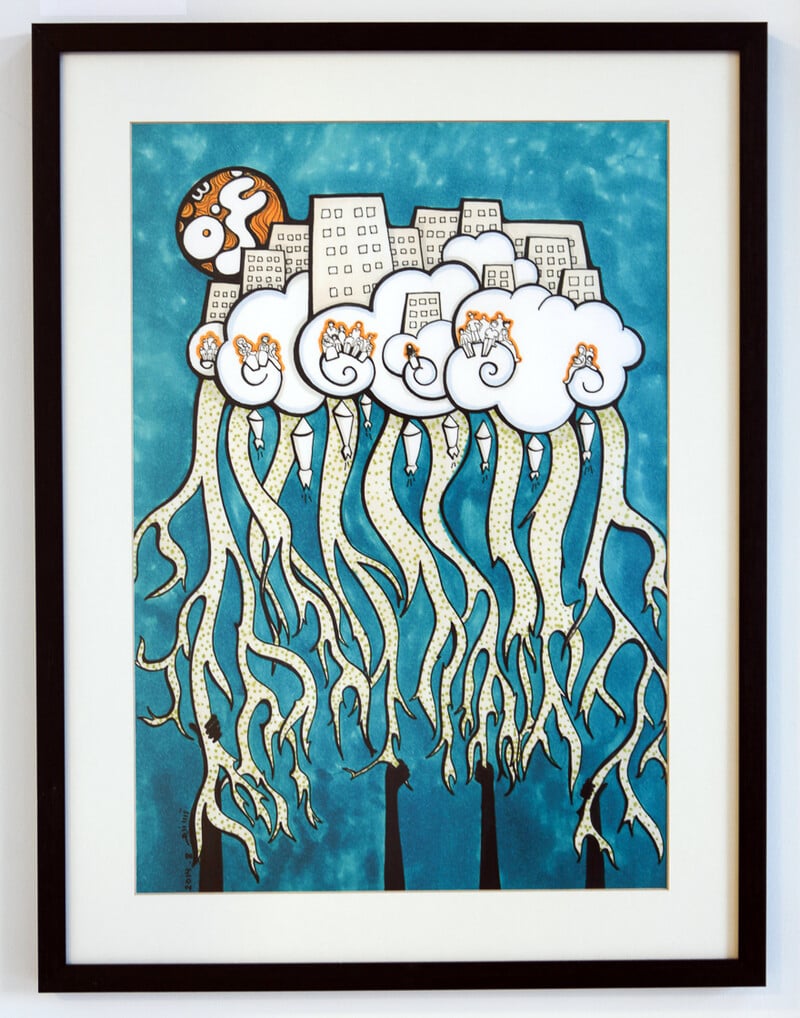 Oh you nature child … don't be afraid of death …

Oh Gaza what is your secret? You are in pain and live in agony, still you prevailed, and all our eyes are watching you … And we are all picturing your child within … All colors become obsolete in war … Gaza's colors are flourishing again …
Bashar's project is about the transcendence of the Palestinian kufiyyeh from an object to a symbol.
The children of Gaza are imprisoned in a perpetual state of war, growing up with their hopes and dreams gradually dying with their loved ones. And yet they still manage to break through the madness, harnessing what remains of their innocence and growing wings with which they fly to worlds beyond.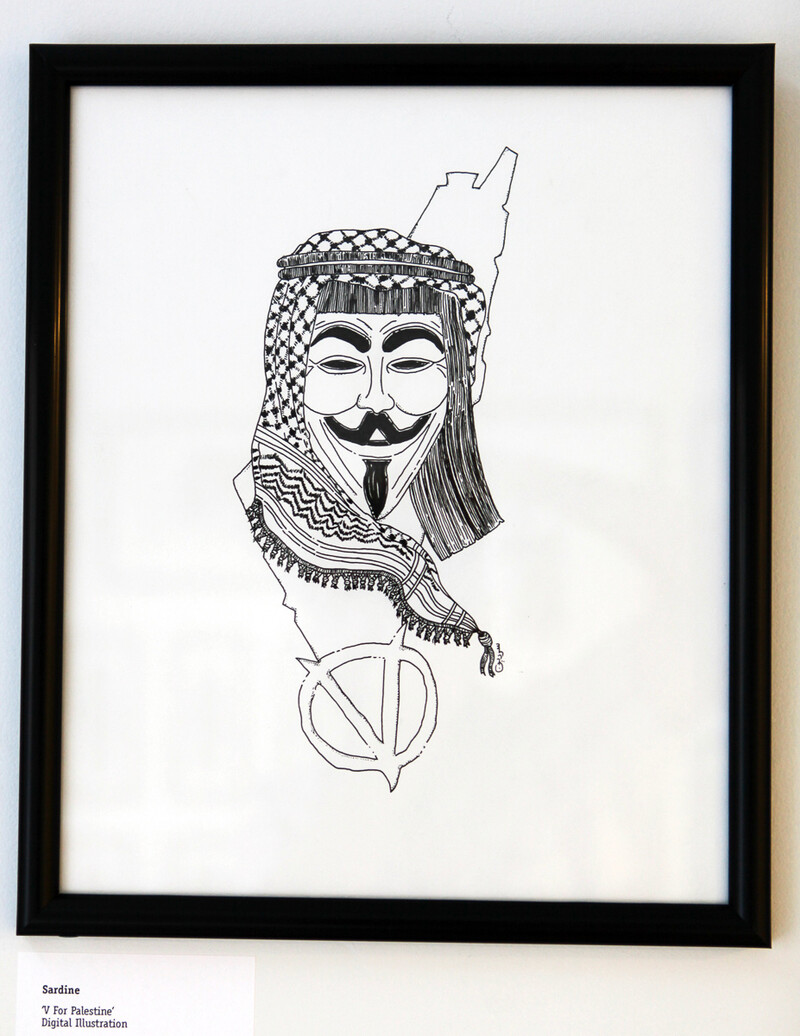 I read the book, saw the film and fell in love with V. One night I had this vision of him wearing an Arab hatta. This was long before the so-called Arab Spring.
On an old woman's shoulders lies a house with a heavy metal sheet posing as a roof, declared cancerous. Rain leaks on grandchildren more precious than children, and an unpaid electricity bill. When a mother sends her seven-year-old girl to school in the morning and her eleven-year-old brother in the afternoon, as one pair of shoes, is shared by two. While a teenager waits impatiently to take off his cast to go back to training, an old woman pleads the world outside for a little compassion, and a hot tempered boxer continues his dream for an olympic medal.
The series is about the psychological state of the children of war. They serve as a representation of innocence, loss and disturbance.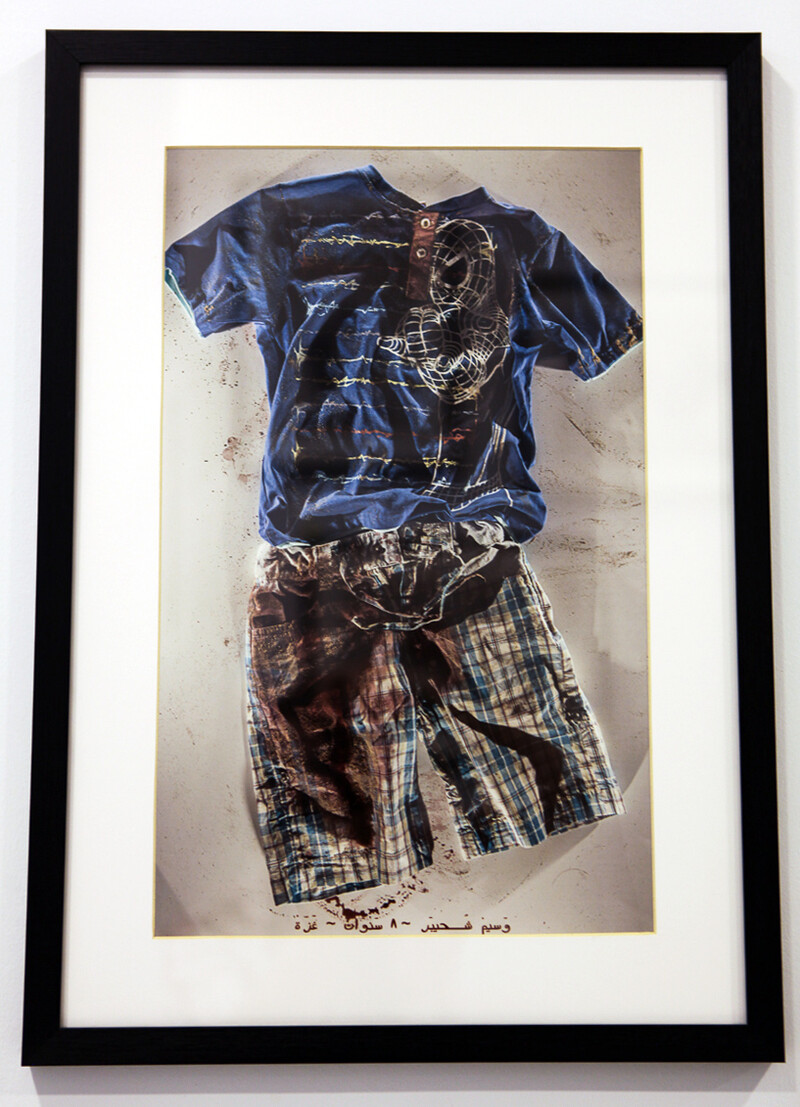 A series is about to the fallen child victims of Gaza. Each photo in the series is a tribute to a victim, through the last outfit they were remembered by, or even died in. Hopefully, by looking at the empty dress, we can't but wonder about the life and innocence that was lost.
Tags