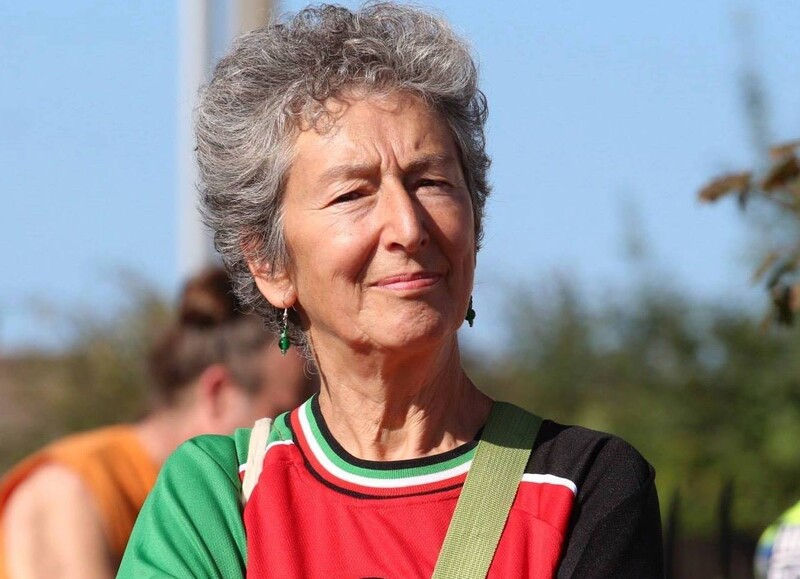 Britain's Israel lobby reacted with fury on Thursday night as left-wing Jewish activist Naomi Wimborne-Idrissi was elected to the Labour Party's ruling body.

A veteran Palestine solidarity activist, Wimborne-Idrissi won a seat on the National Executive Committee (NEC) which sets internal rules governing the UK opposition party, including disciplinary matters.

She is a leading member of Jewish Voice for Labour, a group launched in 2017 to defend then leader Jeremy Corbyn against false and politicized accusations of anti-Semitism.

During the Corbyn years, the NEC was often used to purge left-wing and pro-Palestinian members falsely accused of anti-Semitism.

Speaking exclusively to The Electronic Intifada on Friday, Wimborne-Idrissi promised to use her position to represent Labour members still under threat of expulsion.

She said her victory was "a testament to the widespread support in the party for the kind of politics that JVL has been putting forward."

"There's a lot of left-wing members still left in the party," Wimborne-Idrissi added. "They want someone to speak for them on Labour's ruling body. That's exactly what I intend to do."

She said that the "response to my election from several organizations that claim to represent British Jews is frankly disappointing. They've launched an attack on the only Jewish candidate to be elected on this occasion. That discredits them."
Sectarianism
Wimborne-Idrissi's hard-fought victory represented a bright spark in an otherwise disappointing set of internal elections for Labour's left on Thursday. The right-wing "Labour to Win" slate won an extra seat away from the left.

Luke Akehurst was re-elected as part of this right-wing slate. For years a professional Israel lobbyist, Akehurst runs the "We Believe in Israel" organization and formerly worked in public relations for the arms industry.

Grassroots Labour activists criticized the allegedly left-wing group Momentum online for what one described as "sectarianism and political cowardice demoralizing the Labour left."

Despite efforts to run a unified "Grassroots 5" slate of left-wing candidates to the NEC, Momentum undermined the slate by endorsing what it claimed was a "Grassroots Voice 4" – excluding Wimborne-Idrissi alone.

Former leader Jeremy Corbyn, however, endorsed all five candidates in a video posted to Twitter earlier this year.

The accompanying tweet pointedly put Wimborne-Idrissi first in the list. Corbyn said in the video he was "very pleased to endorse Naomi Wimborne-Idrissi," who he described as having "a warm and wonderful humanity and personality."

Four Israel lobby groups on Thursday condemned Labour members for electing Wimborne-Idrissi, and apparently called for right-wing leader Keir Starmer to overturn the election.

In a joint statement, anti-Palestinian groups the Board of Deputies of British Jews, the Jewish Leadership Council and the Community Security Trust called Wimborne-Idrissi's supporters "an extreme wing" of the party.

They said that her election was "a backwards step" and accused her of "defending individuals expelled for anti-Semitism." They also demanded she "play no part" in party discipline and be kept away from related committees.

In 2011, the Community Security Trust – an Israel lobby group with close ties to the Israeli state and its spy agencies – sent a secret blacklist of what it claimed were "extreme" Jewish groups and individuals to the British government. The blacklist included Wimborne-Idrissi, explicitly citing her Palestine solidarity activism.

The Jewish Labour Movement – the fourth pro-Israel group – on Thursday evening said that "an otherwise positive" set of internal Labour election results "has been marred by the election of Naomi Wimborne-Idrissi, a senior member of Jewish Voice for Labour."

Their statement hinted at calling for more purges from Labour of left-wingers like Wimborne-Idrissi.

Anti-Corbyn right-winger Margaret Hodge said that Wimborne-Idrissi's election was "a disappointing result, especially for Jewish Labour members and the Jewish community" – ignoring the fact that Wimborne-Idrissi herself is Jewish.

Since Corbyn was overthrown as leader in 2019, and replaced by right-wing opportunist Keir Starmer in April 2020, Labour has incessantly purged the party of left-wingers and Palestine solidarity activists in an effort to appease the Israel lobby.

But the smear campaign against Wimborne-Idrissi underlines once again that these groups cannot be appeased. Only total adherence to their extreme pro-Israel agenda appears to be acceptable.

The party has hemorrhaged as many as 200,000 members, with one of Starmer's deputies saying the resulting loss in members and income was "a good thing" and worth it to erase the "stain" of alleged anti-Semitism.

Since Corbyn was first elected leader in 2015, he and his supporters have been constantly smeared with fabricated and exaggerated allegations of anti-Semitism – often targetting Palestine solidarity activists and the left.

Corbyn himself was purged as a Labour MP in October 2020, and now sits as an independent.

Left-wing commentators Alex Nunns and Jackie Walker both predicted that Starmer is now likely to order the expulsion of Wimborne-Idrissi.
Tags