Israeli occupation authorities on Wednesday raided and looted Kufr Birim, a destroyed Palestinian village near the border with Lebanon, where a group of activists have been camping for more than a year.
Accompanied by police, five carfuls of officers from the Israel Lands Administration arrived at approximately 8am. Without announcing their presence or the purpose of the visit, they began tearing apart the activist encampment and looting the campers' belongings.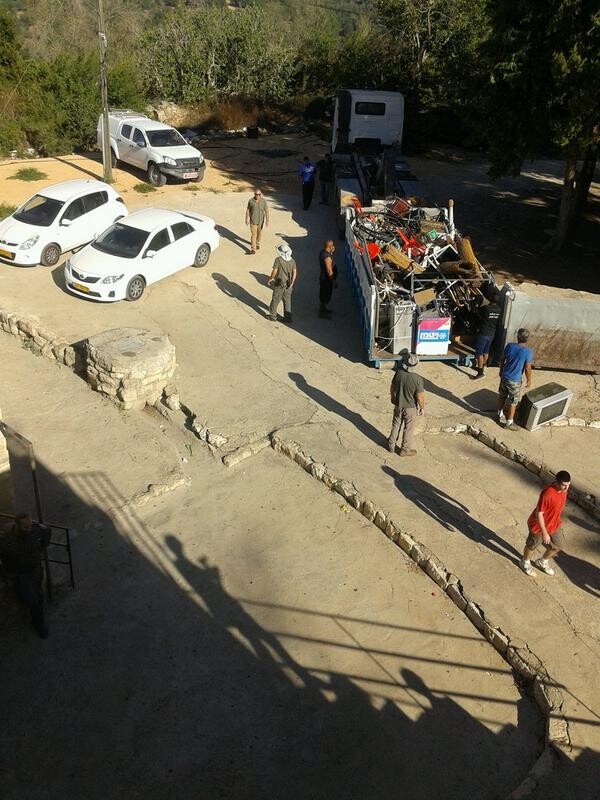 Approximately a dozen activists – all ancestors of Palestinians expelled from Kufr Birim during the 1948 ethnic cleansing of Palestine – have since August 2013 been camping in shifts amid the ruins of the village. Organized by Al-Awda ("The Return"), a political organization that advocates for the right of return to the village, the group includes third-generation Palestinian refugees as well as a handful of surviving men who fled during the 1948 ethnic cleansing.
When occupation authorities arrived Wednesday morning, only two members of Al-Awda and three visitors were present. Additionally, two journalists were on the scene: independent journalist Dylan Collins and myself.
Collins filmed the looting and published the video seen above on his YouTube account.
Police take "selfies"
As one police officer demanded everyone's identification cards and our press credentials, land authorities tore down lights and cut the electricity, gas and water. They also looted more than thirty chairs, several mattresses, tables, camping tents, tables, a water fountain and various camping supplies and personal belongings.
One officer filmed the looting and the activists as they sat by calmly and watched. "We will just build it again," said Waad Ghantous, an Al-Awda activist who was present.
As the land authorities wrapped up the looting and prepared to haul off everything in a large truck, a group of Israeli police officers huddled tightly next to the ruins of the village's school, laughing and appeared to be taking "selfie" photos on their cellphones.
Tragic history
The looting is a faint echo of Kufr Birim's tragic history. Depopulated by the Israeli military in October 1948, most of Kufr Birim's refugees were scattered across Palestinian communities in present-day Israel. They eventually took Israeli citizenship.
Along with tens of thousands of Palestinians who became internally displaced persons, they are part of the estimated 1.7 million Palestinians who live in cities, towns and villages across present-day Israel. According to the Haifa-based Adalah Legal Center, they suffer from more than fifty discriminatory laws that limit their access to state resources and suppress their political expression.
The refugees were continually promised that they would be permitted to return to their lands. But in 1953, despite Israeli court orders in their favor, Israel's air force showered the homes, schools and businesses with bombs. Only a historical church and a local graveyard were left intact, with most homes left completely or mostly destroyed.
For decades, Kufr Birim's refugees and their descendants held annual events in the village and campaigned for their right of return. Inspired by activists' return to another destroyed village, Iqrit, in the summer of 2012, Al-Awda organized the return in August 2013.
Intimidation
"Since then, the [Israeli authorities] come on a weekly basis," George Ghantous, an Al-Awda activist and left-wing organizer, told The Electronic Intifada. "They come and ask questions about our belongings, bother us, [and] try to intimidate us."
Usually arriving when there are only a few people present, the Israel Lands Administration has looted the village twice since August 2013, he explained. Each time, they cut the water, gas and electricity in addition to confiscating belongings.
The last raid took place on 11 June, when Israeli authorities tore down tents and other structures.
"We are always waiting for them to come," he added. "Each time they leave, we know it's only a matter of time before they return."
Israeli land authorities last confronted the activists on 11 August, just days after they concluded a week-long annual summer camp to teach youth about the right of return for Palestinian refugees from Kufr Birim and elsewhere. They took down their identification card information and warned them they would cut off the electricity, gas and water and remove many of their belongings, including camping tents and other supplies.
Despite the incessant harassment, activists told The Electronic Intifada they intend to stay on their ancestral lands. "They also know we'll just return and rebuild each time," George Ghantous said. "We don't care about their actions. There isn't anything they could do to make us leave."
Tags