Nadir Muhammad Saadi Idris, 42, died early Saturday morning of wounds he sustained Friday afternoon when Israeli occupation forces opened fire on Palestinian protestors in the West Bank city of Hebron.

The video above, taken by Mamoun Wazwaz and published by the Al-Usul video agency, shows the moment Idris was hit and fell to the ground in the Bab al-Zawiya neighborhood.

While youths around him are throwing stones towards Israeli occupation forces some distance away, Idris can be standing still the moment before a shot rings out and he falls to the ground.

Idris appears to have been singled out and shot at random – or perhaps he was chosen precisely because he was standing still and made an easy target.

He was hit in the chest, causing damage to a major artery, Ma'an News Agency reported, citing medical officials.

Idris died in the early hours of Saturday after doctors at al-Mizan hospital attempted to save his life.

Also on Friday, Ahmad Mohammad al-Qatari of al-Amari refugee camp was shot in the chest and killed by Israeli occupation forces near the West Bank city of Ramallah, Ma'an News Agency reported.

Dozens of Palestinians were reported injured on Friday as Israeli occupation forces violently suppressed protests in towns and cities across the occupied West Bank in solidarity with Palestinians resisting Israel's siege and bombardment of the occupied Gaza Strip.

In addition to Idris and al-Qatari, at least other seventeen Palestinians have been killed by Israeli forces and civilians in the occupied West Bank since 7 July, when Israel began its campaign of slaughter in Gaza.
Number one fan
Nadir Idris was known as an avid fan of the Hebron Youth Sports Club football team. The head of the team's fan club, Basim al-Aweiwi, told Ma'an that Idris frequently traveled with the team to away games around the occupied West Bank.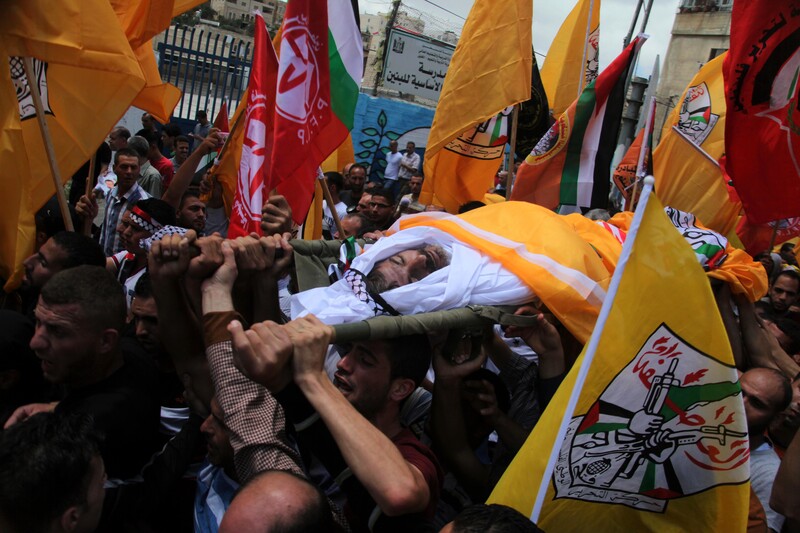 Idris was often at the team's headquarters and was known to all the players and fans.
Many of the team's supporters were among the thousands who joined his funeral march from Hebron's al-Hussein mosque to the Martyrs Cemetery.
The club canceled a planned Saturday match with the Dura team in honor of their fallen supporter.
Impunity despite video evidence
Nadir Idris' shooting is only the latest act of violence by Israeli occupation forces to be caught on video.
In none of these cases has anyone been held accountable. Despite the existence of video evidence, Israeli occupation soldiers who kill Palestinians continue to enjoy total impunity.
Tags