An Israeli airstrike on Khan Younis in southern Gaza massacred nine members of the El-Farra family, including five children, early Friday morning.
The El-Farra family are relatives of physician Dr. Mona El-Farra, who has been frequently updating The Electronic Intifada on the ever worsening situation there.
"The house was hit with a rocket, and the whole neighborhood started leaving, running in the street," she told The Electronic Intifada in an interview on Saturday. "Another rocket, or missile, struck the children and the women who were running outside of the house."
The full interview can be listened to via the player at the top of this page and the full transcript is published below.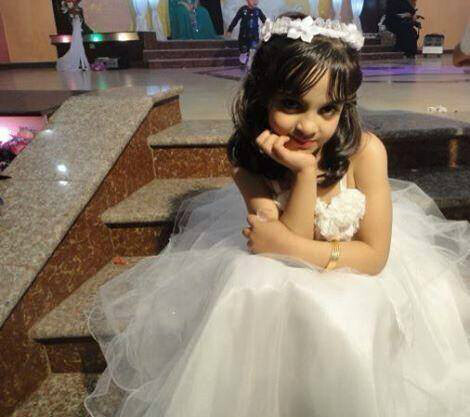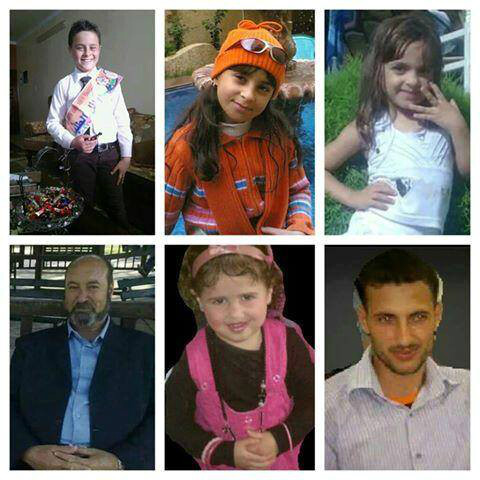 Testimony at US Congress
Dr. El-Farra is the aunt of author and journalist Laila El-Haddad, who testified about the massacre during a Congressional briefing Friday on US complicity in Israel's onslaught on Gaza, which at the time of publication had claimed nearly 1,700 lives there.
"I woke up this morning and I learned that my tax dollars killed eight of my family members in Gaza. They were given an eight-second warning," El-Haddad stated to members of Congress.
Dr. El-Farra works at the Palestine Red Crescent Society and is the director of Gaza projects at the Middle East Children's Alliance. She has been working around the clock treating patients — even after receiving Friday's devastating news — and she and her colleagues receive hundreds of people needing treatment every day as medical supplies continue to run low or are completely depleted.
Last week, Dr. El-Farra warned that the situation in Gaza was going to worsen dramatically because of the dwindling availability of water, electricity, basic medications and medical supplies.
Decimation
The deadly airstrike in Khan Younis happened just three hours before a 72-hour humanitarian ceasefire was supposed to begin. Reports indicate that Israel broke the ceasefire just under two hours after it was to be implemented Friday morning. Israel then began heavily bombing Rafah, in the southernmost region of Gaza, killing at least 110 people and decimating entire neighborhood blocks.
According to Mohammed Omer reporting for Al Jazeera English, "At least 1,680 Palestinians have been killed and 8,500 others hurt in Gaza since Israel's military offensive began" on 7 July.
"On Friday, an Israeli tank shell struck an ambulance in Rafah, killing three medical crew members: Yousef Elshiekh Eid, Yousef Darabeh, and Atef Alzamli. Meanwhile, the city's only hospital, Abu Yousef Al Najjar, has been under constant Israeli artillery shelling, forcing doctors to evacuate their patients and the dead bodies," he added.
On Saturday, Israeli warplanes bombed the Islamic University of Gaza in Gaza City as well as the Imam Shafi mosque. Al Jazeera English reported that "glass from broken windows and notebooks belonging to some of the thousands of students" enrolled at the school were scattered around the premises. No casualties were announced.
Israeli daily Haaretz reported that according to the United Nations children's agency UNICEF, by Saturday morning at least 296 children had been killed in the Gaza Strip since the operation began — approximately one third of the fatalities. UNICEF says that of these 296 children, 187 are boys and 109 are girls, with at least 203 of the victims under the age of 12.
"Just cannot cope"
Meanwhile, Gaza's ministry of health stated in a press release on Saturday that it has made an emergency appeal to hospitals outside of Gaza to take fifty urgent cases as facilities remain "overloaded, and just cannot cope with the huge numebr of casualities resulting from the latest continuous Israeli bombardment, this time in the Rafah governate."
The statement adds:
Rafah's Al Najjar Hospital, filled to its capacity of 108 beds, had to be evacuated yesterday, leaving only two small hospitals operational to cope with the Rafah population of 350,000 people, and the hundreds and hundreds of injured: the Kuwaiti Hospital with 20 beds, and the Emirati Maternity Hospital with 50 beds.

Rafah is still under attack, and the injured must now be transported to either the European Gaza Hospital, almost impossible as it is directly through the line of fire, or the Al Naser Hospital in Khan Younis, which is also dangerous to access. An ambulance taking patients from Rafah to Al Naser Hospital yesterday was attacked by Israeli military, killing the driver and his assistant, and one occupant.

Other casualties of the Israeli assault on Rafah are the 50-60 patients in the area with kidney failure – with the Al Najjar hospital closed, there are now no dialysis facilities. Twenty-four patients a day were receiving dialysis at Al Najjar, and they must now seek treatment elsewhere in Gaza – currently an impossibility.
And the UN agency for Palestine refugees, UNRWA, also released a statement on Saturday denouncing Israel's assaults on hospitals, clinics and paramedics and warned of a "rapidly unfolding" health disaster across Gaza.
UNRWA states:
One third of hospitals, 14 primary healthcare clinics and 29 Palestinian Red Crescent and Ministry of Health ambulances have been damaged in the fighting. At least five medical staff have been killed in the line of duty and tens have been injured. At least 40% of medical staff are unable to get to their places of work such as clinics and hospitals due to widespread violence and at least half of all public health primary care clinics are closed.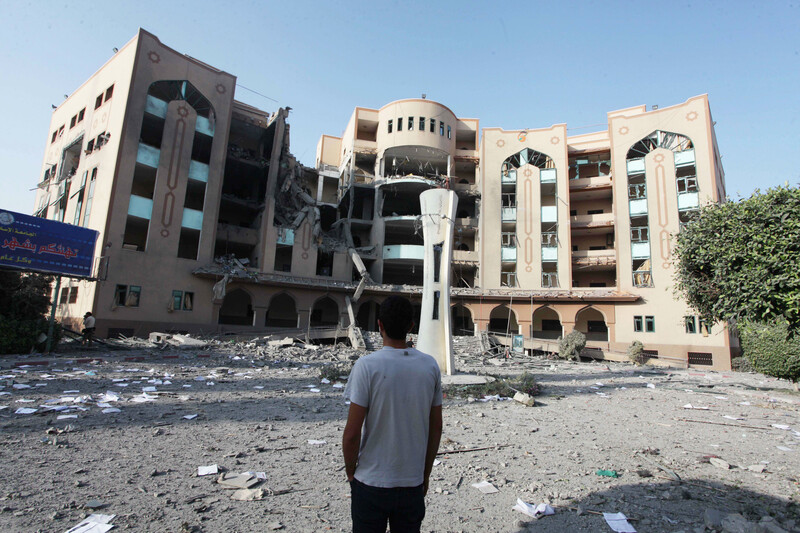 Transcript: Dr. Mona El-Farra
Nora Barrows-Friedman: A few days ago, when we last spoke, you warned that things were going to get much worse in Gaza, especially in terms of health the ability of hospitals to function. And just yesterday, on Friday, nine members of your family were killed by Israeli bombs in Khan Younis, including five children. We are so sorry to hear this news. Tell us a little about what happened on Friday.
Dr. Mona El-Farra: It was five o'clock in the morning, just three hours before the intended announcement of the humanitarian ceasefire. The house was hit with a rocket, and the whole neighborhood started leaving, running in the street. Another rocket, or missile, struck the children and the women who were running outside of the house, and I heard the news — I really felt very bad. I know my family are not different from any other families but it is difficult to know that your cousins and their kids were murdered by the Israelis.
I telephoned one of my cousins, to see what's happening, and he told me the story. He was very devastated and in a state of shock. He said "we are going now to bury the dead." That's it, that's what happened.
Then, later, we saw that there was going to be a ceasefire. I went to the Red Crescent to continue, because I couldn't go to Khan Younis — it was too dangerous, even though there was an intended ceasefire, I didn't trust that. I went to the Red Crescent around 8:30, to learn later on that the ceasefire had collapsed and did not function. And again, it was very, very bad because the whole preparation — including my staff, and the people in Gaza were looking for some [time] to go out, to shop, to see friends and relatives, just to feel that there are some hours without shelling.
Some of my colleagues told me they didn't sleep since one o'clock the previous night, they were waiting to learn that there was a ceasefire, because the attack against Gaza on services are non-stop. Thousands of explosions hit Gaza cities and towns and refugee camps and it is — Gaza is very small, crowded, and most of the casualities, most of those killed and injured are civilians, women and children.
And we don't have infrastructure — I've said it before. We don't have any proper infrastructure. The injured were in the corridors of the hospital, and we didn't have enough — and we still don't have enough medications and supplies for the injured and for the normal operations that are in need. Because the humanitarian situation is disastrous in Gaza with the thousands of displaced families who took refuge in the schools. And the Red Crescent Society, the partner organization of the Middle East Children's Alliance, we are receiving hundreds of patients, six times the regular load of our work, hundreds of patients who are in need for health, and infectious diseases will follow. It's happening — people will start having infections of the skin and all sorts of things.
We coordinate with others, but other health organizations on the ground are suffering from a lack of medications and supplies. The burden is heavy, and still is heavy, and I'm thinking about what's after that, the attacks — shock.
I am thinking of what we are going to do with those who lost their homes, who are injured, who have loved ones killed. I have heard about the unilateral ceasefire. I am not sure about this news but I don't want to leave my hopes up for a ceasefire, because some times before we have heard of a ceasefire and it did not happen.
But even with a unilateral ceasefire, it means there is no political achievement. After all this bloodshed, what we need is a civil movement. We need protection guarantees that this will never, ever happen again.
No matter how I describe to you the situation in the ground — maybe I will not be able to describe it because it is simply disastrous. And I don't like to keep saying "war crimes," I don't like to keep staying inside and all this, I just want one simple word — humanity. It has failed with greatness in Gaza, while the governments in the world are silent.
I appreciate the movements of the people in the streets everywhere — Europe, United States, every part of the world. But I tell you that the governments has left their humanity. And still, I believe that we will come out of this maybe weak, maybe wounded, because it's a much heavy burden physically and psychologically, but we'll be able to continue, because we're not a case of charity for the world. We have our rights as Palestinian people. And one day justice will prevail — I have strong faith in that.
I believe in love and peace. I believe that justice will prevail. Peace will prevail. I appeal to the world to hear from Gaza that despite the pain, Gaza's people showed great, real steadfastness and solidarity with each other. Steadfastness and resilience. And despite the minimum resources, all of us will help each other, try to comfort each other despite the lack of resources, the poverty and the dire situation.
Tags