Update, 22 July: Victim of war crime identified
The young man seen shot dead by a sniper in the video above has been identified as 20-year-old Salem Shamaly from the eastern Gaza City neighborhood of Shujaiya, where Israel committed a massacre early on Sunday morning. He survived the massacre but was then murdered in cold blood.
He had been missing for two days. Salem was identified when his parents and sisters endured the horrible experience of seeing the video above and recognizing him.
Gaza blogger Jehan Alfarra, who is currently in the UK, has written the story of how Salem was identified.
"While tweeting about a friend who lost his entire family yesterday, I saw repeated and persistent tweets sent by a dear friend, Mohammed Alqattawi, to Joe Catron, asking him to respond as a matter of urgency," Alfarra writes.
Catron, an international volunteer and journalist, was an eyewitness to the killing. Concerned, Alfarra responded to Alqattawi's messages.
"We've been looking for my cousin from Shujaiya for two days now," Alqattawi told Alfarra. "We just watched a video that Joe tweeted of an injured Palestinian shot by an Israeli sniper while searching for his family. It is my cousin."
"I clicked on the link to watch the video, and his mom and sister swiftly recognized him by his voice," Alqattawi added, "and his dad came running and watched his son get shot and say the shehada" – the recitation of faith.
"Submerged in grief, Mohammed's uncle got up to pray and read some Quran, hoping God will grant him some sort of sublime patience he needs in order to calm his wailing daughters," Alfarra writes. Salem was the only son to his father and the only brother to his seven sisters.
"To the international community in general and the western world in particular, which seems to be overlooking Israeli war crimes," Alfarra says, "Salem is but another number added to an already overflowing toll of Palestinian deaths. To his friends and family, Salem will always be the precious gem he has always been."
The New York Times' Robert Mackey provided additional details in a story on Shemaly:
Mr. Shamaly's cousin, Mohammed Alqattawi, said in a telephone interview from Gaza on Tuesday that his family had tried to get rescue workers from the International Committee of the Red Cross at Shifa Hospital in Gaza City to retrieve the body, only to be told that the situation in Shejaiya remained too dangerous. At least 60 Palestinians and 13 Israelis were killed there during a fierce battle between the Israel Defense Forces and Hamas militants.
Alqattawi also told Mackey that his cousin Salem "worked as a grocer with his father in Gaza City's old market and had 'absolutely nothing' to do with any militant brigade or the Hamas-led government of the territory."
Original post
A video has emerged of the targeting and killing by a sniper of a Palestinian civilian in Gaza City's Shujaiya neighborhood where Israeli shelling killed dozens of civilians and caused massive destruction early on Sunday morning.
The video, documenting a war crime, was uploaded to YouTube by the International Solidarity Movement, which described the incident in a 20 July press release:
The Israeli military just shot a Gazan man trying to reach his family, during an announced ceasefire. He was with a group of municipality workers and international human rights defenders who were attempting to retrieve injured people in the Shujaiya neighborhood.

"We all just watched a man murdered in front of us. He was trying to reach his family in Shujaiya, he had not heard from them and was worried about them. They shot him, and then continued to fire as he was on the ground. We had no choice but to retreat. We couldn't reach him due to the artillery fire and then he stopped moving," stated Joe Catron, US International Solidarity Movement (ISM) activist in Gaza. "Shujaiya is a smoking wasteland. We just passed two bombed out ambulances."

The Israel military has also shelled Red Crescent ambulances as they attempted to retrieve injured people in the Shujaiya neighborhood, east of Gaza City. A ceasefire was announced, during which injured and dead people, could be evacuated from the area, in which at least 60 people have been killed today.

"They said we would be able to evacuate the injured from the disaster zone, but they have been shelling ambulances," stated Dr Khalil Abu Foul of the Palestinian Red Crescent, speaking from Shujaiya.

Now, the international volunteers, including some from the US, the UK, and Sweden, are in a rescue centre on the outskirts of Shujaiya.
Catron is also a frequent contributor to The Electronic Intifada.
The photo below taken by Joe Catron shows the group of human rights defenders wearing yellow vests, and a young man in jeans and a green t-shirt. The same young man appears in the video above, shot.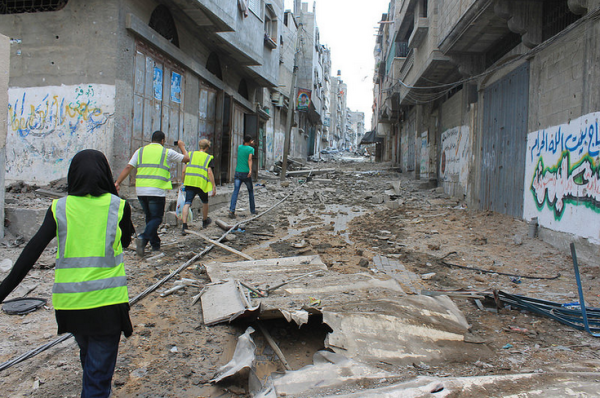 Israeli war crimes have been documented on video with depressing frequency, including the 15 May sniper killings of two Palestinian teens in the occupied West Bank town of Beitunia.
However, even such evidence rarely results in justice or accountability, due to the systematic impunity Israel affords perpetrators of crimes against Palestinians.
Relentless slaughter continues
Israel's relentless slaughter continued on Monday for the fourteenth consecutive day, killing multiple members of three extended families as the death toll rose to over 500, Ma'an News Agency reported.
In Khan Younis, at least 26 members of the Abu Jami family were killed by Israeli shelling in the largest single atrocity so far. Democracy Now! reporter Sharif Kouddous in Gaza captured these photos of the massacre's aftermath.
Tags