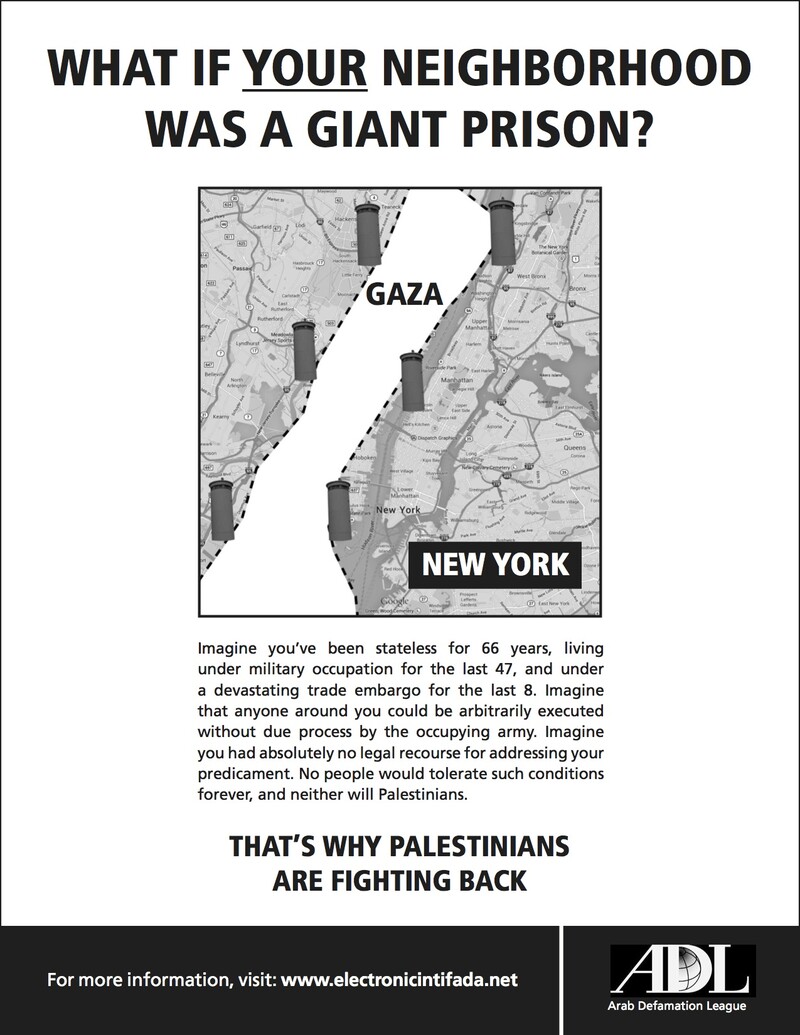 The above spoof of an advertisement by pro-Israel group the Anti-Defamation League (ADL) has gone viral after its creator, activist Daniel Sieradski, posted it on Twitter.

Here is the original ad Sieradski mocks, calling the ADL's campaign to justify the bombing of Gaza "just the latest act in a storied history of shameful behavior":

The point of the original ADL ad is to encourage the target audience – Americans – to identify with Israel and see Israel's brutal violence that targets Palestinian family homes and kills children – as natural, reasonable and justified "self-defense."

Sieradski's subversion of the ad brings to the fore the reality that Palestinians experience, and which is rarely heard in US mainstream media.

Sieradski explained to me in an email why he created his spoof:
The ADL has been a consistent embarrassment to the Jewish community and its campaign to justify the bombing of Gaza is just the latest act in a storied history of shameful behavior. While Israel does have a legitimate right and responsibility to protect its citizens from attack, and while I strenuously oppose all attacks against civilians, to pretend that this current escalation is merely a defensive measure by Israel and not part of a greater policy to undermine the PA unity deal is to deny the obvious. 

American Jews are not a monolithic entity that uniformly support Israel's destructive military policies and extrajudicial killings. It unnerves me to see reports from folks like Khaled Abu Toameh (who is no leftist radical) that Hamas has offered Israel a ceasefire multiple times in the past few days, demanding only that Israel stop targeting Hamas members with extrajudicial killings and release the 500 or so individuals arbitrarily arrested during its investigation into the kidnapping of the three murdered Israeli teens. Israel has rejected the offer. That means this is a war of choice, not a war of necessity. That makes the ADL's propaganda campaign all the more insidious.

My Jewish community opposes occupation and warfare and supports the rights of both Palestinians and Israelis to live in peace and security. The ADL does not speak for us. I am unafraid to make that explicitly clear.
It's quite satisfying that the ADL's original ad got retweeted just 26 times, while Sieradski's spoof is at close to 800 retweets!
Tags