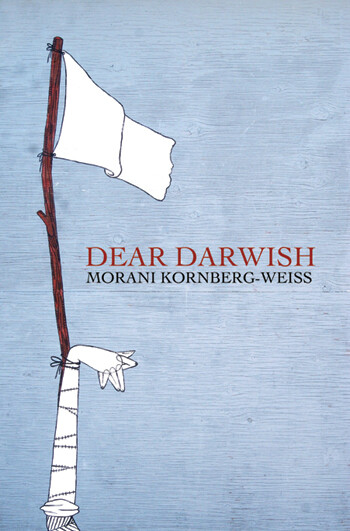 Interactions between Israelis and Palestinians are inherently power-laden in nature. Whatever else takes place in such contacts, the inescapable fact is that encounters are between occupier and occupied, between people backed by the force of the Israeli state and those oppressed by it.

When such interactions are also combined with questions of aesthetics, poetics and authorial voice, the situation becomes perhaps yet more complicated. Does art have the potential to challenge power relations and create spaces in which inequality can be confronted and redressed?

Can poetry create a space where constructive encounters might take place, ones which shift the power balance? And what does it mean for such an encounter if one of the parties is dead, unable to negotiate their role for themselves?

These are questions raised by Morani Kornberg-Weiss' debut collection of poetry, Dear Darwish (BlazeVox Books).

Kornberg-Weiss is an Israeli poet living in the United States. Like most Israelis, she served in the Israeli army. Unlike most Israelis, however, she has also spoken out against the country's human rights abuses, and has stated publicly that she supports a one-state solution — although she questions its feasibility given the right-wing tendencies in current Israeli politics.

Dear Darwish takes the form of a series of poems addressed to the late, great Palestinian poet Mahmoud Darwish. They are intended to be, as Kornberg-Weiss says in one poem:
without mediation.
A movement towards.
A form of contact.
Some are confessional, some pleading, some contemplative or they explore issues such as Israeli military brutality or the destruction of Palestinian history. A sequence entitled "Nakba Museum" tackles the global recognition of the Jewish Holocaust — "I would have to plan a trip around the world in order to visit every Holocaust Museum, education center and memorial" — and criticizes the fact that the Nakba — the expulsion of more than 750,000 Palestinians and the destruction of hundreds of villages in the lead-up to Israel's establishment — remains marginal in most countries' cultural mainstreams.
"Right to use your words?"
And the poetry itself is often good — moving, sophisticated. If this were a review solely based on the aesthetic quality of the poetry it would be much simpler to write, and it would be much easier to be unequivocally positive.
In her "Afterthoughts," Kornberg-Weiss says that "Like many Israelis, I had little/no access to Palestinian literature," and claims that — having encountered and explored Darwish's work — her own poetry "enables me to encounter him as a poet whose existence was denied to me."
But it is precisely her choice to incorporate Darwish's poetry into her own work — indeed, attention-grabbingly, into the very title of her book — that opens Kornberg-Weiss up to criticism. She writes:
"Mahmoud, if … I read and transform your poems, are we still telling the same story? Mahmoud, do I have the right to use your words? Mahmoud, would you grant me permission to do this? Can we work together to define it and its possibilities?"
But the inescapable fact here is that Darwish is unable to grant — or deny — permission to do this. While framing herself as the supplicant, Kornberg-Weiss continues to exercise power because the poet she has chosen has no means of making the choice she demands of him.
Why, if she genuinely wanted dialogue, did she not pick a living Palestinian poet? They, unlike Darwish, would be able to shape their own responses to her words, rather than her selecting items from Darwish's poems which work, for her, as "responses" to her thoughts.
I asked two friends, both poets, what they felt about this tactic. One said simply, "that's appropriation, isn't it?" The other fiercely defended Kornberg-Weiss' right, as an artist, to follow her artistic impulse where it led her — her duty to stay true to her aesthetic instincts.
Spotlight on herself?
But does that still apply when artistic instincts overlap so contentiously with issues of politics and power? Kornberg-Weiss goes further than the vast majority of Israelis when she contrasts how Aziz Salha, a Palestinian convicted of killing an Israeli soldier, was portrayed as a villain, whereas Gilad Shalit, an Israeli soldier captured by resistance fighters in Gaza, was portrayed as a hero, despite how he had participated in the crimes of occupation.
"We all saw photos of Aziz Salha with blood on his hands but nobody thought about the blood on Gilad's hands … That marks one difference between Israelis and Palestinians: so many Israelis walk around with blood on their hands, hands soaked in red, red hands shaking, exchanging blood …"
Yet, when she writes "I often feel like a hostage/confined to my own history" or "doing this/is exceedingly difficult," Kornberg-Weiss comes dangerously close to doing what many Western and Israeli commentators and activists do in relation to Palestine: they appropriate victim status, re-focusing attention away from the torture, murder and dispossession imposed on Palestinians.
Instead, they turn the spotlight instead onto themselves, their existential angst and personal struggles.
Internal journey
This is indeed a deeply personal book, one which feels very much like a step on one individual's internal journey. On the political level, the call for a one-state solution effectively demands that Israelis undertake the same personal journey that Kornberg-Weiss lays out for her readers.
But just because an internal journey is praiseworthy on the level of individual politics doesn't make it a successful work of art. Kornberg-Weiss' poems might be seen as a useful tool to demonstrate to Zionists that there is dissent amongst Israelis, and to show the way in which an Israeli Jew might psychologically work their way to a more just, sane state of being. Or they might be read solely as a personal Odyssey.
But, in the end, Kornberg-Weiss' choice to take on Mahmoud Darwish as the silenced partner in this project highlights its weaknesses.
The greatness of Darwish's poetry lay partly in his ability to unite the intellect and emotion, to be personal and yet transcend the self to engage the "big picture." He could grapple with huge issues while talking about a single person — a lover, a mother, a child. This is what is missing from Kornberg-Weiss' work: a sense of the true meshing of affect and aesthetic, of personal commitment and political practice.
Sarah Irving is a freelance writer. She worked with the International Solidarity Movement in the occupied West Bank in 2001-02 and with the Olive Co-op, promoting fair trade Palestinian products and solidarity visits, in 2004-06. She is the author of a biography of Leila Khaled and of the Bradt Guide to Palestine and co-author, with Sharyn Lock, of Gaza: Beneath the Bombs.
Tags