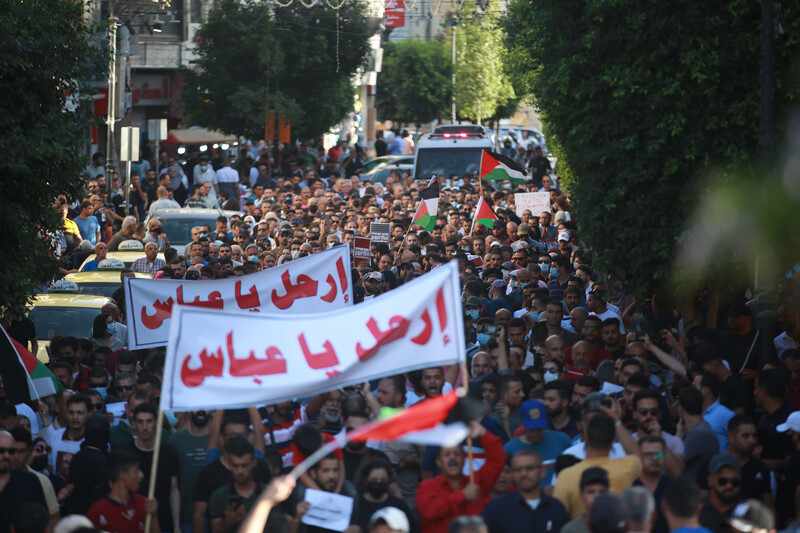 The Palestinian Authority appears to have learned nothing from the backlash following the death of a prominent critic in its custody.
On the contrary, it seems PA forces are ramping up beatings, crackdowns and violent arrests against those protesting the death of Nizar Banat shortly after his arrest by PA forces on 24 June.
Palestinian Authority forces broke up a peaceful demonstration in the occupied West Bank cities of Ramallah and nearby al-Bireh on Sunday, arresting a number of protestors according to Palestinian human rights group Al-Haq.
Forces shut down Ramallah's downtown area the next day to deter another scheduled demonstration.
An extensive police presence was evident in the area, with many wearing civilian clothing, Al-Haq said.
Shawan Jabarin, the director of Al-Haq, described in a press conference on Monday how those participating in peaceful protest were beaten, bashed with batons and dragged on the ground in what he said was "brutal behavior" by PA forces.
Jabarin said he suspected that the decision to violently crack down on protesters by PA forces "was not a field decision or a decision from some city police chief."
Due to the severity of force used by PA forces against protestors, multiple people were hospitalized.
The arrests were condemned by several human rights groups and defenders.
United Nations human rights experts raised "concerns" on Tuesday about the number of attacks by PA forces on critics.
Experts commented on Banat's death, saying it "has all the makings of a criminal act" and called for "a truly impartial and transparent" investigation.
They added that if his death is indeed found to be a homicide, those responsible for it must be held accountable "regardless of rank or command."
Who is the PA arresting?
The names of Palestinians arrested by the PA in recent days are not unfamiliar.
Some are prominent activists and outspoken critics of Israel and the Palestinian Authority.
The arrests, both due to the nature of their targets and in their brutality, further confirm that PA forces are Israel's foot soldiers.
As a proxy or extension of Israel's occupation apparatus, the PA's primary purpose is to quell West Bank resistance.
One such detainee of the PA was Haitham Siyaj.
His is a familiar name on the Ramallah streets since he was among a number of activists that the PA arrested alongside well-known intellectual and activist Bassel al-Araj in 2016.
Israel killed al-Araj in 2017 and he came to be known as the victim of so-called "security coordination" between the PA and Israel.
Siyaj's mother said in a Facebook post circulated on social media that her son was severely beaten by PA security forces and then taken to the Palestine Medical Complex under heavy guard.
She added that Siyaj was also prematurely discharged from the hospital and that the PA bears the "full responsibility" for her son's safety.
Siyaj was reportedly released from PA custody on Thursday with the condition of guaranteeing his place of residence.
Another activist arrested by the Palestinian Authority on Monday was Mays Abu Ghosh.
Abu Ghosh was previously detained for 15 months by Israel and released in late 2020.
During her Israeli imprisonment, Abu Ghosh was reportedly tortured, forced to remain in painful positions for long stretches of time and subjected to psychological pressure.
Abu Ghosh was a journalism student at Birzeit University in the West Bank when she was arrested by Israeli forces.
The chargsheet that Israel lodged against her included being part of Qutub, a left-wing student group deemed "unlawful" by Israel for its suspected association with the leftist political party the Popular Front for the Liberation of Palestine.
Israel considers virtually all Palestinian political parties to be "terrorist" organizations – a pretext to routinely arrest Palestinians for political activity.
Israel also charged her of possessing weapons they reportedly believed to be two Molotov cocktails.
Palestinian Authority forces also arrested Diala Ayesh, an attorney with the Ramallah-based Lawyers for Justice Group, as she was documenting the PA's crackdown in al-Bireh on Monday.
Ayesh was released on the same day but spoke of being physically harassed by PA forces.
Shadi Amireh, another protester, noted on Facebook that medical exams revealed he had bleeding in his leg, a lump of blood around his brain caused by "the amount of blows to the head," and bruises all over his body due to beatings by PA forces.
In a further indication that the two forces work in concert, Israeli occupation forces arrested a prominent human rights defender on Sunday after he took part in a protest against the death of Nizar Banat in PA custody.
Al-Haq reported that Farid al-Atrash, a lawyer with the Palestinian Independent Commission for Human Rights, was arrested on his way home from Ramallah, where he partook in the protest.
As his health was declining, he was taken to Hadassah hospital in Jerusalem, then to a police station, then to Ofer military prison, where he is now held.
He was scheduled for a military hearing on Wednesday, during which his detention was extended until at least 11 July.
The Independent Commission for Human Rights and Al-Haq are jointly investigating Banat's death.
The Gaza-based human rights group Al-Mezan and the Palestinian Centre for Human Rights both condemned al-Atrash's arrest.
His wife told PCHR that he told her "he was exhausted and suffered shortness of breath" when they arrested him.
Increased collaboration
Meanwhile, as the Palestinian Authority cracks down on critics and dissenters against occupation, it's advancing deals with the new Israeli government – which is rife with war criminals and extremists.
One such venture is the revival of the joint economic committee, which was born out of the Oslo accords of the 1990s, but hasn't been active since 2009.
It is expected that the committee will achieve two goals: ensure around 17,000 additional work permits in Israel for Palestinians in the occupied West Bank and advance the regularization of the fuel administration, according to Tel Aviv daily Haaretz.
Another interesting expectation, according to the newspaper, is the promotion of further coordination between Palestinian and Israeli ministries, which would increase collaboration between Israel and the PA.
PA leader Mahmoud Abbas called Israel's outgoing president Reuven Rivlin on Tuesday before the latter left office the next day.
Last week, Rivlin reportedly called Abbas "my neighbor and my partner" at a United Nations luncheon marking the end of his term, leaving little room for doubt about where the loyalties of the Abbas regime truly lie.
Tags