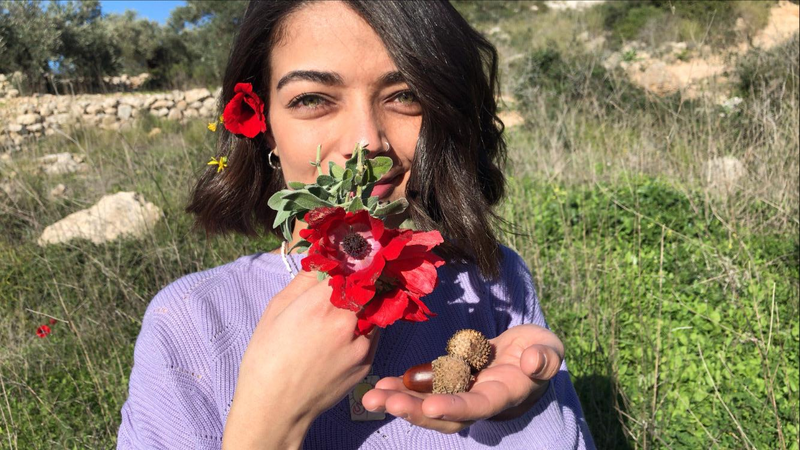 Mays Abu Ghosh was revising for a college exam during August 2019 when Israeli soldiers broke into her home late at night.
Accompanied by dogs, the troops told her father to wake up the family and gather everyone in one place.
Then they entered Mays' room and ordered her to switch on her mobile phone and computer. She refused to do so.
After she disobeyed the order, Mays had to get dressed in the presence of some female soldiers. Her bedroom and that of her parents were then ransacked by the troops.
Handcuffed, Mays was brought from her family's home in Qalandiya refugee camp to the military checkpoint also in Qalandiya – an area separating occupied East Jerusalem from the remainder of the West Bank.
From there she was transported to the Russian Compound, an Israeli detention center in Jerusalem. Mays was held in that center for more than a month, during which time she was repeatedly tortured.
Painful
"The most severe thing was three days in a row without being allowed to sleep," Mays, 23, said. "I had to stay in a chair and if I closed my eyes, a soldier would come over and shout at me. I was slapped in the face continuously."
Mays was forced to stand and bend her knees, with soldiers pressing hard on her shoulders. She had to remain in such painful positions for long stretches of time.
Her shackles were so tight that her hands and feet started to bleed. When Mays got her period, the interrogators "deliberately delayed" giving her sanitary pads, she said.
"I still have various pains – in my back, feet and head – because of the torture," she recounted.
As well as abusing her physically, Mays' interrogators subjected her to psychological pressure by threatening that other members of her family would be arrested and that their home would be destroyed.
Mays, a journalism student at Birzeit University in the West Bank, has been persecuted because she refused to accept Israel's occupation of her homeland.
She was charged with being part of Qutub, a left-wing student group deemed "unlawful" by Israel.
Among the other charges against her were "contact with an enemy." That related to her participation in a conference held in Lebanon on the right to return of Palestine's refugees.
Around 50 people – mainly students – were arrested in the West Bank around the same time as Mays.
Some Israeli journalists rushed to label those arrested as "terrorists." Press stories linked the arrests to a killing next to an Israeli settlement.
Yet as Gideon Levy, a veteran journalist with the Tel Aviv daily Haaretz, wrote, "almost none" of those arrested were suspected of having anything to do with that killing, "not even indirectly."
"Huge sense of loss"
After spending 33 days in the Russian Compound, Mays was brought to Damon, a prison located in a forest beside the city of Haifa inside Israel.

She was kept in a cell with six other women.

When it was summer, the heat in the cell was unbearable. During the winter, Mays tried to endure the bitter cold by covering herself with three blankets.

Mays was determined that her imprisonment would not break her spirit. She kept her mind active by reading novels and books on sociology and culture.

Some of the books read by prisoners – particularly those considered political – were confiscated by Israeli guards in Damon.

Mays was held behind bars for 15 months. She was eventually released late last year.

Her release came a month before her 16-month prison sentence expired. But she had to pay a $600 fine in order to be freed from jail.

The Abu Ghosh family has suffered greatly at the hands of Israel's military occupation.

In early 2016, Mays' brother Hussein was shot dead by an Israeli security guard. It was alleged that he and another young man who was killed had carried out a stabbing attack, fatally injuring an Israeli woman.

A few months later, the apartment where the family lived in Qalandiya was demolished by Israel in an act of collective punishment. They had to move to an apartment on another floor of the same building as a result.

Another of her brothers, Suleiman, was arrested soon after the 2019 raid in which Mays was taken captive. He was placed under administrative detention – imprisonment without charge or trial.

"My family feels a huge sense of loss and instability," said Mays. "Even my little sister – a 5-year-old named Iliya – wets her bed because she remembers the time the Israeli army came to raid our home and arrest me."

Mays is fully aware that there is nothing unique about the way she has been treated. In prison, she met many others who have been locked up for far longer than she was.

Approximately 10,000 Palestinian women have been arrested or detained under Israeli military orders over the past five decades.

Thirty-seven Palestinian women were being held in Israel's prisons or detention centers at the end of January.

Mays is back studying now – although she has to follow her classes online because of the COVID-19 pandemic. She is hoping to graduate from Birzeit later in 2021.

"Prison was an obstacle to my education and my career," she said. "But I am still going to work as a journalist. I will not allow my imprisonment to be a dark chapter in my life."

Amjad Ayman Yaghi is a journalist based in Gaza.
Tags