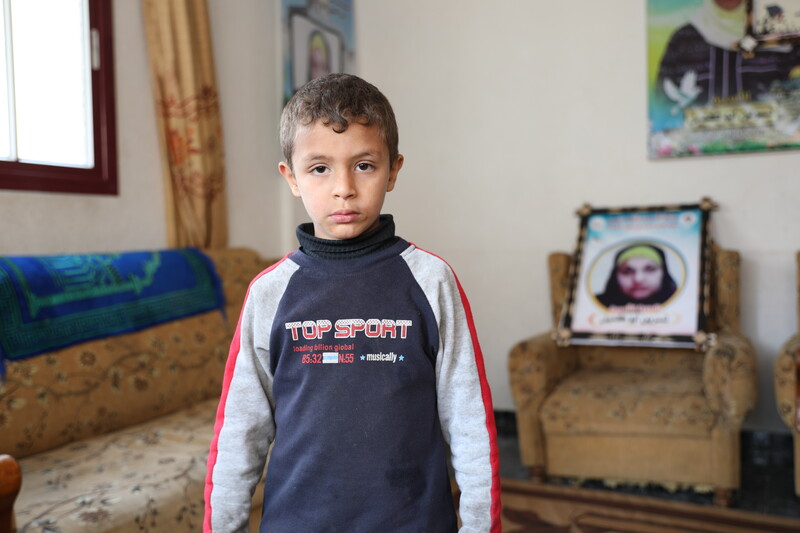 Nisreen Hassan is nearing her release.
After six years behind Israel's prison bars, she is finally scheduled to be reunited with her family in Gaza during October.
Some of her seven children have lived almost their entire lives without their mother. Her son Ahmad was still an infant when she was arrested in 2015.
The task of bringing him up has largely fallen to his sister Amira, who was just 11 at the time.
"I didn't know how to take care of Ahmad at first," said Amira. "I had to ask my grandmother to teach me how to change a diaper and prepare milk. Ahmad does not know his mother at all; he has only seen her in pictures."
While Amira rose quickly to the new challenges that she faced, the absence of her mother has caused immense stress for the family. They have been particularly worried about Nisreen's health.
"Not safe"
Nisreen was receiving treatment for lymphoma before her arrest. Fortunately, she appears to have made a recovery from that disease while in prison.
Other medical issues have nonetheless continued to affect her, including diabetes and high blood pressure.
In 2018, Nisreen fell inside her cell and broke her arm. According to her family, the procedure to repair the fracture was botched.
The main nerve in Nisreen's arm was damaged as a result, causing her considerable pain.
Later in 2018, black marks appeared under Nisreen's toenails, indicating that she had an infection.
Nisreen sought to see a doctor but the prison authorities delayed arranging treatment. She undertook a hunger strike for two days until she was brought to hospital.
More recently, the family has feared that Nisreen could contract Covid-19 in Damon, the prison where she is now being detained. Damon is located near Haifa, a city in Israel.
"When she phoned us last, my mother felt that the prison is not safe from the virus," said Amira. "The prison authorities don't care – though hopefully my mother will get the vaccine before she is released."
Following her arrest, Nisreen was charged with photographing Israeli military sites in order to aid armed Palestinian groups. She has denied the accusations.
Tortured
According to her family, Nisreen was tortured following her arrest.
Before she was transferred to Damon, Nisreen was held for a month in Ashkelon prison, where she was repeatedly beaten.
On one occasion, she was struck with the butt of a rifle. Another time, she had icy cold water poured on her.
The authorities also shone an intense red light in her cell, causing irritation of her eyes.
Nisreen has not had any visits from her children since her arrest.
The family applied to visit her during the first two years of her imprisonment. But they were unable to receive a travel permit from Israel.
To avoid the stress of constantly applying for permits, Nisreen has requested that her children do not visit.
"My wife doesn't want the children to see her handcuffed," said Hazem Abu Kmail, Nisreen's husband. "She doesn't want them to have to speak with her behind a glass partition. She cannot hug or even touch them under those conditions."
Israel is detaining a total of 4,450 Palestinian political prisoners, including 37 women, according to the latest data published by the human rights group Addameer.

The practice of arresting Palestinians in the occupied West Bank and Gaza and then imprisoning them inside Israel violates international law. The Fourth Geneva Convention stipulates that people living in an occupied territory may only be detained within that territory.

Addameer recently described Damon as "unfit for human habitation."

The group complained that women held by Israel often encounter delays in receiving medical care. The right to study is also denied as the Israeli prison services have imposed a ban on books categorized as educational.

Back in Gaza, Nisreen Hassan's children are doing their best to cope in her absence. Sometimes, however, the realization that she has been taken away from them becomes very sharp.

"My cousin got married a year ago," said Amira, Nisreen's daughter. "We were upset that everyone else's mother could go to the wedding, apart from ours. It was a happy occasion but there was a lot of sadness too."

Ola Mousa is an artist and writer from Gaza.
Tags