A British judge comprehensively dismissed a high-profile legal attack on the University and College Union, it emerged on Monday. The case was brought after democratic union bodies discussed boycotts of Israel.
An Employment Tribunal ruled the claim of "institutional anti-Semitism," brought by union member and Academic Friends of Israel director Ronnie Fraser, was dismissed on all counts.
The ruling is a dramatic and comprehensive defeat for the Israeli "lawfare" strategy, and may even have backfired for its proponents who today descended into acrimonious internal back-biting.
"Political end by litigious means"
In the 49-page ruling, the three-person tribunal comprehensively considered the 10 points of the detailed complaint, brought on behalf of Fraser by high-profile pro-Israel lawyer Anthony Julius.
After dismissing each one of them in detail ("without substance … devoid of any merit … palpably groundless … untenable … obviously hopeless"), the document appears to foreclose the possibility of another such "lawfare" attack ever being brought to court again (at least using UK Tribunals).
"Lessons should be learned from this sorry saga. We greatly regret that the case was ever brought. At heart, it represents an impermissible attempt to achieve a political end by litigious means. It would be very unfortunate if an exercise of this sort were ever repeated" (paragraph 178, my emphasis).
It is this key passage of the ruling that means anti-Palestinian activists may rue the day they ever contemplated "the wreckage of this litigation," as the judge frankly puts it (para. 181).
The judge raises serious concerns that a "hard-pressed" public service like the Tribunals should have "their limited resources … squandered [by Fraser] as they have been in this case." Nor "should the Respondents [the union] have been put to the trouble and expense of defending proceedings of this order or anything like it" (para. 180).
Another important finding is that "a belief in the Zionist project or an attachment to Israel … cannot amount to a protected characteristic" under the Equality Act of 2010. This properly sets a clear red line between Zionism and Judaism (or Jewish identity).
Julius's competence was also called into doubt by the panel, after he "referred in support of his argument to a concept unfamiliar to us and not, so far as we are aware, known to our law, namely 'institutional responsibility' " (para. 22).
"Preposterous" claims
The panel was also "troubled by the implications of the claim. Underlying it we sense a worrying disregard for pluralism, tolerance and freedom of expression" (para 179). This is clearly a reference to (among others) Jeremy Newmark, a witness for Fraser, and the head of the Jewish Leadership Council.
He once said the union was "no longer a fit arena for free speech" – this is described by the judge as "extraordinarily arrogant but also disturbing."
The judge also found that parts of Newmark's evidence before the tribunal were "preposterous" and "untrue." Testimony by Jane Ashworth, of the anti-boycott group Engage, was also found to be false.
Two members of parliament who appeared as witnesses for Fraser were also criticized. John Mann MP and Denis MacShane MP "clearly enjoyed making speeches. [But] neither seems at ease with the idea of being required to answer a question not to his liking" (para. 148).
While there is some minor criticism of the union on procedural grounds, in the main there is mostly praise. Of the witnesses called by the union, the judgment says "we found all of them careful and accurate" (para. 149).
The panel "spent an entire day" listening to recordings of union debates in Congress (its annual decision-making conference which regional delegates are sent to): "In our judgment, the proceedings were well-ordered and balanced."
Fraser's case had alleged union debates that discussed the issue of boycotting Israel were systematically biased against him on the basis of his Jewishness. In fact, the judge found that Jewish union members spoke on both the pro- and anti-boycott sides of debates, which were "managed in an even-handed fashion."
Implications
The verdict is a comprehensive defeat for Israel's lawfare project, supporters of Israeli war crimes and assorted Zionist fanatics in the UK.
There were early signs today of internal fallout, as the recriminations began.
Writing on Facebook (in a now now private thread which you can read below) leading Engage figure, and witness in the case David Hirsh accused the verdict itself of being anti-Semitic: "That which Ronnie experiences as antisemitism is what the Tribunal finds to be precisely the right and courageous way to treat him."
Commenting on the same post, two Zionist activists then fall out, giving their competing analyses of what went wrong. David Toube of the Islamophobic, pro-Israel, pro-war blog Harry's Place advocated the idea (anti-Semitic in itself) that Jews should get out of Britain: "I recommend that Jews who want to stand and fight against antisemitism, emigrate to Israel."
But Jonathan Hoffman, formerly a leading figure at the Zionist Federation, tried to look on the bright side: "maybe it is useful as a staging post – for example to a change in the law or to a [sic] radical rethink in Jewish Community organization."
The union's general secretary Sally Hunt said in a press release: "I am delighted that the Tribunal has made such a clear and overwhelming judgment in UCU's favor. There are many different views within UCU and wider society about Israel and Palestine and this decision upholds our and others' right to freedom of expression and to continue to properly debate these and other difficult questions."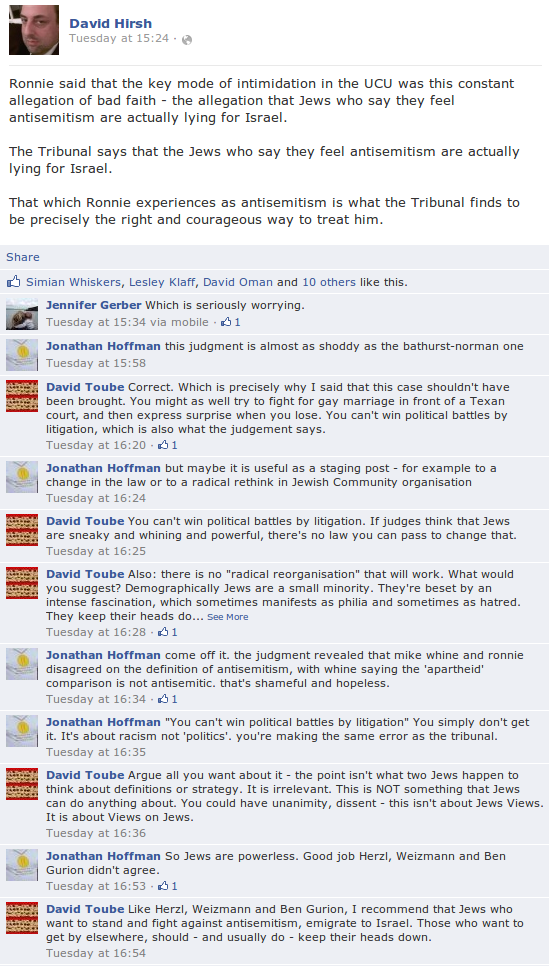 Tags