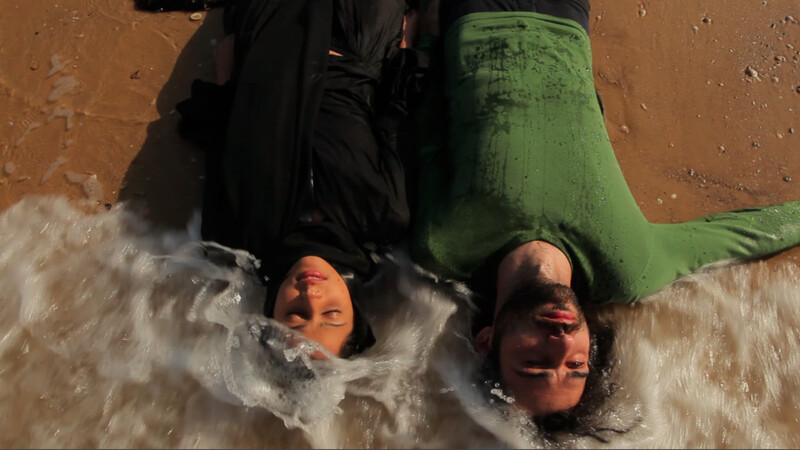 More than 1,000 years ago, in the middle of the Arabian peninsula, Qays ibn al-Mulawwah fell in love with Layla bint Mahdi ibn Saad. He recited poetry expressing his adoration of her, but in naming her continuously and publicly, convinced Layla's father that he was mad, and so lost the opportunity of her hand in marriage. Layla was married to another man, and theirs became one of the great tragic love stories, a Middle Eastern Romeo and Juliet. It became known as Majnun Layla (Possessed by madness for Layla).
In Habibi (My beloved; the full Arabic title Habibi Rasak Kharban translates as Darling there's something wrong with your head), the American-Syrian-Lebanese filmmaker Susan Youssef transfers the Majnun Layla tale to Gaza in 2001, near the beginning of second intifada. Qays and Layla, both from Khan Younis, have met at Birzeit University in the West Bank. When the Israeli occupation revokes their permits, both have to return home to Gaza and the watchful eyes of their families and community.
Layla's mother is keen for her to marry Ward, an ambitious young doctor recently returned from America and in the process of setting up his own clinic. Her father, a quiet and religious man, is at first sympathetic to Layla's passionate desire to finish her engineering degree.
But when Qays — like his ancient namesake — starts spray-painting classical Arabic paeans to her on the walls of neighboring shops and houses, the family becomes worried for their daughter's reputation, and the business of getting her respectably married becomes all the more pressing. The modern-day Qays has grown up in a refugee camp and is a casual laborer on Gaza's many building sites — not what Layla's middle-class family had in mind for her.
Running away
At the same time, a family friend has been killed by a sniper from an Israeli settlement, not yet removed from Gaza at this point in the intifada. Layla's brother and his friend make their first appearance in a comic scene, hanging out in the street, commenting on the niqab and abaya-clad "hotties" as they walk past, swathed in black cloth. But grief for his companion drives Walid to take comfort in religion and Hamas activism, and in his new-found conservatism he will not countenance the idea of his sister having a boyfriend or, indeed, leaving the house unaccompanied while she is under suspicion.
As they finally realize the magnitude of the obstacles facing them, Qays and Layla decide that if they want to be together, they will have to run away — not only from Khan Younis, but from the increasingly besieged Gaza Strip with its closed borders and close-knit society. But in 2001, this still involved having to cross an Israeli-controlled border. So they fall into the hands of interrogators who, grasping their vulnerable position, try to force them to become collaborators. From here on, we can only watch as their bid for happiness and freedom unravels.
Deft handling
This could easily have become a film of clunky stereotypes and obvious moralizing. But with Youssef's deft handling of the story, it takes on an emotional depth and poetic subtlety which has earned it awards at film festivals in Venice, Dubai, Toronto and elsewhere. Layla's father, for instance, is no "strict Muslim parent" straight from central casting. He is depicted as an affectionate father, trying to balance the demands of an increasingly conservative society and the diminishing choices available as the occupation makes education and movement more and more difficult and dangerous.
But it is the central characters — Qays, played by Kais Nashif, and Layla, played by Maisa Abdel Hadi — who carry the weight of the film. Nashif is a poet and a dreamer, wandering the bombed-out buildings of Khan Younis and daubing verses to his love. His plans for the future are as vague and imprecise as might be expected from this Byronic-looking former literature student with his shock of ringlets and worn suit jacket.
Layla, meanwhile, is a vivacious young woman, convincing as a would-be engineer with her cleverness and practicality. But Abdel Hadi's portrayal of her is also warm, moving and vulnerable, and her pain when the Israeli interrogators try to force the names of resistance fighters from her is palpable. The performance richly deserves the best actress award Abdel Hadi received in Dubai, alongside a best film prize.
Poetic
Habibi is a film that has been ten years in the making. Stemming partly from Youssef's own experiences of love and heartbreak, its story bears the familiar stamp of the Israeli occupation. Initial footage filmed in Gaza had to be trashed after Youssef was denied re-entry, and in the end the look and atmosphere of Khan Younis and Gaza City had to be reconstructed in the West Bank and other locations.
Typically for films about Palestine, it is also a low-budget affair, although skillful camera work means this isn't an obvious drawback. Youssef's direction maintains a tight focus on her main characters, often just their faces, and makes clever use of lighting, color contrasts and angles.
In doing so, she creates an emotionally complex and poetic film, much richer than its simple plot would suggest. Habibi looks set to become a stalwart of film festivals focusing on Palestine or on Arab or women directors, so hopefully it will be able to reach the audience it deserves.
Habibi screens on 10 April at the Birds Eye View festival in London and during the Chicago Palestine Film Festival on 28 April and 2 May.
Sarah Irving is a freelance writer. She worked with the International Solidarity Movement in the occupied West Bank in 2001-02 and with Olive Co-op, promoting fair trade Palestinian products and solidarity visits, in 2004-06. She is the author of a biography of Leila Khaled and of the Bradt Guide to Palestine and co-author, with Sharyn Lock, of Gaza: Beneath the Bombs.
Tags