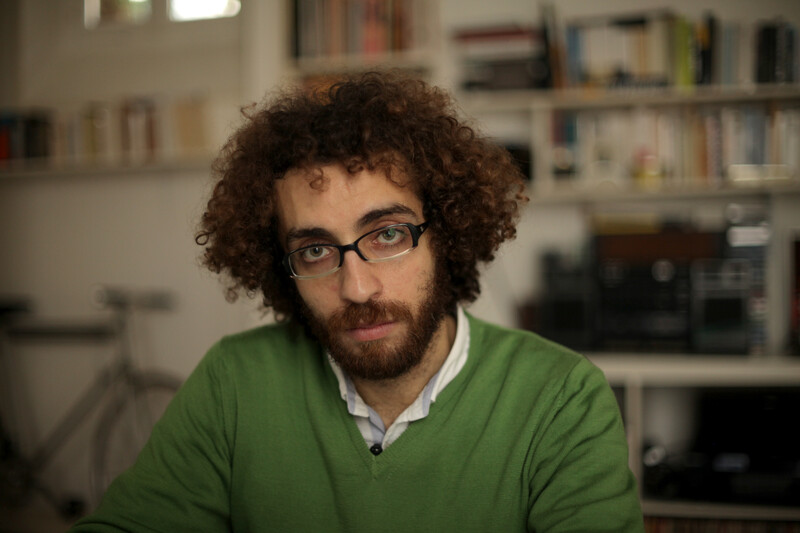 "All revolutions begin as poetry. Poetry and protest are inseparable twins," says Yehia Jaber. He should know. A former fighter whose memories include patrolling the night-time Lebanese coast to watch for Israeli landing-parties, Jaber is now a high-profile poet whose work combines satire with aching sadness.
One work describes a week spent trying to take his mother's body from Beirut to southern Lebanon to bury her, and each day being blocked by an Israeli checkpoint. "My mother, like a frozen flower, was waiting," mourns his poem. But "humor is an urgent exit," he also says. "The day after I joined the Lebanese Communist Party, the Soviet Union collapsed," goes one of his "stand-up poetry" routines.
Jaber is one of six poets from across the Middle East filmed for Poets of Protest, a series of six documentaries dreamed up by Iranian-British filmmaker Roxana Vilk and directed by Vilk, May Abdalla and Noe Mendelle. Each program — available via the Al Jazeera website or YouTube — focuses on a single poet, tracing the themes which unite them all.
Eye-opening
Despite opposition from male poets — who, says Vilk, would ask her why she was interviewing "sub-standard" female writers instead of themselves — three of the six documentaries are on women. Their revolutionary poetry stretches across the Arab world, from al-Khadra, the Saharawi "poet of the rifle," to Manal al-Sheikh, an Iraqi journalist and poet now living in exile in Norway after her husband was gunned down in the streets of her hometown of Nineveh.
Al-Khadra is perhaps the most eye-opening of the six. An elderly woman, illiterate, she grew up as a nomadic Bedouin under Spanish colonial rule in Western Sahara. When the Spanish withdrew from that territory in 1975, the Moroccan military built the 2,700 kilometer "wall of shame" across the desert, creating 250,000 refugees. Most of them and many of their descendants are still in refugee camps (including al-Khadra, who lives in Algeria), dependent on aid for their livelihoods.
Contrasted with stunning desert landscapes, al-Khadra describes how she has to find people to write her poems down for her, repeats her decades-old commitment to the struggle, and emphasises the role of Saharawi women in the fight: "Passing a tent, people would ask who the woman of the tent was, because the man was unknown. They were away at war. We took turns guarding at night."
"Torn in pieces"
Al-Sheikh, meanwhile, exudes a sense of shocked, unhappy exile. "We used to have a church and a mosque, the [call to prayer] and the bells on the same street, so you could hear both voices. Now I don't know if people hear the other voice," she says. "There is no Iraq now, there is just a thing torn in pieces … when I see the map, I don't see my Iraq, I just see bloodshed."
As well as the violence which cost her home and her husband, al-Sheikh also stresses the danger for women trying to speak out in post-invasion Iraq. "All the groups are attacking women," she says, as she tries to figure out how to convey to her children, who have only seen the worst of Iraq, what a glorious civilization they are heirs to.
Syrian poet Hala Mohammed also shares this dislocation. "Damascus for me is where my loved ones walk," she says. Sitting in Paris, watching the news from home, she and her husband can only respond with despair and questions.
"A better cultural life that is deep and aware needs to be built," she says. "Weapons were stronger until now. Maybe they are faster, but poetry will endure." But the words of one of her poems, read over a backdrop of the wall commemorating the Paris Commune rebels of 1871, seem to confirm the elusiveness of revolution.
"Breathing freedom's air"
The oldest of the six featured poets is Ahmed Fuad Negm, the famously irreverent poet of colloquial Egyptian Arabic who, at 85, still hears his work chanted by the protesters of Tahrir Square. His interviews are liberally peppered with bleeped-out obscenities, in contrast with the rather prim spokesman for the Salafist Nour Party, who tries desperately to insist that Negm is neither a poet nor popular with the Egyptian people.
"I'm breathing the air of freedom," says Negm, who spent 18 years in prison on political charges and whose daughter Nawara, an activist in Cairo, was severely beaten by pro-military thugs. But he insists to young demonstrators that "you are the hope." Despite his tough, passionate delivery, Negm hasn't found the inspiration to write for four years.
"We don't need to cry"
The youngest poet here is the Palestinian Mazen Maarouf. Born and raised in Beirut (including the Shatila refugee camp), he was forced to flee to Iceland just two days before the documentary team was due to fly to Lebanon, after he was threatened for outspokenly criticizing Syrian leader Bashar al-Assad.
"Here, everyone is Christ because he can walk on water," Maarouf observes of the bitter Icelandic winter. "To be in a city with no guns, where the police don't carry weapons … a city that is calm and peaceful — it's very strange." But despite his escape from conflict, Maarouf shares Manal al-Sheikh's loneliness, observing that his book is present in Beirut while he cannot be, and that "a notebook is your empty luggage … I always feel in a state of being interrupted by something in the past."
He confesses to lack of sleep and nightmares, but remains fierce in his analysis. "Palestinian society is totally broken," he says, insisting that "we don't need to cry. Sure, we will cry when something happens to one of our people, but we don't need to be covered with this blanket of sadness. The Palestinian people don't need any more emotion, they need minds."
In all six documentaries, it is the voices of the poets themselves who lead. There are no voice-overs or, beyond a few very brief introductory points, explanations of history or context. The poetry and its writers provide an impressionistic take on each subject, challenging and inspiring the viewer to go and find out more.
Sarah Irving is a freelance writer. She worked with the International Solidarity Movement in the occupied West Bank in 2001-02 and with Olive Co-op, promoting fair trade Palestinian products and solidarity visits, in 2004-06. She is the author of a biography of Leila Khaled and of the Bradt Guide to Palestine and co-author, with Sharyn Lock, of Gaza: Beneath the Bombs.
Tags