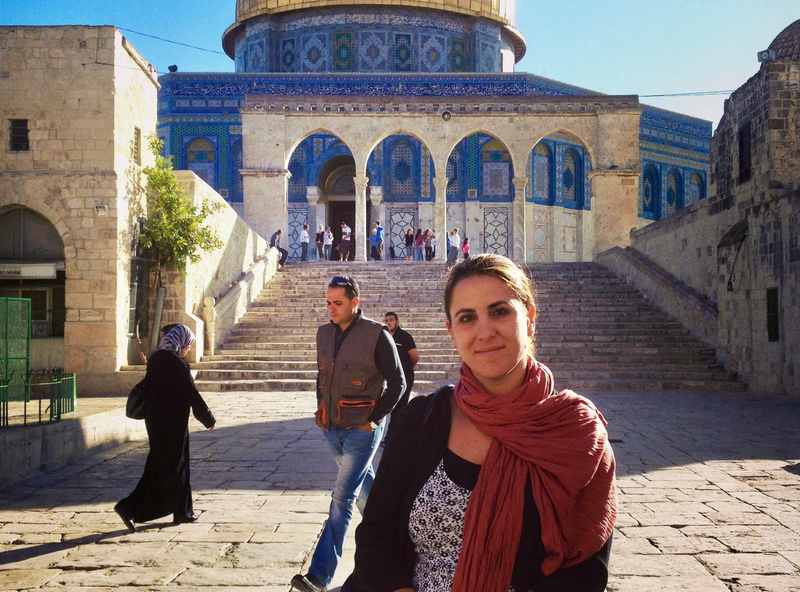 The Pentagon to Lockheed Martin pipeline occasionally receives public scrutiny as an example of the Washington swamp.

Less in the media spotlight are the career moves of members of the Fourth Estate.

One such recent move should have journalists grappling with their ethics: Washington Post Jerusalem correspondent to chief communications officer and adviser to Israel's ambassador to the United Nations and incoming ambassador to the United States, Gilad Erdan.

That's the move Ruth Eglash has made. She wrote for The Washington Post as recently as October.

Now, her new boss is scheduled to speak to the virulently anti-Palestinian hate group Zionist Organization of America on 27 December, the 12th anniversary of Israel launching the first of three wars against the people of the Gaza Strip.

The Electronic Intifada has previously raised concerns about Eglash's politics as when she liked a post by Prime Minister Benjamin Netanyahu's son Yair that indicated he believes anti-fascists and activists with Black Lives Matter are a bigger threat to Israel – and perhaps to Jews worldwide – than the neo-Nazis whose rampage in Charlottesville, Virginia in 2017 left one person dead.

And as far back as 2013, Ali Abunimah raised concerns about her husband's clients and close partners including Israeli government and Israeli-government backed entities such as the Ministry of Tourism, Taglit-Birthright Israel and the Jewish National Fund (JNF).

Abunimah wrote then that The Washington Post's response was "less than satisfactory." The ethical concern appears well-placed in light of Eglash's departure to work for Erdan.
Erdan has attacked American organizations
During his tenure as Israel's strategic affairs minister countering the nonviolent, Palestinian-led boycott, divestment and sanctions (BDS) movement, Erdan attacked American peace and justice organizations such as the American Friends Service Committee, Jewish Voice for Peace, American Muslims for Palestine, National Students for Justice in Palestine, Codepink and the US Campaign for Palestinian Rights.

Eglash amplified Erdan's message with a 2018 tweet in which she failed to highlight any pushback against the outrageous suggestion that American Christian, Muslim, Jewish, interfaith and secular organizations were in league with groups Israel deems to be terrorist organizations.

Erdan's attack, particularly in the context of the anti-Palestinian Trump administration, endangered free and open speech in the US on behalf of Palestinian rights. And now the Trump administration has put forward Secretary of State Mike Pompeo to argue that the BDS movement's position in favor of equal rights for Palestinians can be conflated with anti-Semitism.

This stance against equal rights is not particularly surprising from a White House known for its white supremacy. It is, however, a position that has received encouragement from Israeli political leaders such as Erdan and Netanyahu.

Similarly, Eglash promoted Erdan's racism when she tweeted his view that "Israel's Arab community" – Palestinian citizens of Israel – "is a very, very violent society."

One might typically think this was intended as an exposure of racism except for the fact that Eglash seems not to have tweeted a counter-racism view – and then just over a year later she chose to go to work for Erdan.

Who does that? Someone harboring anti-Palestinian racist views? Quite possibly, as even those adept in "speaking Democrat," as Eglash reportedly is, can be profoundly anti-Palestinian.

Eglash's charade at The Washington Post is over. We now have a fuller sense of who she is and what she believes and it's antithetical to equal rights for Palestinians.

This puts her prior BDS tweets in a clearer light.

In 2015, Eglash tweeted two queries about BDS: "My question is how big a threat BDS really is? Is it growing?"

Being generous, it was somewhat unclear at the time whether Eglash intended to ask if BDS was a threat to Israel or a threat to Israeli apartheid. Respondents, however, interpreted her as asking whether BDS was a threat to Israel, not whether it was a threat to Israeli apartheid. It is now crystal clear that they interpreted her question correctly.

Two years ago Eglash tweeted out a letter from Erdan to Bruce Rauner, who at the time was the governor of Illinois. Eglash stated that Erdan – in his words – had written to ask for Rauner's "help fighting BDS, a movement not interested in peace, and says Airbnb, by removing listings in Israeli settlements, is now guilty, hopefully unwittingly, of modern day anti-Semitism."

There's nothing included about the work of peace and justice organizations to get Airbnb to recognize the flagrant Israeli discrimination against Palestinians in occupied territory. There's no commentary about settlements being a violation of international law. She's simply a stenographer here for Erdan's talking points and contributing to the dispossession of Palestinians.

She further advances the dispossession of Palestinians when she tweets out, as she did yesterday, a Newsweek op-ed by Erdan that criticizes "the Palestinian refusal to recognize our right to exist as the world's only Jewish state."

Palestinians should not be expected to subject themselves to second-class citizenship in a "Jewish state" any more than Black South Africans would be expected to endure inferior status in a "white state" in apartheid South Africa. Unsurprisingly, Erdan and Eglash had to turn to the anti-Palestinian opinion editor Josh Hammer at Newsweek to place the op-ed.

Finally, when Israel was in the process in 2018 of expelling Human Rights Watch's Israel and Palestine director Omar Shakir, Eglash gave more attention to the Israeli view in her tweets, including Erdan's view, than she did to HRW's defense. At the time, Erdan said, "We are revealing the true face of those who promote boycotts of Israel."

Eglash has now chosen to work for a man who strove to expel a prominent American human rights defender from Israel. This strongly suggests she did not take Palestinian, Israeli or other human rights experts seriously when they raised concerns with her, but rather that she preferred the official Israeli take.

The Washington Post did not respond to inquiries from The Electronic Intifada regarding ethical concerns raised by Eglash's job change.

The newspaper's ethical guidelines are non-existent regarding how to handle switching jobs, but the guidelines do state that "the journalist shall refrain from acting as an auxiliary of the police or other security services."

The Washington Post's vice president of communications, Kristine Coratti, told The Electronic Intifada by email, "We are confident that Ruth Eglash covered Israel fairly and complied with our standards throughout her tenure at The Post."

The answer is telling: "she covered Israel fairly." Palestinians in Israeli-occupied territory don't figure into the response. Nor does the BDS movement for Palestinian freedom, despite being a specific focus of inquiry.

A 9 November Facebook post in which Eglash declared herself to be a "FORMER WASHINGTON POST CORRESPONDENT" led to congratulatory responses pouring in.

Erdan commented in the document Eglash shared that "Ruth's wealth of journalism experience and her deep knowledge of current affairs will serve our nation extremely well."

He added, "Having a person on my team with a deep understanding of the media in order to present Israel's positions on key issues was of the utmost importance to me and our government."

Eglash's statement in the announcement speaks volumes. She declared, "A strong US-Israel relationship and showcasing Israel's successes to the world has always been a passion of mine." Palestinians she interviewed for The Washington Post must surely be wondering how their stories of occupation and dispossession at the hands of Israel fit into Eglash's conception of these "successes" and this "passion" of hers.

They've been had.

One Palestinian analyst in the region, who previously worked with Eglash, told The Electronic Intifada that The Washington Post journalist "spent a lot of time covering up her real political intentions and beliefs" and instead gave the impression she opposed Netanyahu.

This analyst expressed alarm that many American and British journalists working for foreign agencies "have taken a position" that it is their "birthright to come and live as a colonizer on stolen Palestinian land."

The analyst called into question their objectivity and indicated this state of affairs becomes harder to take when the same media outfits hiring these journalists won't hire Palestinians or Palestinian Americans for the same positions without subjecting them to intense scrutiny. Now this arrangement has led to the highest scrutiny for Palestinians while Eglash is jumping from The Post to work for "a minister who was among the most racist ministers in the Netanyahu government."

Readers of Eglash should be wondering how her lack of concern for BDS-backed equal rights for Palestinians and Jews influenced her writing.

And The Washington Post ought to ask some hard questions of itself, though it is clear that so long as she treated Israel "fairly" it isn't a priority for the newspaper how she treated Palestinians.
Tags