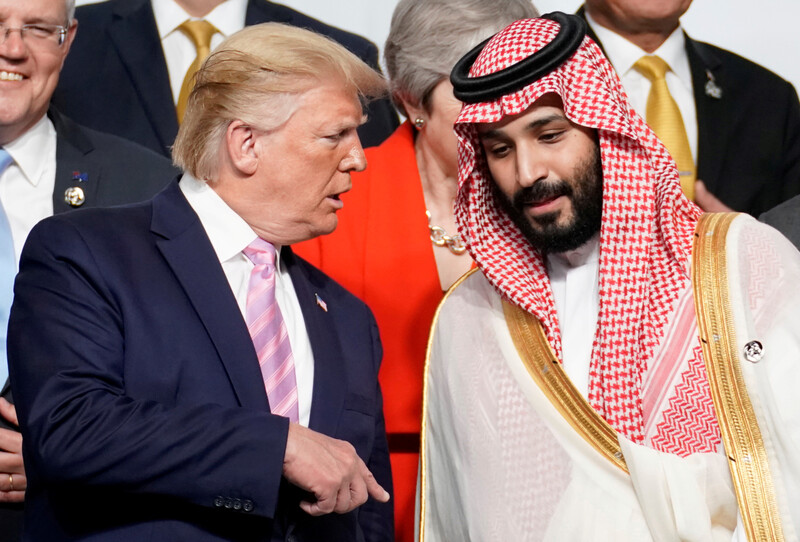 Prime Minister Benjamin Netanyahu secretly met with Saudi Crown Prince Mohammed bin Salman in Saudi Arabia on Sunday, Israeli media have reported.

If true, this would be the first known visit of a senior Israeli official, let alone a prime minister, to Saudi Arabia, and would indicate a significant advancement in relations between the two countries amid a flurry of normalization agreements between Israel and Arab states.

Several Israeli media reported the meeting, including the Israeli army radio, citing unnamed Israeli sources. The Wall Street Journal quoted two unidentified Saudi government advisers confirming the meeting.

The publication All Israel News reported that "multiple" senior diplomatic Israeli and American sources confirmed that the meeting took place.

Netanyahu appears to have taken a private jet from Tel Aviv on Sunday and flown directly to NEOM, a supposed state-of-the-art city that Saudi Arabia is building on its Red Sea coast.

US Secretary of State Mike Pompeo, who was already in the Gulf country, was at NEOM on the same day of Netanyahu's alleged flight. Netanyahu, Pompeo and the crown prince reportedly held a trilateral meeting there, where they discussed "normalization of ties and Iran," The Wall Street Journal reported, citing one unnamed senior Saudi adviser familiar with the talks.

Saudi foreign minister Faisal bin Farhan Al Saud, however, denied that "such a meeting occurred" between Saudi and Israeli officials.

"The only officials present were American and Saudi," he wrote in a tweet on Monday.

Netanyahu's office neither confirmed nor denied that the meeting took place when contacted by reporters.

Israel's housing minister Yoav Gallant apparently confirmed the meeting to the Israeli army radio.

"The very fact the meeting happened, and was outed publicly, even if half-officially right now, is a matter of great importance," he said, according to Reuters.

Netanyahu, reportedly accompanied by Mossad chief Yossi Cohen, is understood to have spent only a few hours in the Saudi city.

NEOM is also where the crown prince hosted a delegation of Christian evangelicals and pro-Israel American figures in September 2019.
Is Saudi Arabia next to normalize?
In the months prior to the US elections in November, the administration of President Donald Trump brokered normalization deals between Israel and three Arab nations: the United Arab Emirates, Bahrain and Sudan.
The UAE and Bahrain signed normalization agreements with Israel during a White House ceremony in September, while Sudan announced its intention to do so once an official government is formed in Khartoum.
An Israeli delegation reportedly headed to Sudan to firm up ties this week.
At the press conference announcing Sudan's agreement to normalize relations with Israel, Trump said he expected Saudi Arabia to be among more countries that would follow suit.
Israel and Saudi Arabia have no formal diplomatic ties but covert relations go back years.
Saudi Arabia has reportedly been instrumental in sealing recent normalization deals. For Israel, meanwhile, normalization with Saudi Arabia would be the grand prize.
In addition to relegating the Palestinian question, the forging of formal ties between Israel and Gulf states is intended to build an alliance to present a united front against Iran.
Anti-Iran alliance
This comes as the Trump administration escalates economic sanctions against Iran in an effort to make Trump's withdrawal from the 2015 nuclear agreement irreversible after Joe Biden replaces him as president.
Netanyahu recently argued that there must be no return to that deal.
"There must be no return to the previous nuclear agreement. We must stick to an uncompromising policy to ensure that Iran does not develop nuclear weapons," he said in a speech in Israel on Sunday.
The 2015 deal reached by the Obama administration and other states saw Iran voluntarily restrict its nuclear energy program in exchange for the lifting of economic sanctions.
Israel has relentlessly lobbied for intensified economic warfare against Iran, which causes suffering to ordinary Iranians and devastates the country's economy during a pandemic.
In a recent interview with Saudi-owned television channel Al Arabiya, Saudi Prince Bandar bin Sultan Al Saud, a former intelligence chief who previously spent decades as the Saudi ambassador in Washington, slammed the Palestinian leadership for its "failures."
"The Palestinian cause is a just cause, but its advocates are failures and the Israeli cause is unjust, but its advocates have proven to be successful," he said.
Prince Bandar's covert collusion with Israel – including supporting Israel's 2006 war on Lebanon – goes back years.
Speculation has mounted that the Trump administration is accelerating efforts to implement its so-called Peace to Prosperity plan before it leaves office.
Crown Prince Mohammed has been under fire in the last two years after his henchmen murdered and dismembered Saudi journalist Jamal Khashoggi in Istanbul in October 2018.
MBS, as he is often known, hasn't entered the US since, where multiple lawsuits have been filed against him in relation to Khashoggi's murder.
Tags