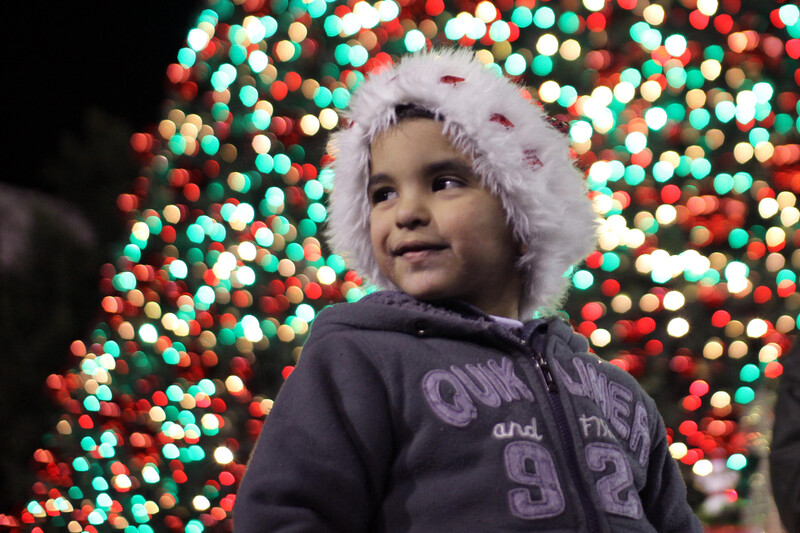 In this latest roundup of news from the global boycott, divestment and sanctions movement, activists in the US and in Australia urge holiday shoppers to boycott Israeli settlement products; and St. Louis city officials delay a vote on a contract and will begin a full investigation into Veolia's history after sustained pressure by activists.
Carolers sing for end to involvement in human rights abuses by diamond magnate
- New York City: Adalah-NY: The New York Campaign for the Boycott of Israel stated in a press release last week that approximately 80 persons "sang parody carols" outside Lev Leviev's jewelry store on Madison Avenue, demanding that shoppers boycott the store. Leviev is an Israeli settlement developer and diamond magnate, whose companies "have built thousands of Israeli settlement homes on Palestinian land, and are also involved in human rights abuses and unethical business practices in the diamond industry in Angola, Namibia and Zimbabwe," according to Adalah-NY.
Adalah-NY's press release adds:
The protest took place during a period of heightened international criticism of Israeli settlement expansion. This week New Zealand's Superannuation Fund, which invests $20 billion on behalf of New Zealand's government, announced its divestment from Leviev's companies and two others due to their construction of settlements and Israel's wall in violation of international law.

… Members of Adalah-NY handed leaflets to holiday shoppers, including several who stopped on the sidewalk to listen to the music. One passer-by identified himself as a Palestinian. "This means so much to me," he said before joining in for a few songs. A worker came out of a nearby business and explained that he watches the event every year and "thinks it's a good thing you're all doing." There was even an appearance by the Christmas-stealing Grinch, who danced in front of the Leviev store's window display to the amusement of children and adults alike.

Speaking to the crowd, Riham Barghouti of Adalah-NY detailed the recent call for the anti-hunger nonprofit City Harvest, which has been reported to be the recipient of fundraisers hosted by Leviev, to reject funds from and disavow any relationship with him. Barghouti explained, "Making Palestinians hungry by taking away their land and livelihoods is no way to fight hunger in New York."

Israeli-American demonstrator Udi Pladott added, "Israel's illegal settlements in the West Bank stand in the way of justice and peace for Palestinians and Israelis. As long as Leviev's companies take part in building those settlements, I think City Harvest should cut off all ties with them."

A subsidiary of Leviev's company Africa Israel is currently building homes in the Israeli settlement of Gilo. A separate Leviev-owned company, Leader Management and Development, continues to develop the Zufim settlement on the land of the West Bank village of Jayyous.

Adalah-NY began a campaign to boycott the companies of Lev Leviev in November 2007. Today's protest was endorsed by over 20 groups, reflecting the rapid growth of the international movement for boycott, divestment, and sanctions (BDS) against Israel as a non-violent strategy to pressure Israel to respect Palestinian rights.
Sodastream boycott actions
- Chicago, Illinois: Activists in downtown Chicago held a demonstration outside the Macy's department store last week urging holiday shoppers not to buy Sodastream, and calling on the store's management to de-shelve the products.
Sodastream drink products are made in the illegal Israeli settlement of Mishor Addumim in the occupied West Bank, but are falsely labeled as "Made in Israel."
Activists across the US are calling for actions against Sodastream in various ways. On the website Holiday Sodastream Boycott, activists can get more information.
Melbourne activists: "Don't buy Israeli apartheid for Christmas"
- Melbourne, Australia: Earlier this month, activists with Students for Palestine, with support from the Coalition Against Israeli Apartheid (Melbourne), staged a creative, peaceful series of protests as part of the "Don't Buy Israeli Apartheid for Christmas" — a national week of action to support the BDS movement.
Kim Bullimore reported on Mondoweiss that:
Outside the Myer Christmas windows in Bourke Street Mall, Jo Mettam from the Coalition Against Israeli Apartheid in Melbourne, announced the launch of the group's new SodaStream BDS campaign, which will commence later this month.

… The peaceful action then made its way to one of the two Max Brenner Chocolate shops located in Melbourne city. Early this year, in July, sixteen Palestine solidarity activists who had been arrested at a pro-boycott demonstration outside of Max Brenner in 2011 had charges of"trespassing" and "besetting" dismissed against them. The solidarity activists had been arrested on July 1, 2011 at a peaceful protest organised by the Coalition Against Israeli Apartheid, which sought to highlight the complicity of the company Max Brenner Chocolate and its parent company, the Strauss Group, in Israel's occupation and apartheid policies.
Bullimore added that activists with Students for Palestine "noted the similarities between the struggles of the Palestinian people and the struggle of Indigenous Australian, acknowledging Aboriginal ownership of the land and giving respect to Aboriginal elders past and present."
A video of the action can be viewed here:
St. Louis city board puts off Veolia vote until investigation into company's history
- St. Louis, Missouri: Activists involved in the worldwide boycott campaign against Veolia announced on Thursday that because of "a flurry of phone calls, emails and meetings" with city officials with concerns about Veolia's practices in the occupied West Bank, the board has decided to delay a vote on a city contract until a full investigation is conducted into the company's history.
Veolia is a multinational corporation that has been complicit in Israel's violations of international law, including its involvement in the Jerusalem Light Rail project, which intends to connect West Jerusalem with illegal Israeli settlements in East Jerusalem and elsewhere in the occupied West Bank. Veolia has lost billions of dollars in contracts across Europe and Australia following sustained pressure by boycott activists on local city councils over the past few years.
In a press release from the St. Louis Palestine Solidarity Committee, activists stated that:
At 2:30pm on Wednesday, December 19, 2012, at a standing-room only meeting in the mayor's office for the St. Louis City Board of Estimate & Apportionment (E & A), the Board declined to approve a city contract with Veolia Water, putting off the vote until there can be a full investigation into the company's history. The decision came in light of new information on the company's involvement with ethnic discrimination in Palestine, as well as a flurry of phone calls, emails, and meetings voicing "concerns about the company's human rights practices and financial condition," as reported by St. Louis National Public Radio.

In the six hours prior to the vote, board members had received more than 200 emails apiece asking them not to rush the contract through. Their phones rang off the hook as local activists also addressed the officials on Twitter. Members of the St. Louis Palestine Solidarity Committee and St. Louis Jewish Voice for Peace attended the meeting to show their opposition to Veolia.

The board, which is comprised of the St. Louis City Mayor Francis Slay, Comptroller Darlene Green, and President of the Board of Aldermen Lewis Reed, agreed that they could not in good conscience vote to approve a contract with so many outstanding questions. Earlier, the St. Louis Palestine Solidarity Committee had delivered a statement and facts sheet documenting Veolia's history of profiting from Israel's illegal occupation and apartheid policies in Palestine, and the company's notorious environmentally disastrous activities, anti-labor practices, mismanagement, corruption, bribery, embezzlement, fraud, and failure to make good on promised improvements.

When Mayor Slay presented the contract with a motion to approve, President Reed put forward a motion to postpone the vote in order to allow time for investigation into the company's practices. While the city's Water Commissioner and the mayor continued to argue that Veolia was the right company for the job, Green spoke eloquently in agreement with Reed:

"We have several complaints from our citizenry. And I want to honor their complaints [and] their time and desire to 'Investigate Veolia.'… It's not our money; it's their money. Period… You [the citizens] do matter. So let's get more information."

Reed expressed concerns that the contract had been added to the agenda at the last-minute, following outcry from environmentalists, workers, the Palestine solidarity community, and other constituencies outraged by the corporation's abysmal track record.

In spite of the late notice, local organizers mobilized hundreds to spring into action. This victory has shown the power of everyday people standing up to multinational corporations and demanding transparency in public contracts.

Sandra Tamari, a local Palestinian-American member of the St. Louis Palestine Solidarity Committee attended the meeting and said:

"I thank the E&A board for their principled decision. My family lives in the occupied West Bank, where Israel has implemented a system of segregated roads and segregated buses, some of which Veolia operates. If we tried to board these Veolia buses, my family and I would be forced off simply because of our ethnicity and religion, which is what happened to the Palestinian Freedom Riders not long ago. I do not feel safe funding a corporation that oppresses my people, each time I turn on the faucet here. If the city stands against segregation in the U.S., it should not support corporations participating in segregation elsewhere."

Having won the first victory, St. Louisans will now redouble efforts to stop the contract once and for all. It's time for St. Louis to dump Veolia.
Tags