UK Labour leader Keir Starmer has fired his shadow education minister after she posted an interview with Labour-supporting actor Maxine Peake to Twitter.
In the interview, Peake had made reference to the well-documented fact that Israeli forces habitually train US police forces.
Rebecca Long-Bailey tweeted the interview approvingly, without making reference to the part about Israel.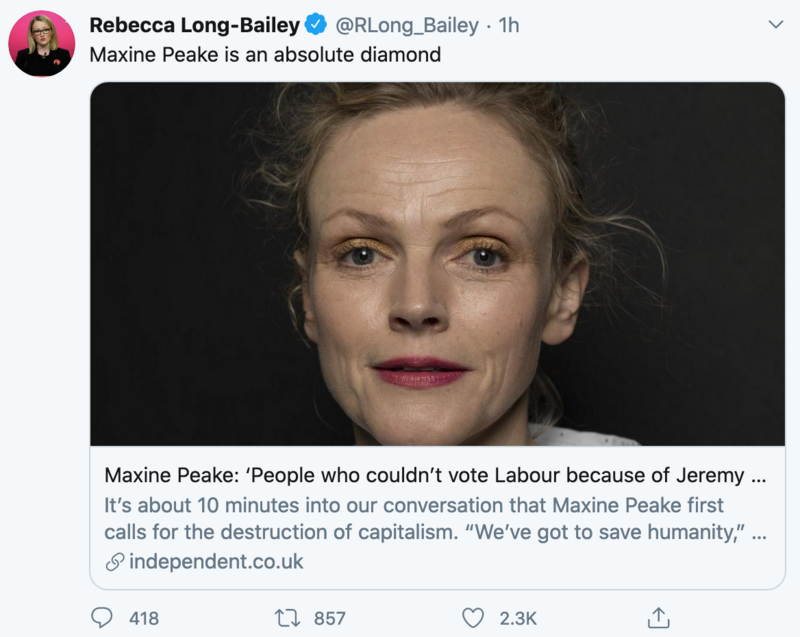 After coming under attack, Long-Bailey tweeted that she hadn't intended to endorse "all aspects of the article." She later further distanced herself from the article. She initially refused to delete the original tweet, but eventually did so.

This wasn't enough for the Israel lobbyists.

Falsely smearing Peake as having promoted an "anti-Semitic conspiracy theory," the Jewish Leadership Council denounced Long-Bailey for not having "deleted it or apologized" for her tweet and called for Starmer to take action against her.

Starmer sacked Long-Bailey within the hour.

Labour Friends of Israel – a front group for the Israeli embassy – welcomed the purge of Long-Bailey – as did the Jewish Labour Movement, another group with close ties to the embassy.
Trained by Israel
A well-known British actor, Maxine Peake's interview with The Independent only contained a passing reference to Israel. It was mostly about Labour's electoral prospects.
Peake is a well established supporter of Palestinian rights, including the boycott, divestment and sanctions movement, or BDS.
But explaining her support for the Black Lives Matter movement, Peake said: "Systemic racism is a global issue … The tactics used by the police in America, kneeling on George Floyd's neck, that was learnt from seminars with Israeli secret services."
As The Electronic Intifada has reported for years, it is indeed the case that Israeli forces are frequently sent to the US to train police forces in the use of "counter-terror" tactics.
This well documented phenomenon has helped US police forces to refine their systemic violent racism against Black people.
Police forces right across the US – from New York to Los Angeles – have received training from visiting Israeli forces, including the Shin Bet secret service.
This training is often organized by pro-Israel organizations such as the Anti-Defamation League (which also ran a major US spy ring in the 1980s and 1990s to infiltrate anti-apartheid activists, sending their information to the regime in South Africa and to Israel).
Since the Black Livers Matter movement first erupted in 2014, the Israel lobby has increasingly seen it as a major strategic threat.
A report last year by Reut, an influential Israeli think tank, described intersectionality – a theory popular among Black Lives Matter activists – as undermining "Jewish communities' agendas, including support for the State of Israel."
Purge
Rebecca Long-Bailey was one of the few remaining members of Labour's shadow cabinet to have been a supporter of the previous party leader, Jeremy Corbyn.

Left-wing Labour news site The Skwawkbox reported that the tweet was a pretext by the Labour right to purge Long-Bailey.

According to unnamed Labour sources a "huge row over Labour's support" for Conservative Prime Minister Boris Johnson's policy of pushing for schools to return to work early during the coronavirus crisis "was the real trigger for the sacking."

Ironically, Long-Bailey has herself promoted the manufactured "Labour anti-Semitism crisis" smear campaign.

After four-and-a-half years of such smears, Corbyn lost December's general election. Polling indicated the smear campaign was a major factor in the loss.

Long-Bailey ran in the election to replace Corbyn, but came second to Starmer. Touted as the continuity-Corbyn candidate, she failed to ignite grassroots excitement, inadvertently smearing Corbyn himself as anti-Semitic.

At an event run by Labour Friends of Israel and the Jewish Labour Movement, she even stated that she supported separate Palestinian and Israeli states, "so I suppose that makes me a Zionist."

Updated on 24 May 2021 to add a screenshot of the original tweet by Long-Bailey, which has now been deleted.
Tags