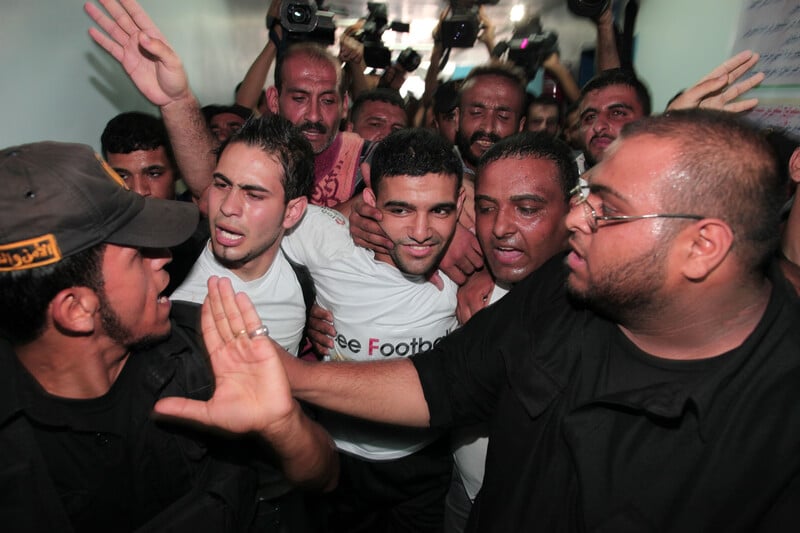 Palestinians have offered strong support to Palestine footballer and ex-prisoner Mahmoud Sarsak in his refusal of an invitation by FC Barcelona to attend a match at the same time as an Israeli soldier.
In addition, a prisoners' support group in Gaza has strongly condemned Palestinian Authority officials for accepting the invitation in the first place.
"Palestinian civil society unequivocally rejects FC Barcelona's attempt to 'balance' its invite of Gilad Shalit, an Israeli soldier responsible for enforcing Israel's illegal siege of Gaza and party to war crimes, by offering tickets to Palestinians so they can also attend next weekend's El Clásico against Real Madrid," The Boycott National Committee (BNC) said in a statement.
Zaid Shuaibi, Networking and Outreach Coordinator of the BNC, the steering body of the boycott, divestment and sanctions campaign and the largest Palestinian civil society coalition, said, "there is no moral equivalence between Israel, an occupying power responsible for war crimes and persistent violations of international law, and an occupied population denied its most basic rights. FC Barcelona must reject any form of complicity with Israeli crimes by rescinding its official invitation to Gilad Shalit." 
The BNC statement quoted Sarsak saying, "I support the Palestinian call for Boycott, Divestment and Sanctions (BDS) of Israel and refuse to be used as a 'fig leaf' by FC Barcelona, a club that I deeply admire. I won't share this platform with someone who is directly responsible for the suffering of my people."
Shalit was captured by Palestinians from an Israeli tank that was enforcing the siege of Gaza in 2006. Since his release last October in a prisoner exchange Israel negotiated with Hamas, Shalit has traveled the world to high profile public and sporting events as part of Israel's public relations efforts.
In a television interview on Friday, Sarsak had already rejected his invitation to attend alongside Shalit.
The BNC statement comes after dozens of Palestinian football clubs, athletes and sporting associations had already condemned FC Barcelona's invitation to Shalit.
Sarsak, a member of the Palestine national football team, spent three years in Israeli prison without charge or trial until an epic three-month hunger strike forced Israel to release him in July. During his hunger strike, Sarsak garnered worldwide support including from top football players and bodies.
Prisoners group backs Sarsak stance, criticizes PA
Waed, an organization campaigning for Palestinian prisoners and supporting ex-prisoners in Gaza, praised Sarsak's decision as "patriotic and honorable," and condemned Palestinian Authority officials for accepting the FC Barcelona invitation.
"Sarsak refused that his name by wedged among those of others to prettify the image of FC Barcelona and the criminal Israeli soldier Shalit," Waed said in an Arabic statement on its website.
Waed strongly criticized Palestinian Authority officials who appear to have initiated FC Barcelona's move to invite Sarsak, along with the Palestinian Authority ambassador in Spain and Jibril Rajoub, president of the Palestinian Football Federation to the 7 October match following the uproar over Shalit.
Rajoub's decision to accept an invitation to the match while Shalit would be there was, according to Waed, "a form of hateful normalization with the Zionist occupation."
Rajoub headed the Palestinian Authority's "Preventative Security" force in the 1990s, during which time he oversaw the arrest, mistreatment and torture of many Palestinians, especially from the Hamas movement that opposed the 1993 Oslo Accords in that period.
The statement also charged that the "Palestinian embassy in Spain bears full responsibility for what has happened," and asserted that the Palestinian Authority controlled embassies around the world had done little to support the cause of Palestinian prisoners.
Waed also called for the day of the El Clásico match to be a day of solidarity with Palestinian and Arab political prisoners in Israeli jails and for people to raise Palestinian flags and images of the prisoners.
Tags