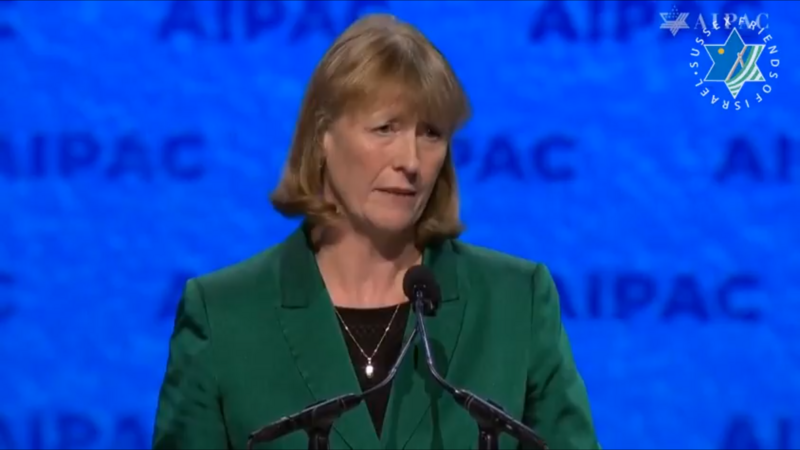 A leading Israel lobbyist in the British Parliament will step down at the next general election, expected within months.

Joan Ryan, longtime chair of the Israeli embassy front group Labour Friends of Israel, announced her imminent departure on Monday.

Ryan's decision comes after months of retreat by Labour Friends of Israel, and a year-long struggle to oust her by her local Labour Party.

Making her announcement on Twitter, Ryan claimed that she had "always intended to serve only one more term in Parliament."

But this seems to simply be an attempt to save face.

Her prospects of winning her seat back in the next election are slim after she quit Labour earlier this year.

A year ago, Ryan's local Labour Party narrowly voted no-confidence in her. Far from announcing she would step down at the next election, Ryan refused to quit.

She took to Twitter to make clear "I will not be resigning." She angrily denounced her opponents as "Trots," "Stalinists" and "Communists."

A few months later, Ryan quit Labour to join a new breakaway party.

The party, the Independent Group for Change, was funded by David Garrard, a major UK donor to the Israel lobby.

She accused Labour leader Jeremy Corbyn of fomenting a "culture of anti-Jewish racism and hatred for Israel."

Ryan made herself unpopular with local constituents and activists for a variety of reasons.

An adamant opponent of Corbyn, she tried openly to sabotage her own party's prospects in the 2017 general election.

Ryan sent letters to voters claiming that many local people "have more confidence in Theresa May as prime minister than they would have in Jeremy Corbyn."

Enfield Labour members lodged a complaint against her for disloyalty.
Speech at AIPAC
Her staunch advocacy for Israel, a racist, human rights-abusing state, also made her deeply unpopular among grassroots Labour activists.
Until last month, Ryan was the parliamentary chair of Labour Friends of Israel. She was replaced by Louise Ellman, another staunchly anti-Palestinian MP.
However, in a statement, LFI said Ryan would continue her work with the group as its "honorary president."
Earlier this year, she represented LFI at AIPAC, the powerful American Israel lobby group.
Ryan received a standing ovation at the conference where she declared, "I am proud to be a Zionist."
"Over the past four years, Britain's Labour Party, of which I've been a member for 40 years, has been transformed," she claimed.
"Once a close friend of Israel and an unwavering ally of British Jews, it has been taken over by the far left."
She warned her American audience that "things can change quickly" and urged them to "condemn anti-Semitism and anti-Zionism unequivocally."
Faking anti-Semitism
Ryan was caught on camera in 2017's undercover Al Jazeera documentary The Lobby discussing "names that we put into the embassy" with Israeli spy Shai Masot.

Masot was expelled from the UK as a result of the film's revelations.

Masot infamously told Ryan that he had received "more than 1 million pounds" in funding for propaganda trips to Israel.

Labour Friends of Israel is known for junketing MPs to the country.

But earlier this year, after renewed interest in Al Jazeera's film, the group denied this.

Labour Friends of Israel claimed the conversation between Ryan and Masot "was about a visit for young people," and had been "openly" advertised by the embassy.

The 2017 film also caught Ryan red-handed fabricating anti-Semitism.
Time for change
Since Ryan quit Labour, and with an election looming, local members have been considering her replacement.

Several activists in Enfield have put their names forward as potential Labour candidates.

These include housing rights and union activist Delia Mattis, a strong Corbyn supporter.

Other left-wingers in the running are Ed Poole and Maria Kyriacou.

However, recent reports suggest that a democratic selection process for Labour candidates may be blocked.

The LabourList website reported last week that the process had been "paused with immediate effect."

A source in Labour's ruling national executive told the website that they were "keen to restart selections" as soon as possible.

Momentum, the Labour faction led by Jon Lansman, caused controversy earlier this month by announcing that its national coordinator Laura Parker was seeking to be the Enfield North candidate.

Parker belongs to a different local Labour Party.

The faction's local affiliate, Momentum Enfield, accused Momentum's national leadership of having Parker "parachuted into a seat over the heads of local members and activists."

Momentum leader Lansman's reputation is that of a leading Corbyn ally.

However, as The Electronic Intifada revealed this month, activists have said that Lansman had suggested privately that Corbyn be replaced as early as 2016.
Tags